Mr. JAZZZZ
Mr. JAZZZZ
Dear All, I am a user of Jazz Diesel V variant for around 10 months now. Driven around 6500kms. I was researching for a new car for more than a year. I had a concern of decent Features (including safety aspect), Good Performance and Mileage, Essential Convenience, Adequate Space and Cost Effective. I checked and reviewed many new launched cars from Zest, Bold, Tiago, Figo Aspire, Baleno and etc., and even all existing cars with this price bracket but I was fulfilled up with Jazz which I don't have in mind as its way high in class and price comparing to all these cars. But I loved Jazz when I entered the car for the first time on an Auto Expo held in Chennai. Even when I was getting out of the car, I never believed that I will be going to own a Jazz which I admired a lot. Even did my son ask can we able to own a Jazz appa? The equal competitor that I feel against Jazz is newly launched Baleno. Still, Baleno can't match exactly with Jazz as Jazz has the very good engine advantage and Vertical Space inside. Baleno looks so short. Even Tata Zest also looks good and spacious but on practicality, it fails. Advantages of Jazz:
Great Steering Control, Drivability in City Traffic, Very Good Mileage numbers are impressive. Also Call leading spacious including boot compartment, Comfortable on both front row and back rows. Great in Practicality. Getting in and out is very easy even for elders. This car nothing like Hatchback but its gives us a feel of MPV even for the drivers and passengers.
We about 7 people used to travel in my car without any struggle and comfortably. Disadvantages:
Not Engine Start/Stop Button.
No automatic Power Locks for all doors.
Remote Lock does not have the feature of alarm and blinking Hazard lights.
Need same Magic seat at least from V variant.
No projector Head Lamp and LED DRL
Nothing after these to complain. Suggestions:
Please eradicate all the above DISADVANTAGES which I mentioned above with the same pricing. No need to give more discounts too. JAZZ will capture the market of Premium Hatchback segment as like as Honda City.
Thanks to God who blessed me with my JAZZ....Even my SON loved it a lot.... Last but not Least....One more important point is...Online Research has helped me to a greater extent on my research and through representatives alone, the showroom people met me and gave valuable offers and discounts....Thanks to online automotive portal. Yoganand....
Write your Comment on ಹೋಂಡಾ ಜಾಝ್ 2018-2020
ಹೋಂಡಾ ಜಾಝ್ 2018-2020 ಬಳಕೆದಾರರ ವಿಮರ್ಶೆಗಳು
ಆಧಾರಿತ
254 ಬಳಕೆದಾರರ ವಿಮರ್ಶೆಗಳು
ಎಲ್ಲಾ (254)
Mileage (76)
Performance (41)
Looks (82)
Comfort (117)
Engine (85)
Interior (54)
Power (56)
More ...
ಇತ್ತೀಚಿನ
ಸಹಾಯಕವಾಗಿದೆಯೆ
VERIFIED
CRITICAL
I've been using Honda Jazz diesel VX model vehicle since 2016 and I feel that engine refinement, mileage, and comfort is next level. The only issue is the ground clearanc...ಮತ್ತಷ್ಟು ಓದು

Most practical hatchback with maximum space. Good mileage - city 14.5 highway touches 20 km and excellent handling. Lack of initial torque. Mid and high range speed behav...ಮತ್ತಷ್ಟು ಓದು

I have been using this car and the performance of this is very satisfactory. The ABS system is awesome. Also, it has two airbags which I feel very safe while driving. Boo...ಮತ್ತಷ್ಟು ಓದು

I purchased the Honda Jazz Car and I found that it is the best suitable car for me. It has many features like Driver Side Power Door Lock Master Switch, Seat Back Pocket,...ಮತ್ತಷ್ಟು ಓದು

I bought Honda Jazz just a few months ago and I must say it a wonderful car in this price range. This car has a beautiful interior and LED lights which gives a great look...ಮತ್ತಷ್ಟು ಓದು

I bought HondaJazz Car about 7 months ago with the BS6 engine. It is the best hatchback car in mid-range the built quality is too good and the cabin consists of Touchscre...ಮತ್ತಷ್ಟು ಓದು

I am driving Jazz Car from last 6 months. Now It has the best interior in the segment including the premium fabric upholstery, navigation system, touchscreen display and ...ಮತ್ತಷ್ಟು ಓದು

I am very happy to drive Honda Jazz Car. As I use it mostly on highways travelling inter cities for my work. It has a 4 cylinder engine in BS6 that delivers great pickup ...ಮತ್ತಷ್ಟು ಓದು

ಎಲ್ಲಾ ಜಾಝ್ 2018-2020 ವಿರ್ಮಶೆಗಳು ವೀಕ್ಷಿಸಿ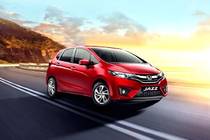 Rs. 5.59 ಲಕ್ಷ - 9.40 ಲಕ್ಷ*
ಈ ಕಾರಿನ ಮಾದರಿ ಅವಧಿ ಮುಗಿದಿದೆ
ಬಳಕೆದಾರರು ಕೂಡ ವೀಕ್ಷಿಸಿದ್ದಾರೆ