An Excellent Car Everyone ಗೆ
An Excellent Car For Everyone
Hello, everyone. my name is Gaurav and iIhave been using the Hyundai i-10 Magna for the past one year now. Although I bought a second-hand car but still this car has completely lived up to my expectations. I am very happy with the performance of the car. Its very comfortable and I feel like driving it till eternity. I wish the roads never end and my journey continues forever. The mileage of the car is still very good. Although my car is 7 years old, no one can say that it's that old a car. It still looks new both from outside and from inside. I think Hyundai has done a great job in putting everything required for luxury and comfort in one care. Although it's a challenge for any car company to satisfy its users, I think Hyundai has done it perfectly. One can understand the same from this from the number of Hyundai car that are seen on the roads. Although there are so many car companies in the market but none can match the standards like that of the Hyundai. I can say so with confidence because I had the privilege of using the Santro before buying i-10. I can easily say that no one can match their standards. My car has great shockers and comfort. The condition of the road never bothers me. On top of it, the cost of servicing and spare parts is also very reasonable. Ever since I bought this car the only money that I have spent on it is that for servicing. The car is very reliable in all terrain and weather conditions. I don't have to think twice before saying anything about the car. I will recommend everyone to buy a Hyundai car. This is one brand on this anyone can trust blindly. I can say at least about i-10. i-10 despite being a hatchback car, has enough space and room for basic things. I never felt discomfort in the car. The leg room is enough and so is the boot space. I often think of buying another car and the only brand that comes to my mind is Hyundai. At times I get confused because it's very difficult for me to choose as to which Hyundai car should I buy. All of then are one better than the other. But one thing is sure, whatever my next car will be, it will be a Hyundai. Therefore I will urge everyone to just go and buy a Hyundai car. I am sure you will fall in love with it.
Write your Comment on ಹುಂಡೈ ಐ10
ಹುಂಡೈ ಐ10 ಬಳಕೆದಾರರ ವಿಮರ್ಶೆಗಳು
ಆಧಾರಿತ
158 ಬಳಕೆದಾರರ ವಿಮರ್ಶೆಗಳು
ಎಲ್ಲಾ (158)
Mileage (99)
Performance (46)
Looks (103)
Comfort (107)
Engine (72)
Interior (61)
Power (48)
More ...
ಇತ್ತೀಚಿನ
ಸಹಾಯಕವಾಗಿದೆಯೆ
VERIFIED
CRITICAL
I purchased i 10 Magna model in 2010 and switched over to i10 from Tata Indica Petrol, which I used for almost 3 years. I drove i10 for almost 7.5 years before I went for...ಮತ್ತಷ್ಟು ಓದು

All the tyres are recently replaced by new tyres. Engine oil is also recently changed. Gear oil is also changed. It gives a mileage of 19 KMPL.

I own a hyundai i10 2010 model. Its been more than 6 years i am using this car, and till date other than regular servicing, I have spent only 20,000 on servicing (becuase...ಮತ್ತಷ್ಟು ಓದು

i am a proud owner of this car for last 7 years. i am 67 years old retired professional. this is the 7th car i am using now. i get a very happy sense of driving a safe ca...ಮತ್ತಷ್ಟು ಓದು

Hyundai i10 is proved to be very reliable car during my 6 years of ownership. For me this is top most priority and I dont like to get stranded on a road or leaving my car...ಮತ್ತಷ್ಟು ಓದು

What to say and where to start. i10 is my first car, on which I have started learning driving in 2014. Best thing about the car is its Steering module. It is effortless a...ಮತ್ತಷ್ಟು ಓದು

A little city car that has got plenty to live up to. Sharp looks and a sweet but old 1.1-litre engine is still the drivetrain in this car. It's all about quality here - t...ಮತ್ತಷ್ಟು ಓದು

Hyundai i10 has cool car the hatchback market in India since it's launch. I am quite satisfied with its performance. The entry level hatch i10 is decent in terms of comfo...ಮತ್ತಷ್ಟು ಓದು

ಎಲ್ಲಾ ಐ10 ವಿರ್ಮಶೆಗಳು ವೀಕ್ಷಿಸಿ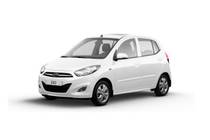 Rs. 3.79 ಲಕ್ಷ - 6.55 ಲಕ್ಷ*
ಈ ಕಾರಿನ ಮಾದರಿ ಅವಧಿ ಮುಗಿದಿದೆ