ಮಹೀಂದ್ರ ಥಾರ್ - honest review!
Mahindra thar - honest review!
We live in a country which is filled with enthusiasts,whether you have a bug for driving fast cars or just enjoy a good drive on smooth and well-made highways and then there is a different category of people who don't care about the roads or going really fast and just prefer to have their vehicles driven in a much different habitat. Every car manufacturer provided some of the cars which fulfilled the needs of people who love driving their cars really fast but there was nothing for these people better known as off-road junkies. But then Mahindra introduced the Mahindra Thar in 2010 which was a successor to their old,rugged and low maintenance Jeep MM 540 because what it offered was not on par when it comes to the needs of modern car buyer in India when it comes to the issues like comfort/driveability. So reviewing the Thar is a very simple yet you feel different while doing it because it's not your everyday and experiences you get from this vehicle is way different and you can't this from other cars.So beginning with the EXTERIOR of the car- Really rugged and head-turning looks,although it may not offer things like Park assist and other modern SUV features but people buying this vehicle won't care about it anyway. Simple looks and traditional Jeep grill on the front, the soft-top is not that good but works better if you live in a place which is not that wet or where it doesn't rain a lot because in monsoon season it turns into a nightmare ( leaks a lot) you may want to consider a hard top after buying the jeep. INTERIOR- Interiors on the new 2016 model is good as compared to the older models, just don't expect that much but the bare essentials are there. 2 Cup holders,a basic glove box, and some little storage spaces here and there.Only the driver's and the front passenger seat is comfortable if you're aiming for longer journeys because the back seats are only good for a shorter amount of time and distance since they don't provide good knee support and there's no headrest support as well. (but hey you can modify everything that's written here if you want to spend some more money to make your car's interior much better and comfortable)The CRDe version is a lot better than the Di versions because it offers a lot of more power and torque and 4X4 gearbox is really good and it even has the rear differential lock which is a big thing for those really hardcore off-road enthusiasts since it helps a lot in some of the difficult situations. Overall the car performs quite good when it's not driven carelessly and is actually really rugged and you can totally count on it when going for some pretty serious off-roading.City driving is good too and the most impressive thing is that the view you get while driving the car in those bumper to bumper situations is really impressive considering the size of the vehicle and it offers better judgement as well.although if you're going for a longer journey on higher speeds you might want to wear some shoes because it gets really hot under your feet since there's no proper heat distribution and the matting under the seats won't help either.Average mileage may vary, With my usage i've been getting about 9-10KMPL in city and over 13-14KMPL on highways,the bigger 60 ltr fuel tank helps a lot though.To sum it all up, Mahindra thar offers really different experiences,drives well and is a really good Suv but with some minor short comings which can be fixed with some aftermarket modifications and is here to stay because of the cult following and the never ending love of jeeps in this country.
ಮಹೀಂದ್ರ ಥಾರ್ 2015-2019 ಬಳಕೆದಾರರ ವಿಮರ್ಶೆಗಳು
ಆಧಾರಿತ
108 ಬಳಕೆದಾರರ ವಿಮರ್ಶೆಗಳು
ಎಲ್ಲಾ (108)
Mileage (10)
Performance (16)
Looks (41)
Comfort (16)
Engine (19)
Interior (13)
Power (30)
More ...
ಇತ್ತೀಚಿನ
ಸಹಾಯಕವಾಗಿದೆಯೆ
VERIFIED
CRITICAL
This car price maximum 6lakh hona cheya tha. Interior very low quality and price bhut he jyada hai.

Powe, looks, interior, exterior, air cooling, build type everything is perfect. Best car.

I want to buy this car for me, I really like this car, its good for daily uses and mountain areas.

Well designed car, good space, build for a long journey, very good pick up power. Good interior and exterior.

The Mahindra Thar, won't set the world on fire in terms of ride and handling. This is an awesome four-wheel-drive that's normally driven at low speeds on Indian road...ಮತ್ತಷ್ಟು ಓದು

Very nice, it's clearly awesome very helpful for our daily usage you can bring you to the next level of imagination.

I like the car on off-road drives. It gives the best performance and can be modified for our taste and can view.

Best car of Mahindra and best car of an off-road car. its interior and exterior are best. This mileage is so so good

ಎಲ್ಲಾ ಥಾರ್ 2015-2019 ವಿರ್ಮಶೆಗಳು ವೀಕ್ಷಿಸಿ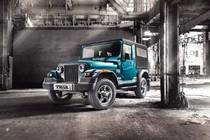 Rs.5.80 ಲಕ್ಷ - 9.99 ಲಕ್ಷ*
ಈ ಕಾರಿನ ಮಾದರಿ ಅವಧಿ ಮುಗಿದಿದೆ
ಬಳಕೆದಾರರು ಕೂಡ ವೀಕ್ಷಿಸಿದ್ದಾರೆ
Write your Comment on ಮಹೀಂದ್ರ ಥಾರ್ 2015-2019
1 ಕಾಮೆಂಟ್
1
R
rajesh thayyil
Jan 12, 2019 9:20:15 PM
I am waiting for 5 doors 1.5 litter turbo Petrol fully automatic version Mahindra thar Wheels size 21 inch ground clearance 240 mm like Jeep Wrangler special edition Indian made .
Read More...
ಪ್ರತ್ಯುತ್ತರ
Write a Reply
ಟ್ರೆಂಡಿಂಗ್ ಮಹೀಂದ್ರ ಕಾರುಗಳು
×
We need your ನಗರ to customize your experience