ಮಹೀಂದ್ರ ಥಾರ್ My Experience with the Red Beast
Mahindra Thar My Experience with the Red Beast
It took me 5 years to come to final conclusion of buying Mahindra Thar. Phew! It was a long time. My daily commute was Hyundai i10 and I drove almost 80,000 kms and with this long endeavor I got many issues such as injector problem, turbo leakage and change of the timing belt. My friend bought Mahindra Thar CRDe when we were in second year of engineering. We used to fling through many off road events together and I too had the opportunity to drive the SUV. I got to connect with the beauty of nature and how perfectly the car handles all the undulations like a breeze. That's where my mind clicked and it was time to make some tough decision. Finally, my heart won over my mind and it was the beginning of this year I bought the brand new Red Mahindra Thar CRDe. In terms of performance, I have never faced any problem in pottering around the city. But to unleash the real Thar, you have to deviate a little and embrace a bad route. However, at long highways stretches, the seating could be a pain, especially in the ass. I really felt this during my trip to Jaisalmer. Also, on highway driving you will feel a lot of fluttering from the soft canopy. In terms of looks, My God I have always loved this car. I have recently replaced the stock with the alloys and yet waiting desperately to get them dirty. However, I do feel that the front bumper flanges and the wheel arches will start losing its shine in a few months. Coming to the interiors, a lot has been done over these years by the car maker to make it a tempting buy among the enthusiasts. The dashboard layout has been improved while the new AC set-up allows you to shut the vents individually which is a nice update. And I must say that the AC is quite effective and efficient. As Mahindra Thar is known fuel guzzler one can?t expect more than 10kmpl in cities and 13kmpl on highways. And if you are driving on the rough terrain, you can imagine the fuel efficiency. Finally, I will talk about the service and maintenance. The ?With You Hamesha? App has made it quite easy for me to track the service record. In the first three free services I never billed more than Rs. 2500. Lack of music system and safety have always been the weak points of this car, but if you are ok with these, then the car is one of the best off-roader you can have in your garage.
Write your Comment on ಮಹೀಂದ್ರ ಥಾರ್ 2015-2019
ಮಹೀಂದ್ರ ಥಾರ್ 2015-2019 ಬಳಕೆದಾರರ ವಿಮರ್ಶೆಗಳು
ಆಧಾರಿತ
108 ಬಳಕೆದಾರರ ವಿಮರ್ಶೆಗಳು
ಎಲ್ಲಾ (108)
Mileage (10)
Performance (16)
Looks (41)
Comfort (16)
Engine (19)
Interior (13)
Power (30)
More ...
ಇತ್ತೀಚಿನ
ಸಹಾಯಕವಾಗಿದೆಯೆ
VERIFIED
CRITICAL
The Mahindra Thar, won't set the world on fire in terms of ride and handling. This is an awesome four-wheel-drive that's normally driven at low speeds on Indian road...ಮತ್ತಷ್ಟು ಓದು

Very nice, it's clearly awesome very helpful for our daily usage you can bring you to the next level of imagination.

BEST CAR... This car is very cheap to maintain. It has good style if modified and it has good tyres and good for off-roading. It has a good transmission and its fuel...ಮತ್ತಷ್ಟು ಓದು

Best car of Mahindra and best car of an off-road car. its interior and exterior are best. This mileage is so so good

This car price maximum 6lakh hona cheya tha. Interior very low quality and price bhut he jyada hai.

Well designed car, good space, build for a long journey, very good pick up power. Good interior and exterior.

The best off-roading vehicle, but I use this vehicle for my daily life also good for touring love to use everywhere.

I like the car on off-road drives. It gives the best performance and can be modified for our taste and can view.

ಎಲ್ಲಾ ಥಾರ್ 2015-2019 ವಿರ್ಮಶೆಗಳು ವೀಕ್ಷಿಸಿ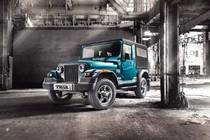 Rs.5.79 ಲಕ್ಷ - 9.99 ಲಕ್ಷ*
ಈ ಕಾರಿನ ಮಾದರಿ ಅವಧಿ ಮುಗಿದಿದೆ
ಬಳಕೆದಾರರು ಕೂಡ ವೀಕ್ಷಿಸಿದ್ದಾರೆ
ಟ್ರೆಂಡಿಂಗ್ ಮಹೀಂದ್ರ ಕಾರುಗಳು