Very Comfortable And Best Offroader
Very Comfortable And Best Offroader
Exterior: Deadly look, very sturdy, rally grills give a sporty look 210mm ground clearance. Interior: Interiors are nice and comfortable, leather seats and lots of space. And while access to the third row is relatively easy and middle row seats flip beautifully upon a lever, the space in the rear is only really usable by children. The entertainment system comes from old school. Absence of touch panel and navigation is a big drawback for a car which in high 25 lac rupees. Engine Performance, Fuel Economy and gearbox: In city drove between 50-60 speed get the fuel economy. For a 2500cc very responsive and best in the class, fastest pick up among the competitors and excellent off road ability definitely make it desirable car . Ride Quality & Handling: Mitsubishi has thoroughly engineered, the company's knowledge base on off roaders is second to home. Final verdict: Off road the pajero, performs well on both sand and rutted, rocky tracks, its inbuilt systems work effortlessly to keep it moving. What will let it down is its small fuel tank capacity which, at just 68 litres, will frustrate those towing (it can tow up to 3100kg) or travelling the outback. All in all, the Pajero Sport is better than the challenger it replaces and, most importantly for some, comes with only a modest increase in price. It is another good example of why Mitsubishi is the second largest supplier of SUVs to the Indian market.
Write your Comment on ಮಿತ್ಸುಬಿಷಿ ಪಜೆರೊ
ಮಿತ್ಸುಬಿಷಿ   പജെറോ സ്പോർട്ട് ಬಳಕೆದಾರರ ವಿಮರ್ಶೆಗಳು
ಆಧಾರಿತ
19 ಬಳಕೆದಾರರ ವಿಮರ್ಶೆಗಳು
ಎಲ್ಲಾ (19)
Mileage (3)
Performance (4)
Looks (8)
Comfort (10)
Engine (5)
Interior (3)
Power (3)
More ...
ಇತ್ತೀಚಿನ
ಸಹಾಯಕವಾಗಿದೆಯೆ
CRITICAL
It is awesome SUV with great pickup and comforts it and it rich at 100kmph in just 15m it is too powerful it has 4wd with more power.

It is the best SUV in its class. All ready for any road, anywhere, anytime.

This is very comfortable and for a long drive, this is fun and slightly most of the time off-roading is very very good.

The vehicle is well-maintained and every service has been done by authorized Mitsubishi showroom. I have done many long road journeys with this vehicle and had never got ...ಮತ್ತಷ್ಟು ಓದು

Pajero Sports 4x4 is the real King of highways. Its elegant look attracts passersby. Awesome pickup with a quality ride. I am in deep love with Pajero Sports.

Great car for offroading, high-performance engine, great pickup, superb sound system, 4 wheel drive. Overall a great car.

My Pajero car is an awesome car, it's a very comfortable and luxurious car it's my favourite car.

My Pajero like an elephant no one other SUV can fight with it. My Pajero is my addiction.

ಎಲ್ಲಾ ಪಜೆರೊ ಸ್ಪೋರ್ಟ್ಸ್ ವಿರ್ಮಶೆಗಳು ವೀಕ್ಷಿಸಿ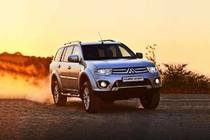 Rs. 23.91 ಲಕ್ಷ - 30.00 ಲಕ್ಷ*
ಈ ಕಾರಿನ ಮಾದರಿ ಅವಧಿ ಮುಗಿದಿದೆ
ಬಳಕೆದಾರರು ಕೂಡ ವೀಕ್ಷಿಸಿದ್ದಾರೆ
ಟ್ರೆಂಡಿಂಗ್ ಮಿತ್ಸುಬಿಷಿ ಕಾರುಗಳು