Driver's car- ಕ್ಯಾಪ್ಚರ್ your heart
Driver's car- Captur your heart
I have taken a test ride of the car nearly 10 times and purchased RXT DIESEL recently. This car has amazing road presence, high ground clearance, good off-road ability without 4 wheel drive and good features. The reason why it's not selling much because of its pricing, fewer features as compared to rivals, very less resale and poor after sales and service (Service purely depends on how we interact with them its not a deal breaker). It has crossover design which is very stylish but everyone doesn't like as it compared to traditional boxy SUV and also dashboard layout and touch screen not that great but it's good enough. But confidently I can say who passionate about driving they know the value of capture it's a driver's car amazing ride quality and comfort, very good pickup, excellent suspension, sufficient space for five people, good legroom, good storage space and high driving position like real SUV, got 4star rating. Because of its crossover design body roll is almost negligible even at high speeds very stable at cornering as well. The final word who are not looking for resale just go for it will enjoy each and every moment with the Captur it's really Captur your sense. Best all rounder for city, highway and offroading. Its give feel of a sedan as well because of its lengthy dashboard. Comparison: Creta very good car features rich but no offroad ability. Nissan kicks the latest interiors but the same capture platform and pricier. Duster same platform as captur but old. Do remember each and every product has its own pros and cons but finally deciding factor will be your needs and budget one major thing to remember we are purchasing cars not for features list or for entertainment.
Write your Comment on ರೆನಾಲ್ಟ್ ಕ್ಯಾಪ್ಚರ್
ರೆನಾಲ್ಟ್ ಕ್ಯಾಪ್ಚರ್ ಬಳಕೆದಾರರ ವಿಮರ್ಶೆಗಳು
ಆಧಾರಿತ
144 ಬಳಕೆದಾರರ ವಿಮರ್ಶೆಗಳು
ಎಲ್ಲಾ (144)
Mileage (24)
Performance (14)
Looks (43)
Comfort (50)
Engine (21)
Interior (26)
Power (17)
More ...
ಇತ್ತೀಚಿನ
ಸಹಾಯಕವಾಗಿದೆಯೆ
VERIFIED
CRITICAL
Renault Captur has great built quality, strong body, awesome suspension, clean interiors, classy audio quality with a marvelous infotainment system, smooth gear shifts an...ಮತ್ತಷ್ಟು ಓದು

I like it very much. It is very comfortable and stylish. Its mileage is so good. when we driving it feels like Range Rover.

I mate with an accident while driving my Renault Captur car. Truck dash me from the left side and drag up to a distance of 25 feet. My car was sandwiched between truck an...ಮತ್ತಷ್ಟು ಓದು

Renault Captur is a very nice car. It's back look is very beautiful. And it's logo also very nice. It's back LED light gives an amazing look to the body. As compared to l...ಮತ್ತಷ್ಟು ಓದು

Really good in the segment. Good price range and value for money. Petrol I am getting 8 L/KM in the Bangalore traffic.

Brilliant ride quality, handling, and suspension. Creta is just a fancy toy. Captur is miles ahead of the Creta and rivals.

One major minus point is its the horn. I love its design & acceleration. It's expensive LED lights It's wheelbase is highest in the segment. It's alloy wheels ar...ಮತ್ತಷ್ಟು ಓದು

ಎಲ್ಲಾ ಕ್ಯಾಪ್ಚರ್ ವಿರ್ಮಶೆಗಳು ವೀಕ್ಷಿಸಿ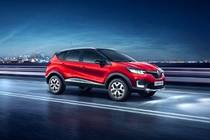 Rs. 9.49 ಲಕ್ಷ - 14.05 ಲಕ್ಷ*
ಈ ಕಾರಿನ ಮಾದರಿ ಅವಧಿ ಮುಗಿದಿದೆ
ಬಳಕೆದಾರರು ಕೂಡ ವೀಕ್ಷಿಸಿದ್ದಾರೆ
ಟ್ರೆಂಡಿಂಗ್ ರೆನಾಲ್ಟ್ ಕಾರುಗಳು