If u want a showpiece not a ride choose Renault. ( They want the ...
If u want a showpiece not a ride choose Renault. ( They want the ...
Red alert: If u consider a car for a ride please don't choose Renault captur. Bought a car on 25Jan 2019. Already went for Engine Replacement (Yet to be updated by TVS and its already been more than 4months now) and multiple sensor failures. Complained to Renault regarding the matters, and they will only try to protect the dealer, not the customer. Once a car is purchased it becomes your sole responsibility and luck. Trivandrum Renault is the worst they told me: Quote:" Without an updated RC book you can drive a car, Even without insurance." My car had airbag issues that I went for rectification on 28 May 2019. The same problem again raised on 9 June 2019. The customer executive came home and told: Quote:" There is no issue driving the car If in case of an accident the airbag won't work." I went for a repair and car was delivered with a leaking High-pressure pipe to the injector. I asked for the same, and they don't have any explanation. They will not even spare a single penny from their pocket but the customers have to bear all the losses that they are not even concerned. #Ban Renault. If u are a customer with Renault please check your service records in My Renault app then you will come to know each and every record will be cooked up. They want sales, but after sales, what they want is the customer to be dead.
Write your Comment on ರೆನಾಲ್ಟ್ ಕ್ಯಾಪ್ಚರ್
ರೆನಾಲ್ಟ್ ಕ್ಯಾಪ್ಚರ್ ಬಳಕೆದಾರರ ವಿಮರ್ಶೆಗಳು
ಆಧಾರಿತ
144 ಬಳಕೆದಾರರ ವಿಮರ್ಶೆಗಳು
ಎಲ್ಲಾ (144)
Mileage (24)
Performance (14)
Looks (43)
Comfort (50)
Engine (21)
Interior (26)
Power (17)
More ...
ಇತ್ತೀಚಿನ
ಸಹಾಯಕವಾಗಿದೆಯೆ
VERIFIED
CRITICAL
Renault Captur has great built quality, strong body, awesome suspension, clean interiors, classy audio quality with a marvelous infotainment system, smooth gear shifts an...ಮತ್ತಷ್ಟು ಓದು

I like it very much. It is very comfortable and stylish. Its mileage is so good. when we driving it feels like Range Rover.

I mate with an accident while driving my Renault Captur car. Truck dash me from the left side and drag up to a distance of 25 feet. My car was sandwiched between truck an...ಮತ್ತಷ್ಟು ಓದು

Renault Captur is a very nice car. It's back look is very beautiful. And it's logo also very nice. It's back LED light gives an amazing look to the body. As compared to l...ಮತ್ತಷ್ಟು ಓದು

Really good in the segment. Good price range and value for money. Petrol I am getting 8 L/KM in the Bangalore traffic.

Brilliant ride quality, handling, and suspension. Creta is just a fancy toy. Captur is miles ahead of the Creta and rivals.

One major minus point is its the horn. I love its design & acceleration. It's expensive LED lights It's wheelbase is highest in the segment. It's alloy wheels ar...ಮತ್ತಷ್ಟು ಓದು

ಎಲ್ಲಾ ಕ್ಯಾಪ್ಚರ್ ವಿರ್ಮಶೆಗಳು ವೀಕ್ಷಿಸಿ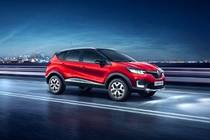 Rs. 9.49 ಲಕ್ಷ - 14.05 ಲಕ್ಷ*
ಈ ಕಾರಿನ ಮಾದರಿ ಅವಧಿ ಮುಗಿದಿದೆ
ಬಳಕೆದಾರರು ಕೂಡ ವೀಕ್ಷಿಸಿದ್ದಾರೆ
ಟ್ರೆಂಡಿಂಗ್ ರೆನಾಲ್ಟ್ ಕಾರುಗಳು