Poor quality of the Stereo System
Poor quality of the Stereo System
What i hold is Captur Platine (picked two weeks after its launch). I am okai with this model, but really pissed of with the media system/ instrument comes installed with this vehicle. I almost drove 54k kilometres, drive is comfortable.. but millage is only 15.5 and not 20+ what company claims. All comfort and pleasure spoils just cos of the sterio system (radio: not powerful to pick FM station, Tele call : hv to scream for the other end to hear, which is actually the sad part on the investment, slow Bluetooth) I had reported these issues over email from the 2nd week of the purchase. After lot yells and tug of war the technical head of the service centre (always gave excuses and never a permanent solution) realised and changed the MIC but problem still exist. The worst part is poor response from the team on this issue. Also the fact that most of the time especially on highways I have to park the vehicle to take my call directly over the phone. Still living with Faulty instrument after paying 14-16 lakhs. What a pitty.. My question to all - if the above issues are not reproducible in other capture vehicles except my vehicle does it mean I have to live with the crap.
Write your Comment on ರೆನಾಲ್ಟ್ ಕ್ಯಾಪ್ಚರ್
1
v
vishnudas l
Apr 24, 2019 10:59:24 AM
I own a Captur RXT diesel . Cons: Poor customer responses; Infotainment cluster is pathetic, FM is horrible,No android auto (can't be updated with the new screen /software which comes with the newer models); night illumination is surprisingly absent for steering mounted controls. pros: Impressive ride quality cornering is fine it not excellent. mileage (21+ on highway even at speeds of 90)
ಪ್ರತ್ಯುತ್ತರ
ರೆನಾಲ್ಟ್ ಕ್ಯಾಪ್ಚರ್ ಬಳಕೆದಾರರ ವಿಮರ್ಶೆಗಳು
ಆಧಾರಿತ
144 ಬಳಕೆದಾರರ ವಿಮರ್ಶೆಗಳು
ಎಲ್ಲಾ (144)
Mileage (24)
Performance (14)
Looks (43)
Comfort (50)
Engine (21)
Interior (26)
Power (17)
More ...
ಇತ್ತೀಚಿನ
ಸಹಾಯಕವಾಗಿದೆಯೆ
VERIFIED
CRITICAL
Renault Captur has great built quality, strong body, awesome suspension, clean interiors, classy audio quality with a marvelous infotainment system, smooth gear shifts an...ಮತ್ತಷ್ಟು ಓದು

I like it very much. It is very comfortable and stylish. Its mileage is so good. when we driving it feels like Range Rover.

I mate with an accident while driving my Renault Captur car. Truck dash me from the left side and drag up to a distance of 25 feet. My car was sandwiched between truck an...ಮತ್ತಷ್ಟು ಓದು

Renault Captur is a very nice car. It's back look is very beautiful. And it's logo also very nice. It's back LED light gives an amazing look to the body. As compared to l...ಮತ್ತಷ್ಟು ಓದು

Really good in the segment. Good price range and value for money. Petrol I am getting 8 L/KM in the Bangalore traffic.

Brilliant ride quality, handling, and suspension. Creta is just a fancy toy. Captur is miles ahead of the Creta and rivals.

One major minus point is its the horn. I love its design & acceleration. It's expensive LED lights It's wheelbase is highest in the segment. It's alloy wheels ar...ಮತ್ತಷ್ಟು ಓದು

ಎಲ್ಲಾ ಕ್ಯಾಪ್ಚರ್ ವಿರ್ಮಶೆಗಳು ವೀಕ್ಷಿಸಿ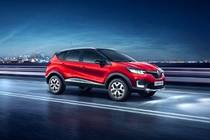 Rs. 9.49 ಲಕ್ಷ - 14.05 ಲಕ್ಷ*
ಈ ಕಾರಿನ ಮಾದರಿ ಅವಧಿ ಮುಗಿದಿದೆ
ಬಳಕೆದಾರರು ಕೂಡ ವೀಕ್ಷಿಸಿದ್ದಾರೆ
ಟ್ರೆಂಡಿಂಗ್ ರೆನಾಲ್ಟ್ ಕಾರುಗಳು