Good car with compromised quality
Good car with compromised quality
When Renault Duster was launched to Indian market it was instantly loved by the crowd as there were no other option available in the market for the given price range. No doubt Duster is a very good car in terms of ride quality and comfort. Let's see it in a bit more detail. After driving for nearly 1.5 years (2015 model) Duster RXL(85 PS Diesel), I have things to comment and to praise about this car. So, let's go through them one by one: 1. The look: Duster has it's own charming macho dynamic look, which in my opinion none other car has in this segment. I would rate 4.5/5 for the look. 2. Space: You must agree Duster has a good amount of space to fit in 5 medium sized human being, however, the rear seat offers mediocre leg room when you have people more than 5'10'' height. The rear doors eat up few inches of space due to the design of the hand rest. The rear window shutter buttons are not placed greatly either as to open the window when someone places his/her elbow on the hand rest.The boot space is good and multi-purpose, In fact put my dogs there and not worried about getting them suffocated as it's open boot and share the same air than others. I would rate 3.5/5 in this category. 3. Ride quality and Handling: Duster drives really well when it comes to patchy road and minor potholes, when it comes to bigger potholes it gives a bit of discomfort but that's the problem of our roads. The meaty tires, higher ground clearance, and the suspension does really well swallowing these roads. Handling the Duster at moderate to high speed is very good, steering gives very good feedback which keeps the driver in the control of the vehicle. It does pretty well at sharp turns and never lets you feel out of control. I would rate 4.5/5 in this category. 4. Build Overall good build quality with the monocoque chassis, it's aerodynamic design gives the sturdy feel while driving at high speed. However, the body sheet thickness is very low, which is prone to easily get dents even with a small touch. I would rate 4/5 in this category. 5. Safety: Happy with the safety features they provided with front dual Airbags, ABS, ABD, EBD etc. Braking even at high speed keeps the vehicle in the straight line and vehicle responses well within the desired time. Had no other chance to test any other safety features, however, I learned in the later version they removed the passenger side airbag, which is a step back. I would rate 4/5 in this category. 6. Comfort: No doubt when it comes to the bad roads and rough patches, Duster does pretty well as I listed above and gives comfort to the driver/passenger but the reason I mentioned 'Comfort' separately is due to the other reasons. So the first to start with is the hard clutch, agree it doesn't matter when you're on the highway then this car was just not promoted for highways/off-roading but also for the city. Driving in traffic for more than 40mins will give you knee and back pain and you can do nothing about it as the Renault adviser will say this is as per standard and better than 2014 model. But it really is a pain driving everyday to work and back. Let's see some more areas where it causes discomfort, next in the list is the air-conditioning which doesn't do it's job pretty well in hotter days (and I'm talking about Bangalore weather temp range ~38c), when you put the regulator at 1 you won't feel anything, putting at 3 or 4 is so annoying as it's loud as if you're in a factory, so putting at 2 is the only wise option. When regulator at 2, the rear passengers never get to the AC feel, ok so you say the cabin is bigger but how about front passenger and driver, they too aren't in much better comfort unless you move the AC vent directly to your face, which is then more injustice to the rear passengers. Ah! you say why don't you regulate the AC at high, then AC at 3 or 4 blows just more air than chillness. I have taken my vehicle to the service center couple of times but returned with no change (except they cleaned the AC filter and said performance is OK as per standard). Well, I have something else in the list, the head-unit, you gotcha right, it is placed so awkward in straight position that in a sunny day if you need to look at it, you see nothing, so you need to bend your head to see some details and that's obvious distraction while driving. I intentionally put this under the comfort category as it's just not discomfort but also a distraction. So my rating is 2.5/5 for this. 7.Performance: Since I drive the RXL 85PS, I'm not much a sufferer of turbo lag as RXZ owners do. It feels to lack power when in lower gear esp in the 1st, but once the engine gets warm up and shift to higher gear ride becomes smooth and overtaking becomes easy. I just did Ooty hair pin bend climb where I felt the lack of pull while climbing and could not maintain 2nd gear and 2500rpm at sharp bends, where had to switch to 1st and felt the lack of power. 8. Interior and Features: Interior is absolutely not at par with the price, and looks cheap (however improved 2015 model onwards) and you can feel the cost cutting at every look of your around the cabin. Dashboard and doors look very plastic, buttons are not smooth, no climate control, no illuminated glove box, beam adjustment is done by 17th century knob, no auto window shutter roll down/up, no anti-pitching, NVH insulation is poor means you get prominent engine and wind noise inside and it gets worse when driving beyond 80kmph. Speakers provided are terrible with no sound quality (I upgraded to Focal component speakers), however I like the placement of the steering music control, it doesn't come as hurdle while turning, also the OVRM adjustment knob placement is ok as it ensures you adjust the mirrors before you start the drive. Overall poor interior and features for the price we pay, I have had more in my 8 years old i10. I would rate 2.5/5 in this category. 9. Pricing: At last you always want to see how it fits in our budget with what we get. Good question, you get good ride quality, handling and comfort by sacrificing the interior and features. For the price currently it is definitely over priced for the quality and features Renault provides, it gives feel of 20th century car than 21st century. Disclaimer: This is my personal opinion based upon my driving experience and has not whatsoever related to what others have to say and have no objections to others view.
ರೆನಾಲ್ಟ್ ಡಸ್ಟರ್ 2016-2019 ಬಳಕೆದಾರರ ವಿಮರ್ಶೆಗಳು
ಆಧಾರಿತ
296 ಬಳಕೆದಾರರ ವಿಮರ್ಶೆಗಳು
ಎಲ್ಲಾ (295)
Mileage (76)
Performance (41)
Looks (99)
Comfort (109)
Engine (58)
Interior (56)
Power (40)
More ...
ಇತ್ತೀಚಿನ
ಸಹಾಯಕವಾಗಿದೆಯೆ
VERIFIED
CRITICAL
Good Drive and smooth. If you go on a long drive you feel a better experience on Renault duster 85ps RXS.

Quite satisfied with Renault Duster AMT, the most economic SUV in the Indian market. Better performance than Creta. Looking better than Terrano.

Car is quite good, everything that I expected of it, but the service needs to improve a lot, Renault should look into that.

Very nice car for a long drive...I love it's driving and comfortable sitting and road grip...Thank you, Renault.

Excellent in class.. with stability and 4 wheel drive.. the negative are the advanced features like the small touch screen, 2 airbags only. Still very good car for City d...ಮತ್ತಷ್ಟು ಓದು

I never faced and the problem also the driving experience is fantastic in Renault Duster, much comfortable and has good mileage around 17 to 18 km/hr, the best of the Ren...ಮತ್ತಷ್ಟು ಓದು

Excellent for driving and safety. Lacks premium inner. Decent mileage and low cost of maintenance. Driving duster since 2014 and clocked 100000 km.

I had a dream of purchasing Renault duster as my first car, and it has come true by the help of low-interest scheme of Renault finance.

ಎಲ್ಲಾ ಡಸ್ಟರ್ 2016-2019 ವಿರ್ಮಶೆಗಳು ವೀಕ್ಷಿಸಿ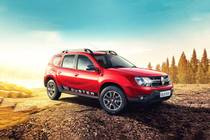 Rs.8.00 ಲಕ್ಷ - 13.89 ಲಕ್ಷ*
ಈ ಕಾರಿನ ಮಾದರಿ ಅವಧಿ ಮುಗಿದಿದೆ
ಬಳಕೆದಾರರು ಕೂಡ ವೀಕ್ಷಿಸಿದ್ದಾರೆ
Write your Comment on ರೆನಾಲ್ಟ್ ಡಸ್ಟರ್ 2016-2019
ಟ್ರೆಂಡಿಂಗ್ ರೆನಾಲ್ಟ್ ಕಾರುಗಳು
×
We need your ನಗರ to customize your experience