ರೆನಾಲ್ಟ್ ಡಸ್ಟರ್ 85ps RXL- ಎ real VALUE MONEY ಗೆ
Renault Duster 85ps RXL- A real VALUE for MONEY
Exterior: Its- I feel this is the best looking mini SUV in terms of Price. It'slike a mini Fortuner. The SUV creates its own Macho Look when its on road. The Chrome Grills and the hunky body will make you look at the car, even if you have the least interst in automobiles. The Double Barrel headlights suit the car. The roof rails etc add to the style. The could have made the boot door open sidewards rather than upwards. The could also keep the stepny on the door. It would have increeased the style of the SUV threefolds and would make it look like a real SUV rather than a crossover. In looks i will give 910/10 for the SUV. Yes i do agree its ones personal choice, but i bet no one will say that it is a bad looking SUV Interior (Features, Space & Comfort):-The interiors of the SUV are fairly built. The space, comfort and cooling of the a/c without the rear vent is awesome. The mirror controls are placed below the hand break which is little difficult to access. The SUV should have been provided with a cruise control, climatic control a/c and foldable mirrors with indicators which looks trendy and which comes as a standard fitting even in low end cars. In terms od interiors i will give 7/10 for the SUV Engine Performance, Fuel Economy and Gearbox:- The engine performace is good. Infact 85 ps is best suited for city drives. It is also adequately powered for high ways, especially in india where speed restrictions are there. I have cloaked upto 120kms on my duster. The 5 speed gear box is good, even though not as smooth as in the sedans. But SUV's should have something tough. The fuel economy what i am getting for my vehicle is around 19.89 in high ways and around 18.20 in city with all time a/c on. For the engine performance, fuel economy and gear box i would give the SUV 10/10 Ride Quality & Handling:- the ride quality is excellent. We can maneuver the car even in high speeds. There is seriously no body roll which normally is experienced in Mahindra Vehicles. The drive is just like riding a Sedan. The high ground clearance doesnt make us feel odd when run over pot holes or bumbers etc. I would rate 10/10 for ride quality and handling for this suv. Final Words:- Overall the 85ps RXL is a a value for money. The rear defogger, rear wipers, fog lamps, back arm rest, the music system all makes it worth the 1lakh what you pay extra. I would recommend the SUV for anyone who is looking for a car/sedan/hatchback/suv's in the price range of 5 lakhs.-15 lakhs. The SUV is not as big as the innova or the scorpio, but it makes a road presence, It gives you better comfort than a etios or a dezire ot hatch backs like polo or i20. Lastly it is totally a different segment-a mini SUV or a crossover between a car and suv. Overall i will give 9/10 for the suv. Areas of improvement: - The company should put in cruise control, climatic control a/c, foldable mirrors for the SUV, The boot door of the SUV should be opened sidewards rather than upwards with the stepney blaced on the boot door. The mirror adjustment switch should be placed on the door rather than under the hand break. But as a whole it is the best mini suv at present in the Indian market. The company should open up service centers to support the after sales service with the spare parts price ecconomical so that the buyers of this SUV dont feel disappointed ever when they are motoring with DUSTER. Regards Dinesh G A Proud Duster Owner.
ರೆನಾಲ್ಟ್ ಡಸ್ಟರ್ 2016-2019 ಬಳಕೆದಾರರ ವಿಮರ್ಶೆಗಳು
ಆಧಾರಿತ
294 ಬಳಕೆದಾರರ ವಿಮರ್ಶೆಗಳು
ಎಲ್ಲಾ (294)
Mileage (76)
Performance (41)
Looks (99)
Comfort (109)
Engine (58)
Interior (56)
Power (40)
More ...
ಇತ್ತೀಚಿನ
ಸಹಾಯಕವಾಗಿದೆಯೆ
VERIFIED
CRITICAL
Good Drive and smooth. If you go on a long drive you feel a better experience on Renault duster 85ps RXS.

Quite satisfied with Renault Duster AMT, the most economic SUV in the Indian market. Better performance than Creta. Looking better than Terrano.

Car is quite good, everything that I expected of it, but the service needs to improve a lot, Renault should look into that.

Very nice car for a long drive...I love it's driving and comfortable sitting and road grip...Thank you, Renault.

Excellent in class.. with stability and 4 wheel drive.. the negative are the advanced features like the small touch screen, 2 airbags only. Still very good car for City d...ಮತ್ತಷ್ಟು ಓದು

I never faced and the problem also the driving experience is fantastic in Renault Duster, much comfortable and has good mileage around 17 to 18 km/hr, the best of the Ren...ಮತ್ತಷ್ಟು ಓದು

Excellent for driving and safety. Lacks premium inner. Decent mileage and low cost of maintenance. Driving duster since 2014 and clocked 100000 km.

I had a dream of purchasing Renault duster as my first car, and it has come true by the help of low-interest scheme of Renault finance.

ಎಲ್ಲಾ ಡಸ್ಟರ್ 2016-2019 ವಿರ್ಮಶೆಗಳು ವೀಕ್ಷಿಸಿ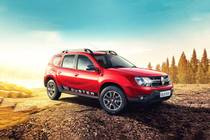 Rs.8.00 ಲಕ್ಷ - 13.89 ಲಕ್ಷ*
ಈ ಕಾರಿನ ಮಾದರಿ ಅವಧಿ ಮುಗಿದಿದೆ
ಬಳಕೆದಾರರು ಕೂಡ ವೀಕ್ಷಿಸಿದ್ದಾರೆ
Write your Comment on ರೆನಾಲ್ಟ್ ಡಸ್ಟರ್ 2016-2019
4 ಕಾಮೆಂಟ್ಗಳು
1
s
sanjay
Dec 23, 2012 6:45:01 PM
Hi, I want to buy RXL or RXE 85 PS diesel haven-??t got chance to test drive 85 PS diesel, but driven 110 PS RXL,can you please tell me if you have driven both 85 and 110 PS, is there any power difference, is 85 PS is slow in pick up?
Read More...
ಪ್ರತ್ಯುತ್ತರ
Write a Reply
1
P
pranay
Dec 21, 2012 10:17:54 AM
hey dinesh, are you happy with the after sales / service? thanks
Read More...
ಪ್ರತ್ಯುತ್ತರ
Write a Reply
1
V
venkat raj
Nov 17, 2012 11:43:03 PM
hi dinesh, why you have choosen rxl model? it is having enough pulling power?
Read More...
ಪ್ರತ್ಯುತ್ತರ
Write a Reply
ಟ್ರೆಂಡಿಂಗ್ ರೆನಾಲ್ಟ್ ಕಾರುಗಳು
×
We need your ನಗರ to customize your experience