ರೆನಾಲ್ಟ್ ಡಸ್ಟರ್ ವಿಮರ್ಶೆ
Renault Duster Review
Hi, Im using Duster for the past 8 months and here are the following complaints for which I dont recommend Duster to others,I'm from Chennai and I always travel with my family with 2 kids and I'm not a racer. I drive in a very safe speed. My vehicle number is TN 09 BQ 6594, This is my 6th car after Maruthi Omni, Honda City, Santro, Mits Pajero & Tata Manza.The service team in Khiviraj Motors are so sad and they are all learners and they are just kids. I've been to their center 7 times so far but never met any Manager as such. When I took the car from the showroom I almost missed hitting 3 or 4 vehicles on the 2nd day itself and found out there was a delay in the braking so I took my vehicle to Khiviral and they accepted it and corrected it in 1 hr. In 5,000kms I had severe wheel balancing issues which they corrected it on it service. After 5,000 kms the reverse gear get stuck so I need to put the 1st or 2nd and then to the reverse everytime. Within the 10,000kms I had 3 tyre punctures in its MRF Wanderer and now im in 18,000kms where I have to purchase a new tyre for 7,000 as the company said it got damaged. The service guy says the company promises upto 30,000kms for each tyre. In 15,000kms all my doors started to make rattling noise and I gave it for service with these complaints and they could not correct it properly, still Im getting it from my rear. Whenever you go to collect your vehicle after servicing you need to wait for a minimum of 1hr. The availabiliy of accessories is a pain, still Im waiting for the rear wiper unit which got broke during the recent rains. On my last service I have been told by a Tyre replacement mechanic that its a manufacturing defect so i have informed to the service staff and they took my damaged tyre and they said they will send it to MRF and check but after a week they said MRF said its not a manufacturing defect so i went to Lal Tyres in Royapettah and purchased a new tyre recommended by the service staff at Khiviraj but when they searched for the stepney it was not there so I have to go back and they gave back after keeping it for a week and they said sorry. They took exactly 1hr and 10min to fix the stepney and no service staff was ready to take the job since it a repeat repair and the same service staff was not there. The servicing of Duster is very expensive everytime I need to pay a minimum of Rs 1,600 for Deisel filter, Rs 750 for CRTG Air Filter, Rs 500 for Air Filter , Rs 450 for Oil Filter, Rs 1,200 for the Prestigrade Oil, VAT around Rs 600. They are expensive than Toyota Innova!!!. This vehicle is no way close to the comforts and service of any Toyota Vehicles or Honda. The quality of the Audio is so sad. Tata manza has a better quality sound. Also the pickup is getting reduced week by week. You need to put the 1st gear to climb your car park which is just 6inches fromm ground.Taking Duster to service is a Nightmare. You need to wait for 6 days after you book and then you need to wait for 1 hr inside the waiting room where they just put a tamill movie DVD to forget the time being wasted. Then you will get an estimate of around 8,000 for your service then you will minus the Wheel Balancing or any other to cut cost. Whenever you go you will definately listen to 2 or more Duster owners in high pressure moods and ongoing arguments with the service staff there. This is what I get from Renault. The Khiviraj service center number is always busy or the staff is not reachable. I have purchased it when they launched it last year and they have many Dusters on road now and I feel in another 6 months from now Renault will feel the consumers complaints on Duster and they will have to answer the buyers. Now people just dont buy new cars, they surf the net to get to know the car in detail before they buy. Twice I have received calls from the after service staff and I have explained the issues and they said they will ask someone to call me but noone called. They just dont bother with your complaints. Hope this forum while help in getting my Renault cleared of all the faults. Renault needs to call back all their cars for a free checkup once in a month for the first year and should extend their warranty. Its not worth for the money.
ರೆನಾಲ್ಟ್ ಡಸ್ಟರ್ 2016-2019 ಬಳಕೆದಾರರ ವಿಮರ್ಶೆಗಳು
ಆಧಾರಿತ
294 ಬಳಕೆದಾರರ ವಿಮರ್ಶೆಗಳು
ಎಲ್ಲಾ (294)
Mileage (76)
Performance (41)
Looks (99)
Comfort (109)
Engine (58)
Interior (56)
Power (40)
More ...
ಇತ್ತೀಚಿನ
ಸಹಾಯಕವಾಗಿದೆಯೆ
VERIFIED
CRITICAL
Good Drive and smooth. If you go on a long drive you feel a better experience on Renault duster 85ps RXS.

Quite satisfied with Renault Duster AMT, the most economic SUV in the Indian market. Better performance than Creta. Looking better than Terrano.

Car is quite good, everything that I expected of it, but the service needs to improve a lot, Renault should look into that.

Very nice car for a long drive...I love it's driving and comfortable sitting and road grip...Thank you, Renault.

Excellent in class.. with stability and 4 wheel drive.. the negative are the advanced features like the small touch screen, 2 airbags only. Still very good car for City d...ಮತ್ತಷ್ಟು ಓದು

I never faced and the problem also the driving experience is fantastic in Renault Duster, much comfortable and has good mileage around 17 to 18 km/hr, the best of the Ren...ಮತ್ತಷ್ಟು ಓದು

Excellent for driving and safety. Lacks premium inner. Decent mileage and low cost of maintenance. Driving duster since 2014 and clocked 100000 km.

I had a dream of purchasing Renault duster as my first car, and it has come true by the help of low-interest scheme of Renault finance.

ಎಲ್ಲಾ ಡಸ್ಟರ್ 2016-2019 ವಿರ್ಮಶೆಗಳು ವೀಕ್ಷಿಸಿ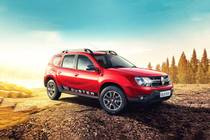 Rs.8.00 ಲಕ್ಷ - 13.89 ಲಕ್ಷ*
ಈ ಕಾರಿನ ಮಾದರಿ ಅವಧಿ ಮುಗಿದಿದೆ
ಬಳಕೆದಾರರು ಕೂಡ ವೀಕ್ಷಿಸಿದ್ದಾರೆ
Write your Comment on ರೆನಾಲ್ಟ್ ಡಸ್ಟರ್ 2016-2019
47 ಕಾಮೆಂಟ್ಗಳು
1
G
geomi
Sep 25, 2018 11:50:10 PM
Yours is an odd problem. I am a satisfied user even after 4 years. I have not experienced any of the issues you have mentioned. I think its your bad luck. Really its a nice suv.
Read More...
ಪ್ರತ್ಯುತ್ತರ
Write a Reply
1
N
navin
Sep 5, 2018 5:43:30 PM
thank you sir .. i was thinking to buy this car .. but after your review i will defiantly not buy this auto .... i believe my cycle is better than this car
Read More...
ಪ್ರತ್ಯುತ್ತರ
Write a Reply
1
N
navin
Sep 5, 2018 5:43:28 PM
thank you sir .. i was thinking to buy this car .. but after your review i will defiantly not buy this auto .... i believe my cycle is better than this car
Read More...
ಪ್ರತ್ಯುತ್ತರ
Write a Reply
ಟ್ರೆಂಡಿಂಗ್ ರೆನಾಲ್ಟ್ ಕಾರುಗಳು
×
We need your ನಗರ to customize your experience