Very good family car
Very good family car
My name Sathish Kumar based out of Chennai and bought Renault Lodgy RxL 110ps version on Mar 2016. This is my third car. previously I owned TATA cars. I started with Indica DLS(2006) and upgraded to Vista(2011). I lost my Vista last year in  Chennai flood and decided to go for seven seater MPV. After all my research, finally, I picked Renault Lodgy. Below is my feedback/review about the car based on experience for past five months. Renault Lodgy is the very nice family car. People who love driving along with their family can go for this one. It has a silent engine and when sitting in the cabin, you hardly hear any noise from the engine. It is very good for long drive. I never felt tired driving this car. I drove to Chennai to Nagarcoli, then to  Munnar to Chennai which was close to 1800KM. This engine is nice for driving on highways. I got 16.5KML in highway and 12.5KMPL during city commute. One major safety issue with this car is central locking. You do not have Door Lock switches in each door. As per Renault service person, the doors get locked when the car reaches 20KM, and it will not open from inside. When I tried opening the door from inside, I was able to open the door and that time my speed was around 40kms. This is one of the major safety issues which Renault have to look. Pros : 1. Engine Performance 2. A 7 seater. Seven adults can sit comfortably. 3. Spacious/roomy cabin (Need to have goods carrier) 4. A/C is super(3 row A/C). I never felt hot sitting inside the car during May month also that too everyone knows about Chennai weather. 5. Zero engine noise. 6. Ingress and egress good. 7. driving position is good. 8. Front look is good. 9. Good road Presence. 10 . No lag in pulling when the car fully loaded. Cons : 1. There is no seat height adjustment. 2. Mud flaps quality is very poor. 3. Rubber beddings are not made of good quality rubber 4. DTR could have been in white light instead of yellow. I usually get the signal from external people that headlight is on. 5. Power lag under 1200 RPM. 6.Compay fitted music system is average. Third-row people won't hear the music properly. You need to keep it in high volume which will be irritating for front row people. 7. Boxy looking. But I am used to it now. 8. Clutch is heavy in 110 ps version 9. Sales people are lethargic. Overall I Can give 4/5. 5 Star for engine performance 4 star for Cabin.
Write your Comment on ರೆನಾಲ್ಟ್ ಲಾಡ್ಗಿ
1
anand.g
Aug 19, 2017 8:18:26 PM
i am planning to buy -Thanks for yr review
ಪ್ರತ್ಯುತ್ತರ
1
s
sanjiv prabhakar
Aug 4, 2017 11:40:12 AM
I want world edition and needs best prices for 85 and 110mps version
ಪ್ರತ್ಯುತ್ತರ
ರೆನಾಲ್ಟ್ ಲಾಡ್ಗಿ ಬಳಕೆದಾರರ ವಿಮರ್ಶೆಗಳು
ಆಧಾರಿತ
73 ಬಳಕೆದಾರರ ವಿಮರ್ಶೆಗಳು
All (73)
Mileage (24)
Performance (14)
Looks (17)
Comfort (34)
Engine (19)
Interior (14)
Power (11)
More ...
ಇತ್ತೀಚಿನ
ಸಹಾಯಕವಾಗಿದೆಯೆ
VERIFIED
CRITICAL
I have always rated the Renault Lodgy, highly as a product. When it came to desirability though, it lacked finesse and clearly is an MPV that prefers function over form. ...ಮತ್ತಷ್ಟು ಓದು

Bought Lodgy in the year 2015, the car was good and running well. I have done the services regularly too. Once the warranty given by Renault got over all faults started a...ಮತ್ತಷ್ಟು ಓದು

The best car in the segment..good Mileage, handling, comfortable ride for 8 people...pick up is great even with full passenger load. Ground clearance bit lower for the ca...ಮತ್ತಷ್ಟು ಓದು

A comfortable luxurious sedan, big MPV, stylish SUV & economical like a small hatchback i.e., four cars feelings are combined in a single Lodgy. Out of 16 cars of various...ಮತ್ತಷ್ಟು ಓದು

Renault Lodgy is the best car for the highway with good fuel efficiency. All the 8 seats of this MPV is very comfortable. None of the person seated in the car got tired w...ಮತ್ತಷ್ಟು ಓದು

An excellent car I have ever seen and had a great experience for the last two years. A little expensive and the best mileage.

Driven almost 50000 KMS. Excellent car both for city drive as well as highway. Great pick up due to 110BS and higher torque works wonders. Traveled for 1200 KMS with 7 ad...ಮತ್ತಷ್ಟು ಓದು

Lodgy is a good MPV and family car. Renault gives better mileage and nice features and good looks, good performance.

ಎಲ್ಲಾ ಲಾಡ್ಗಿ ವಿರ್ಮಶೆಗಳು ವೀಕ್ಷಿಸಿ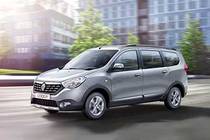 Rs. 8.63 ಲಕ್ಷ - 12.29 ಲಕ್ಷ*
ಈ ಕಾರಿನ ಮಾದರಿ ಅವಧಿ ಮುಗಿದಿದೆ
ಬಳಕೆದಾರರು ಕೂಡ ವೀಕ್ಷಿಸಿದ್ದಾರೆ
ಟ್ರೆಂಡಿಂಗ್ ರೆನಾಲ್ಟ್ ಕಾರುಗಳು