Not as good as it used to be
Not as good as it used to be
My Innova Crysta is about a year old. I still own an older version of Innova which I bought for a little over 10 lakhs, drove for 10 years and put on more than 150,000 km. It is still the preferred vehicle for the family whether we want to drive in town or take for the long haul. The Innova Crysta 2.8 ZX AT is a good car but not a great car. I have put in about 8000 kilometers in one year, most of it self-driven. It has more power, drives smooth (but not smoother than the older version), comfortable, supposedly safer, etc. But, I see a few problems. The car quickly developed a couple of minor defects -- did not happen like this in the older version. The door opener from inside on the rear passenger door malfunctioned and had to be replaced (covered under warranty). One of tyres developed a bulge on one of the long rides. The car dealer initially said that it was a manufacturer's defect and would be replaced. The tyre manufacturer (Bridgestone) said it was my fault that I bumped it somewhere. I don't recall any such bump and even if I did, I wonder what was the problem. Tyres in India should be made to stand our rough and tough roads and they going out in less than 8000 km is simply not acceptable when each tire costs about Rs. 13,000. When I said why it could not be Bridgestone's defect, I received a ridiculous reply that if it were Bridgestone's defect, all four tyres should have developed the same defect. I am also not happy about the insurance sold by Toyota. It is very expensive. The 24x7 roadside help is completely unhelpful. When I called the service, the person who picked up the call could not speak good English and the entire session lasted a full 15 minutes with him asking so many details like the Chassis Number while all I wanted was for the help to arrive quickly and help me out. Nearly an hour later, someone called to ask where I was. Then an hour later, someone from the local area asked where I was and he would come in 45 minutes to get the car fixed. By then I had found a local mechanic help on my own and paid him to get the problem fixed. Overall, I feel that Innova Crysta is a good car, but at its high price, it does not represent the value that it once did and people flocked to buy an Innova. Toyota needs to improve the value proposition by either lowering the cost or enhancing the quality of the car. For a start, I would recommend they change the tyre supplier. Also, please make the car less noisy inside. At more than 100 kmph, the wind noise is high and erodes the ride comfort. If something could be done about the last row and the cargo space it would be nice too. Space is too cramped out there.
ಟೊಯೋಟಾ ಇನೋವಾ crysta 2016-2020 ಬಳಕೆದಾರರ ವಿಮರ್ಶೆಗಳು
ಆಧಾರಿತ
511 ಬಳಕೆದಾರರ ವಿಮರ್ಶೆಗಳು
ಎಲ್ಲಾ (510)
Mileage (62)
Performance (57)
Looks (104)
Comfort (253)
Engine (78)
Interior (90)
Power (92)
More ...
ಇತ್ತೀಚಿನ
ಸಹಾಯಕವಾಗಿದೆಯೆ
VERIFIED
CRITICAL
Best car as per power, safety and luxury and the comfort level of the vehicle are awsome, best car for long drives.

This car is truly the best car, it's very comfortable and leg space which is really good just one thing that I disliked is the noise from the cabin during speed pickups e...ಮತ್ತಷ್ಟು ಓದು

19 km/liter on highway .mileage has gone beyond my expectations. I suggest everyone buy Toyota Crysta and enjoy comfort with power and with good mileage.

Style with luxury with pity maintenance costs. Excellent performance with around 13 KMPL mileage. Fully loaded car.

Perfect car with fully featured interior and exterior. Comfortable driving for a long route. Overall safe car.

Best in the segment but overpriced and features and safety are amazing, best selling car and also we can handle the car very smoothly.

Probably the best car for any use. I take even for the local market, it is that easy to handle. I am having a hard time choosing 2nd sedan car for my wife as Innova has s...ಮತ್ತಷ್ಟು ಓದು

Good car I bought 7months ago and I visited 4 to 5 times to service station for various types of problems. And that's before 10K service. When it's a warranty issue nobod...ಮತ್ತಷ್ಟು ಓದು

ಎಲ್ಲಾ ಇನೋವಾ crysta 2016-2020 ವಿರ್ಮಶೆಗಳು ವೀಕ್ಷಿಸಿ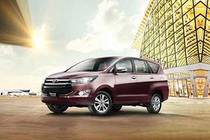 Rs.13.88 ಲಕ್ಷ - 24.67 ಲಕ್ಷ*
ಈ ಕಾರಿನ ಮಾದರಿ ಅವಧಿ ಮುಗಿದಿದೆ
ಬಳಕೆದಾರರು ಕೂಡ ವೀಕ್ಷಿಸಿದ್ದಾರೆ
Write your Comment on ಟೊಯೋಟಾ ಇನೋವಾ crysta 2016-2020
ಟ್ರೆಂಡಿಂಗ್ ಟೊಯೋಟಾ ಕಾರುಗಳು
×
We need your ನಗರ to customize your experience