ಫಿಯಟ್ ಅಬಾರ್ಥ್ avventura ಬಳಕೆದಾರರ ವಿಮರ್ಶೆಗಳು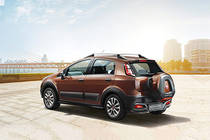 Rs. 9.89 ಲಕ್ಷ*
ಈ ಕಾರಿನ ಮಾದರಿ ಅವಧಿ ಮುಗಿದಿದೆ
ಫಿಯಟ್ ಅಬಾರ್ಥ್ avventura ಬಳಕೆದಾರರ ವಿಮರ್ಶೆಗಳು
All (5)
Mileage (2)
Performance (1)
Looks (2)
Comfort (1)
Engine (1)
Interior (1)
Power (1)
ಹೆಚ್ಚು ...
ಇತ್ತೀಚಿನ
ಸಹಾಯಕವಾಗಿದೆಯೆ
VERIFIED
An awesome machine that will make you so proud and excited at the same time! It crosses 100 Kmph in under 10 seconds and reaches 180-190 Kmph very quickly. On the highways, it feels like it can defeat any car! Seriously! :) It just gallops the road with so much ease. Yes it consumes a lot of fuel. I have been driving my abarth avventura for last 1 ...ಮತ್ತಷ್ಟು ಓದು

I was always a big fan of Fiat since their engines drive Maruti cars in India, so I thought why not go for a power packed cars of the Italian brand. After going through numerous reviews on the web and advises of close friends, my all the search boiled down to two options; either to go with Punto Abarth or Fiat Abarth Avventura crossover. Punto hatc...ಮತ್ತಷ್ಟು ಓದು

Extremely POWERFULL MACHINE THAT DELIVERS 140 BHP IN SHORT ACCELERATION. I OWNED 2 RANGE ROVER SPORT CARS. BUT I AM TOTAL IMPRESSED BY PERFORMANCE OF AVVENTURA ABARTH. THANKS TO FIAT COMPANY FOR THIS WONDERFULL ROCKET IN THE HANDS OF CUSTOMER. ಮತ್ತಷ್ಟು ಓದು

Every thing feels solidly put together whenever you touch the car.....a lot of funn to drive this machine. yes it drinks a lot of fuel .... a am getting about 10kmpl in the city and about 16 kmpl on the highway run. typical Italian built quality.....i appreciate the looks .....Fiat has done very good job in this department......hats off to Fiat.......ಮತ್ತಷ್ಟು ಓದು













Not Sure, Which car to buy?
Let us help you find the dream car

Are you Confused?
Ask anything & get answer ರಲ್ಲಿ {0}