A BREATH OF FRESH LUXURY
A BREATH OF FRESH LUXURY
BMW i8 is comfortable in its own amazing skin. It looks like a buttressed spaceship trimmed with extraterrestrial blue and black. If the wheels were spat-covered, itd be easy to convince people its actually levitating on the pride of Munich. Every person who catches a glimpse locks eyes on it, and you neednt be clairvoyant to read pedestrians thoughts, which mostly boil down to Bending in and under the dihedral doors is an event, every time. Before you fall into the car, you must first hoist yourself over the tall, wide side sills. Graceful entries and exits are not an option, and after a weekend of running routine errands, we found this raises questions about daily drivability. But then, like a hat worn to the Kentucky Derby, this car is about making statements. For some, announcing ones arrival is a priority that overshadows any thought of inconvenience. And this plug-in hybrid makes a greener statement than any Audi R8, McLaren 570S, or Porsche 911. Tesla owners nod in approval and Prius owners . . . ah, who are we kidding Prius owners dont see other cars.Aside from drawing all the stares, this car can see well, too. Or rather, its driver can because this is the first car in the U.S. equipped with laser headlights yes, laser beams, but not quite literally, Dr. Evil. Lasers are used internally, but the pure-white light generated by laser-excited phosphorous is safe for oncoming motorists. BMW finally got federal (NHTSA and FDA) approval to offer these lights, a $6300 option for the high-beams that are 1000 times more intense than LEDs. These new lights are even more energy-efficient than LEDs, but they are only for use as a supplemental high-beam that activates above 43 mph; the regular low-beams and the high-beams below 43 mph are LEDs. Although the U.S.-approved laser high-beams are less blue and less powerful than those offered in Europe (where they?re also dynamic, dimming out an area when the car detects oncoming traffic), they are still turn-night-into-day, we-have-a-prison-break bright. We see why they operate exclusively at higher speeds.  
Write your Comment on ಬಿಎಂಡವೋ ಐ8
ಬಿಎಂಡವೋ ಐ8 ಬಳಕೆದಾರರ ವಿಮರ್ಶೆಗಳು
ಆಧಾರಿತ
12 ಬಳಕೆದಾರರ ವಿಮರ್ಶೆಗಳು
All (12)
Mileage (3)
Performance (6)
Looks (5)
Comfort (3)
Engine (3)
Interior (1)
Power (5)
More ...
The i8?s performance is quite frankly astonishing for a car with a three-cylinder engine. The combination of a 227bhp petrol engine and a 129bhp electric motor means it c...ಮತ್ತಷ್ಟು ಓದು

Excellent design with power. Fabulous interiors. Sparkling beams. Example of a perfect dream car.

This car has made the world sit up and check this out for a number of reasons. One is the styling that is not beautiful in all traditional sense but a car that comes stra...ಮತ್ತಷ್ಟು ಓದು

Best car of the decade BMW i8 can be called as the Zeus of the cars. It's looks and the power can totally explain that this is a car which is totally worth it.

Futuristic styling makes it stand out in front of more capable and similarly priced supercars. The BMW i8 is not only fast but extremely frugal as well with a nearly 50 K...ಮತ್ತಷ್ಟು ಓದು

This is a good car in value. It is the best car in the world. It has very smart look, features, and best quality. I am proud of this car.

ಎಲ್ಲಾ ಐ8 ವಿರ್ಮಶೆಗಳು ವೀಕ್ಷಿಸಿ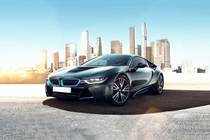 Rs. 2.25 - 3.30 ಸಿಆರ್*
*estimated price
ಬಳಕೆದಾರರು ಕೂಡ ವೀಕ್ಷಿಸಿದ್ದಾರೆ
ಟ್ರೆಂಡಿಂಗ್ ಬಿಎಂಡವೋ ಕಾರುಗಳು

* ಅಂದಾಜು ಬೆಲೆ ಹೊಸ ದೆಹಲಿ