Good car, value money ಗೆ
Good car, value for money
I had to take a painful decision of trading off my chevy spark, my first car which I just loved driving. After driving for 2 years/ 37000 kms, I decided it was a high time to shift to diesel due to the ever growing costs of petrol. Then started the Hunt- Probably included Ford Figo, Toyota Liva, Maruti Ritz, Tata Indica eV2.. (just the first list of "can-look-at"). The major factors for shortlisting included Mileage ( I drive too often on the highways), Low Maintenance. All others are good-to-have. Please note that though safety is the primary issue while driving on highways, the ABS+EBD version's price is out-of-bounds for me. So, I was looking for a diesel version for which I can shell out at best 6 lakhs. Maruti- Out at the first shot- reasons- long waiting periods, crazy shapes- With due respect to my fellow drivers of Maruti cars, I anyways hate Maruti cars Indica eV2 - Taxi on the street??? Lol, sorry Liva - What happens when a renowned brand, in the crazy hunt for market share, develops a product with cheap plastics, glaring cost-cutting etc etc.. The end result is an Etios. Cut the boot space much further- you have Liva. Sorry Ford Figo - The best of the lot that I selected. I liked the way it looks and drives. Space is also quite good for a car of that segment. So, started negotiating the price with the dealer. Then, all of a sudden came the new entrant- Chevy Beat- on the recommendations of few of my friends. Tested the car and it was just amazing. Light steering, peppy engine (for the city roads), solid suspension, Heavy insulation to reduce the noise levels of a typical diesel engine- so on so forth. I was now in a dilemma in choosing between Figo or Beat. When all things are more or less equal (engine wise, Figo has an extra cylinder taking the total capacity to 1.3L while Beat is just 936cc), the bone of contention will be the price/ accessories/ exchange offers etc. There is not much difference between the base versions price for both the cars (it's 5.5 for beat, don't remember the exact details for Figo but the difference was not much) Exchange Bonus- My first car was a Chevrolet and from the same dealer. There was no exchange bonus but he offered a loyalty bonus of 10k Exchange of old car- The dealer was ready to trade-in the new beat with the old spark. He offered me 1.7 lakh. The rate was less compared to the market value but - frankly, I was in a little hurry. The dealer promised delivery in 7-10 working days and he was bang on time. It has been a treat to drive this car... While mileage in the city has been around 15, it's the highways that it just stuns...Out of 8-10 trips done till date (my car is 3 months old), it constantly gave me 21-22kmpl on the highway(100% A/c on, min 2 people with light luggage, constant speed of 100). On the flip side, you cannot drive on high speeds on a highway as it runs out of steam at 120. For best-driving pleasure keep it at 100 and enjoy the drive.
ಚೆವ್ರೊಲೆಟ್ ಬೀಟ್ ಬಳಕೆದಾರರ ವಿಮರ್ಶೆಗಳು
ಆಧಾರಿತ
243 ಬಳಕೆದಾರರ ವಿಮರ್ಶೆಗಳು
ಎಲ್ಲಾ (243)
Mileage (145)
Performance (45)
Looks (175)
Comfort (142)
Engine (77)
Interior (69)
Power (64)
More ...
ಇತ್ತೀಚಿನ
ಸಹಾಯಕವಾಗಿದೆಯೆ
VERIFIED
CRITICAL
I bought beat base model before 2 year in 2016 sep (4.80) with front power window steering very smooth good space, can sit 5 people easily mileage 20 in city with A.c and...ಮತ್ತಷ್ಟು ಓದು

Within a short budget I choose this car. It gave me wonderful mileage. Not very comfortable at the rear seat but with 60:40 split option even in the lower models it gave ...ಮತ್ತಷ್ಟು ಓದು

Purchased in 2010 July, the car has been excellent mate in terms of a single-handed drive. Its been a true companion on highway driving, in 42 degrees temp of Gujarat, wh...ಮತ್ತಷ್ಟು ಓದು

I have BEAT Diesel car and it crossed almost 75000 KM running , But now I have started facing lot of problem 1] Engine is consuming oil , I have to replace it every 5000 ...ಮತ್ತಷ್ಟು ಓದು

I am using Chevrolet beat from past 4 years and was getting it serviced from Bosch service center. Don't know why I got my last service done from Chevrolet dealer on 31st...ಮತ್ತಷ್ಟು ಓದು

I have purchased Chevrolet beat Diesel model LT in Feb 2013, the car is really nice and compact still four persons can easily travel in this car rear seats are also havin...ಮತ್ತಷ್ಟು ಓದು

Our family has always been inclined towards buying Maruti. But I had to buy a diesel car with low budget. Decided to go for Beat LS diesel model. I must say am really imp...ಮತ್ತಷ್ಟು ಓದು

Its the 4th year - perfect hatchback for Indian traffic. Amazing size, powerful engine, best suits for a small family with terrific mileage as promised by the company ( v...ಮತ್ತಷ್ಟು ಓದು

ಎಲ್ಲಾ ಬೀಟ್ ವಿರ್ಮಶೆಗಳು ವೀಕ್ಷಿಸಿ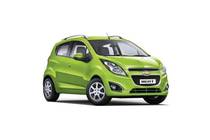 Rs.4.32 ಲಕ್ಷ - 6.57 ಲಕ್ಷ*
ಈ ಕಾರಿನ ಮಾದರಿ ಅವಧಿ ಮುಗಿದಿದೆ
ಬಳಕೆದಾರರು ಕೂಡ ವೀಕ್ಷಿಸಿದ್ದಾರೆ
Write your Comment on ಚೆವ್ರೊಲೆಟ್ ಬೀಟ್
×
We need your ನಗರ to customize your experience