A reliable car
A reliable car
I own a black Amaze, to be frank with even though the black color looks amazing it is literally difficult to clean and maintain its luster, The Car has Good exterior features , the profile line which moves from low to high from the front to back gives the car a big and sporty look, the front chrome finish on the front grill catch the eye. Boot space is the best in this class.The boot curve projection gives it a classy look. The tools and jack are arranged so perfectly. The head light sinks very well with the body unlike in many vehicles it is protruded which reminds me of a frogs eye. The lack of front fog lamps is a major deficiency. The lines between the bonnets, boot doors are all perfect. The doors and boots get closed so smoothly, but the side rear view mirrors hinges are are not strong enough to handle the rash bike drivers on Indian condition. The interiors are also very good the panel visibility, music system operations are all very good. But the bottle holders on the front doors are under sized to hold normal bottles. The cabin space is also good that even a 6 footer can sit comfortably at rear seat, I don't recommend 5 persons to travel together for long drives as 3 at rear would not be that comfortable. The engine initial pick is low but can move off pushing the pedal down, if you have good driving habits it will fetch you excellent millage of 25 to 28 Km on highways. Ensure that you maintain correct Tyre pressure, Honda recommends 33 and 29 PSI for front and rear respectively, unfortunately many of the Tyre workers (including Nitrogen) fills a flat 32 to all four Tyre's which drastically affect the millage stability and Tyre life. most places even the pressure gauges are faulty. Power of the vehicle can be felt while climbing uphills. The engine is protected from below so that the engine room is so clean and dust free. Talking about the high service cost is not so true if your odometer clocks 10000 km in 6 months. if your running is low you may feel a higher service cost due to the 6 month service frequency, The average service cost I incurred is 5000/- to 6000/- INR. I have driven my car for 38000 km and except the routine service no work as come. The service at Honda, we may have to push them a bit to get the work done properly, but still good compared to many others. I strongly recommend this car if your average run is 20000 Km or above a year.
ಹೋಂಡಾ ಅಮೇಜ್‌ 2016-2021 ಬಳಕೆದಾರರ ವಿಮರ್ಶೆಗಳು
ಆಧಾರಿತ
1018 ಬಳಕೆದಾರರ ವಿಮರ್ಶೆಗಳು
ಎಲ್ಲಾ (1017)
Mileage (326)
Performance (156)
Looks (294)
Comfort (344)
Engine (235)
Interior (176)
Power (157)
More ...
ಇತ್ತೀಚಿನ
ಸಹಾಯಕವಾಗಿದೆಯೆ
VERIFIED
CRITICAL
perfect buy. Mileage is an issue in CVT. Rest is a smooth driving, comfort is good. The look is awesome, performance is best

Very good car, compared to other cars at the same price. Style, mileage, comfort are all decent.

Honda Amaze the big move supports best in a class spacious cabin and legroom which is comfortable for a family of 4 -5. Boot space is best in the segment and very us...ಮತ್ತಷ್ಟು ಓದು

I want to share my views about the Honda Amaze VX CVT petrol, top model, purchased on Jan 2021. Pros- 1. Good looking cars in this segment, 2. The end of t...ಮತ್ತಷ್ಟು ಓದು

Please do not buy Honda Amaze - any words are less to criticize this fraud car - the average mileage is only 12 kmpl. The company says the city average is low. The m...ಮತ್ತಷ್ಟು ಓದು

I have purchased Honda Amaze 2021 petrol auto transmission. I am very much disappointed after the purchase, previously I have used Hyundai fluidic Verna. Minus points in ...ಮತ್ತಷ್ಟು ಓದು

Perfect sedan for city and highways mileage, better than teen box Dzire and ugly Aura. Easily touches 165kmph in petrol

Good sedan with premium exterior and interior look .refined petrol engine with mileage up to 22 in the highway with 5th gear..amazing

ಎಲ್ಲಾ ಅಮೇಜ್‌ 2016-2021 ವಿರ್ಮಶೆಗಳು ವೀಕ್ಷಿಸಿ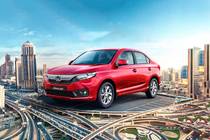 Rs.5.41 ಲಕ್ಷ - 11.11 ಲಕ್ಷ*
ಈ ಕಾರಿನ ಮಾದರಿ ಅವಧಿ ಮುಗಿದಿದೆ
ಬಳಕೆದಾರರು ಕೂಡ ವೀಕ್ಷಿಸಿದ್ದಾರೆ
Write your Comment on ಹೋಂಡಾ ಅಮೇಜ್‌ 2016-2021
×
We need your ನಗರ to customize your experience