Air condition IS not effective
Air condition is not effective
Look and Style Exterior look is excellet. Comfort : Inside confort is Ok. It is not as spacious as projected. Space is little bit higher than dzire. Only two persons can seat comfortably on rear seat. No front & rear head rest. Pickup : Petrol Engine ws very smoth and Gear was also very smoth in petrol car.Pickup in Petrol Engine was good. Diesel engine up to 2nd gear pick up was good. But in 3rd gear car i felt car struggling to move.Engine was making little bit higher noise. Shifting gears on diesel engine was not smoth and I felt it very heavy. Mileage: As far as mileage is concerned I can't comment. Best Features: Exterior looks and boot space are the best features for this car. Petrol Engine was fun to drive. Needs to improve : The biggest con of this car is its Air condition. I live in Baroda, Gujarat. First time I went for test drive in the evening at 7 p.m.. I found AC to be very in-effective. Though car was running continuously as there was long queue for test drive. Car was not chilled. Forget about chilling, from air vents you feel cool (not chill) air coming on you (that to even on highest setting of AC nob). I went for test drive again on next day to different dealer in the afternoon(to make sure that the issue is not with only one car) I test drove the car for 5 mins and further for 2-3 minutes I set in the car to check the AC. But the same story. It failed to cool the car(Forget chiiling effect). Hence if you live in the area where summer is harsh Please check the performance of the Air Condition before buying the car. After shelling out RS. 7 lacs I had not expect so poor performance of Air condition whcih is basic necessity. Dealership experience : I went to Techtone Motors Pvt. Ltd. dealer in Baroda. Honda Amaze is only available to you if you purchase non-sense acessories worth Rs. 20,000/-, Extended warranty Rs. 6800/-, So called Road Side Assistance Rs. 4800/- , 0% depriciation insurance : Rs. 4000(in addition to standard insurance) and Handling charges : Rs. 5000/- Above everything is compulsory. Dealer says that company have ordered them not to sell the car without accessories, Ex. warranty, RSA, Handling charges. Hence over and above Ex. Show room price, standard insurance and RTO I need to shell out more Rs. 40,000. I had not expected that from honda. I really feel sorry for Honda, declaring the low price and than shelling out more from customers in the name of accessories, ex. warranty, RSA etc. is really bad. Overall Experience : Exterior look and Boot Space is dashing. Petrol Engine is good. Air condition is very bad. Gear box of Diesel Engine is hard.
ಹೋಂಡಾ ಅಮೇಜ್‌ 2016-2021 ಬಳಕೆದಾರರ ವಿಮರ್ಶೆಗಳು
ಆಧಾರಿತ
1017 ಬಳಕೆದಾರರ ವಿಮರ್ಶೆಗಳು
ಎಲ್ಲಾ (1017)
Mileage (326)
Performance (156)
Looks (294)
Comfort (344)
Engine (235)
Interior (176)
Power (157)
More ...
ಇತ್ತೀಚಿನ
ಸಹಾಯಕವಾಗಿದೆಯೆ
VERIFIED
CRITICAL
perfect buy. Mileage is an issue in CVT. Rest is a smooth driving, comfort is good. The look is awesome, performance is best

Very good car, compared to other cars at the same price. Style, mileage, comfort are all decent.

Honda Amaze the big move supports best in a class spacious cabin and legroom which is comfortable for a family of 4 -5. Boot space is best in the segment and very us...ಮತ್ತಷ್ಟು ಓದು

I want to share my views about the Honda Amaze VX CVT petrol, top model, purchased on Jan 2021. Pros- 1. Good looking cars in this segment, 2. The end of t...ಮತ್ತಷ್ಟು ಓದು

Please do not buy Honda Amaze - any words are less to criticize this fraud car - the average mileage is only 12 kmpl. The company says the city average is low. The m...ಮತ್ತಷ್ಟು ಓದು

I have purchased Honda Amaze 2021 petrol auto transmission. I am very much disappointed after the purchase, previously I have used Hyundai fluidic Verna. Minus points in ...ಮತ್ತಷ್ಟು ಓದು

Perfect sedan for city and highways mileage, better than teen box Dzire and ugly Aura. Easily touches 165kmph in petrol

Good sedan with premium exterior and interior look .refined petrol engine with mileage up to 22 in the highway with 5th gear..amazing

ಎಲ್ಲಾ ಅಮೇಜ್‌ 2016-2021 ವಿರ್ಮಶೆಗಳು ವೀಕ್ಷಿಸಿ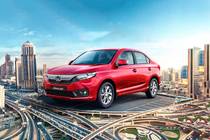 Rs.5.41 ಲಕ್ಷ - 11.11 ಲಕ್ಷ*
ಈ ಕಾರಿನ ಮಾದರಿ ಅವಧಿ ಮುಗಿದಿದೆ
ಬಳಕೆದಾರರು ಕೂಡ ವೀಕ್ಷಿಸಿದ್ದಾರೆ
Write your Comment on ಹೋಂಡಾ ಅಮೇಜ್‌ 2016-2021
14 ಕಾಮೆಂಟ್ಗಳು
1
A
arunkumar
May 1, 2017 10:53:28 PM
i have a 2013 honda amaze and have driven it 70k kms till date,as of my opinion goes,honda amaze has one of the best ac in compact cars,it cools the cabin faster in 40 degree sun in my city.Till now i have changed brake pads twice and front wheel rotar discs once,other than this un-scheduled maintenance i have only changed oil and driven it in all kinds of roads.no issues with the car whatesover,.I agree about the engine clatter,but coming from indica days to amaze,i dont feel its harsh
Read More...
ಪ್ರತ್ಯುತ್ತರ
Write a Reply
1
j
jdjdj
Apr 7, 2016 11:07:38 AM
Ffkzkskdkdkdkdkdkdkdkdkdkdjjdjdjdjjkr
Read More...
ಪ್ರತ್ಯುತ್ತರ
Write a Reply
1
v
valent fernandes
Feb 21, 2015 7:33:49 PM
I have to agree with the AC issue.I stay in goa and in Feb its not that hot even in afternoons which is the time I took a test drive and the ac refused to cool at all even on full flow.space is a big plus.
Read More...
ಪ್ರತ್ಯುತ್ತರ
Write a Reply
×
We need your ನಗರ to customize your experience