Better ಕಾರು Than ಕ್ರೆಟಾ ಮತ್ತು XUV 500
Better Car Than Creta and XUV 500
After one month of drive and exploring all features, I found BRV as a better car than Creta and XUV 500. It is surprising, isn't it. So I will try to cover practicality of BRV since features details between these cars can be found everywhere online. BRV is spacious and best family car, apart from being 7 seater it has big boot than XUV 500. During the long drive, kids fold middle seat and car become so spacious that they can sit and sleep comfortably. No other cars provide this feature, even Innova's middle row seats do not tumble fully. Touchscreen infotainment with rear sensor comes with an additional price , but worth to get. It provides rear camera and sensors on screen, Bluetooth can also be connected to the steering wheel. GPS navigation also comes with it, and USB runs the most type of video formats which even Creta's infotainment cannot run. Creta's rear seats angle is not comfortable during long drives, wherein BRV middle row seats can be reclined just like Innova pilot seats. This feature is not even available in XUV. The petrol engine is smooth and noise free, CVT is very smooth and powerful. So BRV automatic is best among XUV and Creta since other two have rubber band effect. Honda is famous for ergonomics and metal body frame, no doubt that it takes the edge over other two cars very easily. Honda connect feature provides car tracking and immobilise function, which is absent in other two competitors. Rear AC vents make knees cold due to their location, XUV rear AC vents are insides. BRV provides rear AC vents just like Innova, the best place to make middle and rear seat passengers comfortable. Driving is hassle free and city drive is smooth, better than XUV or Creta. No doubt Honda petrol engine is better than the Creta. XUV's engine capacity is more than Creta and BRV but still it will left behind by Creta and BRV. Middle row floor hump is almost nill in BRV but in other two it is recognisable, so middle seating passenger will feel more comfort in BRV. Off road drive in BRV is good, may not be as good as in Creta but better than XUV anytime. BRV also wins in terms of price, so among these three cars, it is best and worth. My wife also feels comfortable driving BRV than other two. Honda after sale service can't compete with Hyundai. To conclude, BRV is worth and best among Creta and XUV.
ಹೋಂಡಾ ಬಿಆರ-ವಿ ಬಳಕೆದಾರರ ವಿಮರ್ಶೆಗಳು
ಆಧಾರಿತ
176 ಬಳಕೆದಾರರ ವಿಮರ್ಶೆಗಳು
ಎಲ್ಲಾ (176)
Mileage (55)
Performance (25)
Looks (49)
Comfort (77)
Engine (47)
Interior (19)
Power (21)
More ...
ಇತ್ತೀಚಿನ
ಸಹಾಯಕವಾಗಿದೆಯೆ
VERIFIED
CRITICAL
I have idtec vx style edition 2018 Done around 25,000kms since Oct 2018 Mileage 20kms in city and 24kms in highway being a doctor I drive sedately Not above100kms/he in h...ಮತ್ತಷ್ಟು ಓದು

I used Honda BR-V for around 1 yrs. I like the performance of the Honda. It is not good looking as compare to other but its comfort is awesome. The cost of maintenance is...ಮತ್ತಷ್ಟು ಓದು

It is a spacious and affordable MPV for the middle class family. Silent engine, good mileage, less maintenance cost, comfortable for city drive and other roads.

Honda BR-V is a fully automatic car. The car is good in driving in the city as well as in highway, very good pickup, although not having hill assist. Very comfortable car...ಮತ್ತಷ್ಟು ಓದು

Fantastic driving experience, smooth and easy. Spacious, flexible, Excellent 7 seater at this price range.

I am driving this car for the past 2.5 years. The performance along with driving comfort is great. The car has great mileage. The car is spacious and is great f...ಮತ್ತಷ್ಟು ಓದು

ಎಲ್ಲಾ ಬಿಆರ-ವಿ ವಿರ್ಮಶೆಗಳು ವೀಕ್ಷಿಸಿ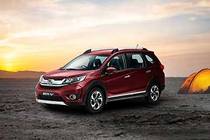 Rs.9.53 ಲಕ್ಷ - 13.83 ಲಕ್ಷ*
ಈ ಕಾರಿನ ಮಾದರಿ ಅವಧಿ ಮುಗಿದಿದೆ
ಬಳಕೆದಾರರು ಕೂಡ ವೀಕ್ಷಿಸಿದ್ದಾರೆ
Write your Comment on ಹೋಂಡಾ ಬಿಆರ-ವಿ
3 ಕಾಮೆಂಟ್ಗಳು
1
s
sam
Sep 13, 2018 11:49:03 PM
Can some call me those who own BRV on 9724283297
Read More...
ಪ್ರತ್ಯುತ್ತರ
Write a Reply
1
D
deepu
Jun 26, 2018 6:46:56 PM
Can you let us know the average mileage you were getting on the automatic engine?
Read More...
ಪ್ರತ್ಯುತ್ತರ
Write a Reply
1
P
pramod
Aug 9, 2016 12:20:29 PM
Yes, i agree and been driving BRV vmt since a month with satisfaction and being the best in 7 seater seg with good price tag
Read More...
ಪ್ರತ್ಯುತ್ತರ
Write a Reply
×
We need your ನಗರ to customize your experience