ಅತ್ಯುತ್ತಮ mileage ever
Best mileage ever
I can buy honda mobilio i-dtech diesel (s) variant, purchased on date 23-11-2016, till today I run my car 3600 km, now I am getting incredible or unbelievable mileage of 28kmpl om highway at average speed of around 90 - 100 kmph , whereas on city area car never down mileage less than 22 kmpl, whereas at 80 kmph speed car gives mileage of 29 - 30 kmpl , till today I have run many cars like maruti 800, hundai santro , tata indica vista vx no one car gives mileage above 20 kmpl when we drive car on Baroda expressway it touches easily at top speed of 150 kmph without feeling of speed due to traffic I do not crosses above 150 kmph the car is very silent same as petrol car, with excellent pick up also driving of car is very easy like you can not drive big car but look like to drive very small car, the car has very soft paddles of brakes , clutch and acceleration no need to give pressure steering of car very light so you can turn with single finger I can drive my car on 8-1-2017 from talod to navasari 330 km and return on same day I drive 662 km on same day without feeling any tiredness or boring I am very happy with my decision of buying mobilio car reg. no. gj09ic0407 shah pankaj dharamchand 9328943103 8758537580
Write your Comment on ಹೋಂಡಾ ಮೊಬಿಲಿಯೊ
1
J
javed badshah
Feb 11, 2019 1:44:40 PM
MOST powerful car in its segment unfortunately discontinued. I have a December 2015 model, petrol engine which runs like a cat. Honda should think of reviving and market it as a spacious long distance travel vehicle for families who love to hit the highways.
ಪ್ರತ್ಯುತ್ತರ
ಹೋಂಡಾ ಮೊಬಿಲಿಯೊ ಬಳಕೆದಾರರ ವಿಮರ್ಶೆಗಳು
ಆಧಾರಿತ
25 ಬಳಕೆದಾರರ ವಿಮರ್ಶೆಗಳು
ಎಲ್ಲಾ (25)
Mileage (19)
Performance (3)
Looks (21)
Comfort (18)
Engine (10)
Interior (7)
Power (2)
More ...
ಇತ್ತೀಚಿನ
ಸಹಾಯಕವಾಗಿದೆಯೆ
CRITICAL
Look and Style: This is a long car. From the front, it appears to be a small car. But I have seen people looking at with amaze as it passes by. It is a crowd puller for s...ಮತ್ತಷ್ಟು ಓದು

I have been a loyal Honda customer for about last 20 years! I purchased Honda Mobilio within the very first month of its launch, mainly because I liked the exterior shape...ಮತ್ತಷ್ಟು ಓದು

Look and Style: Beautiful design & impressive tail appearance. Head turner side profile. Comfort: Very spacious & leg room up to the 3rd row is very good. Seats have a l...ಮತ್ತಷ್ಟು ಓದು

Mobilio comes with a great choice of engines. Both are fast and fuel-efficient. - The suspension offers compliant ride quality & neutral handling. 189 mm of ground clear...ಮತ್ತಷ್ಟು ಓದು

Honda Mobilio, a new seven-seater that promises space and flexibility, comfort and class-leading fuel efficiency.MPVs or multi-purpose vehicles will be the next volume dr...ಮತ್ತಷ್ಟು ಓದು

I can buy honda mobilio i-dtech diesel (s) variant, purchased on date 23-11-2016, till today I run my car 3600 km, now I am getting incredible or unbelievable mileage of ...ಮತ್ತಷ್ಟು ಓದು

I am the proud owner of Honda Mobilio Diesel variant, its been almost 2 years I am using - new had any issue with the vehicle. I like the power of the Vehicle. Best vehi...ಮತ್ತಷ್ಟು ಓದು

Very good car from HondaValue of moneyBest driving experience So many option in variants ABS work very wellBest in class

ಎಲ್ಲಾ ಮೊಬಿಲಿಯೊ ವಿರ್ಮಶೆಗಳು ವೀಕ್ಷಿಸಿ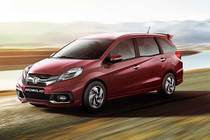 Rs. 7.17 ಲಕ್ಷ - 12.32 ಲಕ್ಷ*
ಈ ಕಾರಿನ ಮಾದರಿ ಅವಧಿ ಮುಗಿದಿದೆ
ಬಳಕೆದಾರರು ಕೂಡ ವೀಕ್ಷಿಸಿದ್ದಾರೆ