Flimsy and Bumpy
Flimsy and Bumpy
I would like to bring the issues I am currently facing with my New Honda WR-V car. KA 03 NA 3553 I purchased a new HONDA WRV, which was delivered to me at my address by the General Manager and the Sales Executive from a dealer in Bangalore on 4 May 2017. The issue was first raised with Honda on 17 May 2017. ISSUE: THE CAR WAS SUPPLIED TO ME WITH SULFURIC ACID IN THE WASHER WATER TANK. DANGERS: The ACID had a potential to cause blindness and skin injury to anyone who would have come into contact when washing fluid was sprayed to wipe the windshield. a. if any child was peeping out of the sunroof as this HONDA car is fitted with sunroof b. any two-wheeler passing by along the side of the car would hurt the eyes and cause accidents c. any pedestrian passing by the side of the car when wiper fluid was sprayed would have blinded one's sight. d. it could have created visibility problems to the driver himself causing accidents. Why am I bringing this to your attention? It was not failure of a mechanical part or machinery in the car or a bad product (would be a case for consumer court)? it was a potential danger to the unsuspecting owner/driver and some kind of ticking bomb placed into the car causing danger to the general public. My Contention. The Honda company the and the dealer who supplied the car is responsible for putting this into the hands of unsuspecting customer, such a dangerous liquid in the washer compartment which could have caused irrevocable damage to people?s eyes and health. It is situation of culpable negligence causing great harm to the general public and till today no one in the Honda company want to own up and responsibility and pass the onus on to the customer.. HISTORY: I took a drive to Bellary and remember to have used the wiper just once. When I reached home I noted dark spots on the entire car and could not figure out what could have happened. Later at KM 834, as I intended to take along journey, I presented the car at Honda Bellary on 17 May 2017 for a 1000 km free check up and I specifically mentioned about this. Since neither the service engineer figured out what could have happened, it was assumed by both of us that it could be some black tar spill from the road construction en route. After driving for another 4000 kms, (KM5224), my car wiper jets were not working, I presented the vehicle to the service center again 5 June 2016, for second free service. After an hour or so, I received a call from the service engineer explaining to me the following giving me the following details. 1. It was found the wiper jets were not working. 2. It was found both wiper motor/pump not working 3. It was found there was a kind of acid spillage in the engine compartment 4. When the water tank of the wiper was inspected it was figured out that the contents was acid and not water and so the wiper motors, pumps and supply hose were fully damaged. 5. The contents of the water container which is said to be acid is saved for investigation. 6. The body paint of the car fully damaged with spots an
ಹೋಂಡಾ ಡವೋಆರ್‌-ವಿ 2017-2020 ಬಳಕೆದಾರರ ವಿಮರ್ಶೆಗಳು
ಆಧಾರಿತ
421 ಬಳಕೆದಾರರ ವಿಮರ್ಶೆಗಳು
ಎಲ್ಲಾ (421)
Mileage (144)
Performance (53)
Looks (110)
Comfort (129)
Engine (98)
Interior (57)
Power (66)
More ...
ಇತ್ತೀಚಿನ
ಸಹಾಯಕವಾಗಿದೆಯೆ
VERIFIED
CRITICAL
Halogen lamp rig yard. music player is updated Virgen regard total, very good build quality, next 7 sitter car in Honda

It is a very good car. I have the diesel variant which gives very good mileage. Very powerful car and the features are also good. Excellent for long drives.

White color sunroof cruise control with best mileage and no scratch. Overall, best in comfort with new tires and single head use.

Its 1500CC engine will never give you any type of reduction in power whether you are overtaking or making higher speed. It is a subcompact crossover. I think its def...ಮತ್ತಷ್ಟು ಓದು

Nice car and fully comfortable and nice mileage I got-18kmpl on highway family car. Nice ground clearance and heavy body.

There is nothing for the rear passengers and literally nothing and not even a charging socket. Comfort, cabin space is great, and rest all are good.

Almost 11k km driven WRV, in highways, it's so smooth and fantastic to drive. 5 people can sit comfortably. If smoothly driven almost 17-18kmph mileage it is giving. The ...ಮತ್ತಷ್ಟು ಓದು

ಎಲ್ಲಾ ಡವೋಆರ್‌-ವಿ 2017-2020 ವಿರ್ಮಶೆಗಳು ವೀಕ್ಷಿಸಿ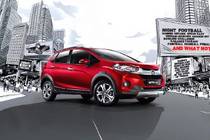 Rs.8.08 ಲಕ್ಷ - 10.48 ಲಕ್ಷ*
ಈ ಕಾರಿನ ಮಾದರಿ ಅವಧಿ ಮುಗಿದಿದೆ
ಬಳಕೆದಾರರು ಕೂಡ ವೀಕ್ಷಿಸಿದ್ದಾರೆ
Write your Comment on ಹೋಂಡಾ ಡವೋಆರ್‌-ವಿ 2017-2020
1 ಕಾಮೆಂಟ್
1
s
sharanappa
Dec 15, 2017 2:15:44 PM
LOOKING FOR HONDA WRV
Read More...
ಪ್ರತ್ಯುತ್ತರ
Write a Reply
×
We need your ನಗರ to customize your experience