My Best Car
My Best Car
First I would like to clarify that this review is entirely based on my experience with the vehicle. Being a mechanical and marine engineer, It was obvious that I had to do complete research before purchasing a perfect hatchback. So, I compared many cars before buying this one I bought my ford freestyle titanium (petrol) on 11th Oct 2018. It has been a wonderful experience until now. There is not a single problem which I am facing while driving this car. I drove 5886 km in such a short span. So, one can imagine how much I am in love with this vehicle. Pros - 1. Ease of drivability - Be it in city or highway the car will never let you down. Especially in the city the low-end torque of this car comes out to be very handy. One can drive this car in 3rd gear without giving acceleration and engine will not stop. 2.Excellent steering dynamics - You can feel the flow. After a turn, it retains its position so swiftly. I just love it. 3. Gear Box - The gear shifting I felt is too smooth. I can feel each position. The moment is also very precise. 4. Excellent Engine - Talking about its engine. This car offers the best in the class engine. Be it a 1.2L 3 cylinder petrol or 1.5L 4 cylinder diesel. Both develop best in class power i.e 95 and 99 BHP. I am driving petrol and it feels awesome to drive. 5. Infotainment system - This is personally my favourite. Not only on papers but simply it's the best in class. It's simply the best. You will get to know once you use it. And, no other competitor is offering you touch screen with inbuilt navigation in its second upgrade model except Ford. 6. Looks - It depends on person to person but I personally love the shape and look of this car. Interior also looks good to me and the quality of material used is also nice. Seats are comfortable, cushion quality is superb. Boot space to me is decent. Because its a hatchback and this is what I accept from a hatchback car. If one wants bigger boot space he or she can go for Sedan or SUV's Safety standards and Built quality - what I like about ford is that it never compromises on safety. Its titanium + model offers 6 airbags which are not available in any of its competitors. Coming to its built quality. It is good not the best as Volkswagen cars have superior built quality. But it's still better than other companies. Mileage - It is giving me approx 13kmpl in city and 19 kmpl on highway. This is quite acceptable for a petrol vehicle. Considering its kerb weight i.e approx 1050kg which is far more than Maruti swift i.e approx 850kg. This gives Maruti an advantage of mileage and instant pickup. Thus, being an inferior engine it offers good power to weight ratio and better mileage but for this, one has to compromise on safety. And, this I strongly condemn. Ground clearance - 190 mm of ground clearance is what you need on most of the Indian roads. Forget about off-roading but considering Indian roads. Especially mine in Haryana, one needs to be cautious of huge speed bumps and pits. Hill assist, Active rollover prevention, Electronic brake distribution and Traction control - These are the functions which are not offered in another vehicle in this segment in India. And, I feel these are necessary safety features As now ABD has become a definite safety system in Indian cars. In the coming period, EBD and rollover prevention will also become a definite safety feature among Indian cars. Cons - I seriously feel that this car doesn't offer you any negative aspects. According to me, everything is perfect considering its value. So, here's my verdict. I think this car is a complete package. It is a value for money If one is looking for a hatchback with good drive dynamics, better engine performance. This car is a must buy be it petrol or diesel. Both are best in class and that too at a reasonable price than its competitors.
ಹುಂಡೈ ಕ್ರೆಟಾ 2015-2020 ಬಳಕೆದಾರರ ವಿಮರ್ಶೆಗಳು
ಆಧಾರಿತ
1684 ಬಳಕೆದಾರರ ವಿಮರ್ಶೆಗಳು
ಎಲ್ಲಾ (1684)
Mileage (302)
Performance (233)
Looks (448)
Comfort (557)
Engine (224)
Interior (221)
Power (240)
More ...
ಇತ್ತೀಚಿನ
ಸಹಾಯಕವಾಗಿದೆಯೆ
VERIFIED
CRITICAL
Excellent car on look and features is awesome but bit expensive if it's a bit lower have more sales

This is a value for money car. And the top model of Creta gives the luxury feel it is a very good car, best SUV i have ever seen in my life i am going to buy it very soon...ಮತ್ತಷ್ಟು ಓದು

Big car. nice space .nice body .excellent car and modification is another car is best. best mileage, best pickup.

In mid-segment SUV, it is a dream car with all feature in its class. Its features are unmatched at this price.

Great car, a small family I happy to use this car. I hope you are happy. Buy the car and go a long drive.

Hyundai Creta is one of my favorite cars as it is in suitable range according to a middle-class man and it doesn't want high maintenance it is very comfortable and secure...ಮತ್ತಷ್ಟು ಓದು

Very comfortable for long journeys and in cities perfect SUV for cities and traveling and have a luxurious feel

ಎಲ್ಲಾ ಕ್ರೆಟಾ 2015-2020 ವಿರ್ಮಶೆಗಳು ವೀಕ್ಷಿಸಿ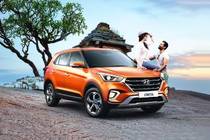 Rs.9.16 ಲಕ್ಷ - 15.72 ಲಕ್ಷ*
ಈ ಕಾರಿನ ಮಾದರಿ ಅವಧಿ ಮುಗಿದಿದೆ
ಬಳಕೆದಾರರು ಕೂಡ ವೀಕ್ಷಿಸಿದ್ದಾರೆ
Write your Comment on ಹುಂಡೈ ಕ್ರೆಟಾ 2015-2020
×
We need your ನಗರ to customize your experience