A comfortable,sporty look small size family car
A comfortable,sporty look small size family car
The first time I saw this car it's look really catched my eye. First talk about looks, in this price range a car with such exterior is good But like all other companies the body quality is not that much good.Just a little stress will lead to a dent in your car Talk about interiors ,they are above average and are of quite good quality.The A.C vents, tachometer, dashboard all are well designed. The engine of vehicle is quite impressive in performance..Just put your foot on accelerator and vehicle will pick good speed in very less time .But previous users have suffered some of the problem with clutch but that is only with very few. The leg room in vehicle is quite impressive.As a six feet person I feel very comfortable in back seat .So two six feet people can be comfortable in the back seat The boot space is also good & can easily take 2 large luggage bags Hyundai has now improved its vehicle design to attract the younger buyers and it is working with this kind of vehicles Seeing a good distribution and service network it is a good deal.Magna 1.1L from my side is a good option to buy .The competitors such as Ritz,Figo are average but not as much good as compare to it.But the thing in which I feel this car lack is its A.C as compare to maruti Ritz or A-star. The things in which its competitor lag behind with this car is its design and price tag according to me.While Maruti offered A-star (1000cc) in same price range , hyundai offer i10 with 1000 and 2000cc engine in same price range. I think Hyundai can work more on improving its A.C as it will help them to have a greater fight with its competitors. Overall from my side I will give this car 4/5.....!!!!
Write your Comment on ಹುಂಡೈ ಐ10
ಹುಂಡೈ ಐ10 ಬಳಕೆದಾರರ ವಿಮರ್ಶೆಗಳು
ಆಧಾರಿತ
158 ಬಳಕೆದಾರರ ವಿಮರ್ಶೆಗಳು
ಎಲ್ಲಾ (158)
Mileage (99)
Performance (46)
Looks (103)
Comfort (107)
Engine (72)
Interior (61)
Power (48)
More ...
ಇತ್ತೀಚಿನ
ಸಹಾಯಕವಾಗಿದೆಯೆ
VERIFIED
CRITICAL
I purchased i 10 Magna model in 2010 and switched over to i10 from Tata Indica Petrol, which I used for almost 3 years. I drove i10 for almost 7.5 years before I went for...ಮತ್ತಷ್ಟು ಓದು

All the tyres are recently replaced by new tyres. Engine oil is also recently changed. Gear oil is also changed. It gives a mileage of 19 KMPL.

I own a hyundai i10 2010 model. Its been more than 6 years i am using this car, and till date other than regular servicing, I have spent only 20,000 on servicing (becuase...ಮತ್ತಷ್ಟು ಓದು

i am a proud owner of this car for last 7 years. i am 67 years old retired professional. this is the 7th car i am using now. i get a very happy sense of driving a safe ca...ಮತ್ತಷ್ಟು ಓದು

Hyundai i10 is proved to be very reliable car during my 6 years of ownership. For me this is top most priority and I dont like to get stranded on a road or leaving my car...ಮತ್ತಷ್ಟು ಓದು

What to say and where to start. i10 is my first car, on which I have started learning driving in 2014. Best thing about the car is its Steering module. It is effortless a...ಮತ್ತಷ್ಟು ಓದು

A little city car that has got plenty to live up to. Sharp looks and a sweet but old 1.1-litre engine is still the drivetrain in this car. It's all about quality here - t...ಮತ್ತಷ್ಟು ಓದು

Hyundai i10 has cool car the hatchback market in India since it's launch. I am quite satisfied with its performance. The entry level hatch i10 is decent in terms of comfo...ಮತ್ತಷ್ಟು ಓದು

ಎಲ್ಲಾ ಐ10 ವಿರ್ಮಶೆಗಳು ವೀಕ್ಷಿಸಿ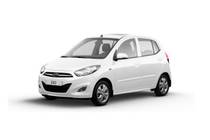 Rs. 3.79 ಲಕ್ಷ - 6.55 ಲಕ್ಷ*
ಈ ಕಾರಿನ ಮಾದರಿ ಅವಧಿ ಮುಗಿದಿದೆ