Good but could bigger
Good but could bigger
I am suresh kanha, I am business man in hyderabad Iam using i10 from last two years.Before two year like most about it was service everywhere in most part of india we have service centers,this cars has got best interior decors and it give the mileage in highway 20kmpl and local road is just 15 kmpl-16 kmpl. the speed of i10 is awesome just awesome super cuts of this car is also super and first of all I want to buy ritz or i10 or swift when did test drive of ritz my friend suggested me to test drive the swift and i10 . first i did test drive of swift i just fell that it is better than ritz and price of this car is also bitter higher than ritz . after that i just test drived i10 at last and price of i10 is also equal to swift and i did test drived this i10 is same as swift and I compare these two i,e. swift and i10. price of i10 is also equals and want to buy in emi but the price of ritz is very less than swift and i10 and last i decided to buy i10 thaks you I hope this will helpful to u.
Write your Comment on ಹುಂಡೈ ಐ10
1
S
ss joshi
Jun 27, 2019 1:56:15 PM
I purchased Magna i10 in January 2017 with the assurance of 17 kmpl, but in fact its average is between 13-14 kmpl. On website also, you claim for providing average of above 19 kmpl, which is wrong.
ಪ್ರತ್ಯುತ್ತರ
ಹುಂಡೈ ಐ10 ಬಳಕೆದಾರರ ವಿಮರ್ಶೆಗಳು
ಆಧಾರಿತ
157 ಬಳಕೆದಾರರ ವಿಮರ್ಶೆಗಳು
All (186)
Mileage (98)
Performance (46)
Looks (103)
Comfort (107)
Engine (71)
Interior (61)
Power (48)
More ...
ಇತ್ತೀಚಿನ
ಸಹಾಯಕವಾಗಿದೆಯೆ
VERIFIED
CRITICAL
I purchased i 10 Magna model in 2010 and switched over to i10 from Tata Indica Petrol, which I used for almost 3 years. I drove i10 for almost 7.5 years before I went for...ಮತ್ತಷ್ಟು ಓದು

I own a hyundai i10 2010 model. Its been more than 6 years i am using this car, and till date other than regular servicing, I have spent only 20,000 on servicing (becuase...ಮತ್ತಷ್ಟು ಓದು

i am a proud owner of this car for last 7 years. i am 67 years old retired professional. this is the 7th car i am using now. i get a very happy sense of driving a safe ca...ಮತ್ತಷ್ಟು ಓದು

Hyundai i10 is proved to be very reliable car during my 6 years of ownership. For me this is top most priority and I dont like to get stranded on a road or leaving my car...ಮತ್ತಷ್ಟು ಓದು

What to say and where to start. i10 is my first car, on which I have started learning driving in 2014. Best thing about the car is its Steering module. It is effortless a...ಮತ್ತಷ್ಟು ಓದು

A little city car that has got plenty to live up to. Sharp looks and a sweet but old 1.1-litre engine is still the drivetrain in this car. It's all about quality here - t...ಮತ್ತಷ್ಟು ಓದು

Hyundai i10 has cool car the hatchback market in India since it's launch. I am quite satisfied with its performance. The entry level hatch i10 is decent in terms of comfo...ಮತ್ತಷ್ಟು ಓದು

One of the best available hot hatches in India. Hyundai has been providing top quality cars for the best prices. My only concern is the mileage of the car, which drops to...ಮತ್ತಷ್ಟು ಓದು

ಎಲ್ಲಾ ಐ10 ವಿರ್ಮಶೆಗಳು ವೀಕ್ಷಿಸಿ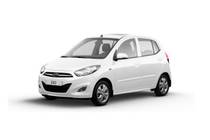 Rs. 3.79 ಲಕ್ಷ - 6.55 ಲಕ್ಷ*
ಈ ಕಾರಿನ ಮಾದರಿ ಅವಧಿ ಮುಗಿದಿದೆ