Good ನಗರ ಕಾರು
Good City Car
I have been driving the i10 for 3 years now. It is an excellent city car, easy to drive, decent space for a small family. If your usage is daily office commute and a weekly commute to a shopping mall or a movie, then this is the car for you. This being a small car makes the ride through city traffic a breeze, the turning radius is also small making u-turns a delight, parking, reverse parking, parallel parking have all been very easy over the last 3 years (very important point if you live in urban India, may not matter abroad). Engine, Clutch & Gears: The clutch is light which makes it easy to drive. The engine is smooth and noise has never been an issue. Some of my friends have a complaint of slow pick up when they drive my car but the below gear shift pattern has always served my purpose well - 1st gear to get moving; 2nd till 20kmph; 3rd till 40; 4th between 40 and 60 and 5th afterwards. Boot Space: The boot isn't the largest. It can load 2 medium bags but the design is such that you will face problems putting in even 1 bag if it is a big size trolley. I do hear that they have sorted this out in the grand i10. Fuel Efficiency: The one thing which makes i10 lose the race against the Maruti's is the efficiency, I get only around 10kmpl in city traffic but have noticed it go up till 15kmpl on highways, but as I mentioned earlier, the regular office commute use case doesn't worry much about mileage. Features: This car like any other Hyundai is feature rich. The AC, power steering, power windows, rear defogger and plenty of storage space sometimes makes me feel I am actually driving a car from a segment above. Seating: The seats have an excellent cushion, good under thigh support but the one thing missing is the ability to adjust height for the driver seat. I have seen people shorter than 5'6' often struggle to get a good view of the road. Overall, I would say if you have a 5-6 lakh budget and are looking for a car for daily commute, you are not someone looking to map the highways and 100 plus speeds and not worried about mileage, but looking for an easy to drive and maintain car, this one is for you. Your maintenance bill won't cost you more than 1000 rupees a month. Hyundai, like Maruti, also has parts available in the open market, making the after sales and service a really convenient experience.
Write your Comment on ಹುಂಡೈ ಐ10
ಹುಂಡೈ ಐ10 ಬಳಕೆದಾರರ ವಿಮರ್ಶೆಗಳು
ಆಧಾರಿತ
158 ಬಳಕೆದಾರರ ವಿಮರ್ಶೆಗಳು
ಎಲ್ಲಾ (158)
Mileage (99)
Performance (46)
Looks (103)
Comfort (107)
Engine (72)
Interior (61)
Power (48)
More ...
ಇತ್ತೀಚಿನ
ಸಹಾಯಕವಾಗಿದೆಯೆ
VERIFIED
CRITICAL
I purchased i 10 Magna model in 2010 and switched over to i10 from Tata Indica Petrol, which I used for almost 3 years. I drove i10 for almost 7.5 years before I went for...ಮತ್ತಷ್ಟು ಓದು

All the tyres are recently replaced by new tyres. Engine oil is also recently changed. Gear oil is also changed. It gives a mileage of 19 KMPL.

I own a hyundai i10 2010 model. Its been more than 6 years i am using this car, and till date other than regular servicing, I have spent only 20,000 on servicing (becuase...ಮತ್ತಷ್ಟು ಓದು

i am a proud owner of this car for last 7 years. i am 67 years old retired professional. this is the 7th car i am using now. i get a very happy sense of driving a safe ca...ಮತ್ತಷ್ಟು ಓದು

Hyundai i10 is proved to be very reliable car during my 6 years of ownership. For me this is top most priority and I dont like to get stranded on a road or leaving my car...ಮತ್ತಷ್ಟು ಓದು

What to say and where to start. i10 is my first car, on which I have started learning driving in 2014. Best thing about the car is its Steering module. It is effortless a...ಮತ್ತಷ್ಟು ಓದು

A little city car that has got plenty to live up to. Sharp looks and a sweet but old 1.1-litre engine is still the drivetrain in this car. It's all about quality here - t...ಮತ್ತಷ್ಟು ಓದು

Hyundai i10 has cool car the hatchback market in India since it's launch. I am quite satisfied with its performance. The entry level hatch i10 is decent in terms of comfo...ಮತ್ತಷ್ಟು ಓದು

ಎಲ್ಲಾ ಐ10 ವಿರ್ಮಶೆಗಳು ವೀಕ್ಷಿಸಿ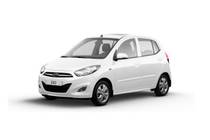 Rs. 3.79 ಲಕ್ಷ - 6.55 ಲಕ್ಷ*
ಈ ಕಾರಿನ ಮಾದರಿ ಅವಧಿ ಮುಗಿದಿದೆ