ಹುಂಡೈ ಐ10 - the fun little ಕಾರು
Hyundai i10 - the fun little car
Hi, I am Garvit Narang and I am an engineer. Alongside my job, I usually go on long trips with my friends and to play cricket. I bought my i10 in 2011 as it is a good looking small car and has good boot space. It can store my cricket kit and the cabin can seat 5 people comfortably. But, the biggest reason I like this car is its dependability. The Hyundai i10 never breaks down and never leaves you in trouble. I have driven my car in mud, water, sand and rocks (apart from roads) and it has never disappointed me. Even the cabin comfort and AC work very well and never give you a chance to complain. In the city, the cars feels zippy in traffic. It has good acceleration and cuts through traffic like a knife through butter. The high-speed stability for highways is also good. At 120kmph, the car feels safe but above it, vibrations start. The cabin isolation of the car is also nice and barely any sound comes inside the cabin. Speaking about the cabin, the plastic on the dashboard is hard and is of bad quality. The speakers which Hyundai gives are bad and often suffer from wiring issues. Servicing cost is also on the higher side when compared to cars like the WagonR, although the drive of the i10 is a lot better. I still believe that the i10 is the best choice in the small car segment. It looks good, is fun to drive and best of all, will never let you down. Cars like the WagonR and Datsun GO are more economical but, will never give you the satisfaction like that of the i10.
Write your Comment on ಹುಂಡೈ ಐ10
1
s
satish chandra
Dec 27, 2016 7:56:07 PM
I am going to buy this car kindly suggest me is it a good car for middle class family
ಪ್ರತ್ಯುತ್ತರ
ಹುಂಡೈ ಐ10 ಬಳಕೆದಾರರ ವಿಮರ್ಶೆಗಳು
ಆಧಾರಿತ
158 ಬಳಕೆದಾರರ ವಿಮರ್ಶೆಗಳು
ಎಲ್ಲಾ (158)
Mileage (99)
Performance (46)
Looks (103)
Comfort (107)
Engine (72)
Interior (61)
Power (48)
More ...
ಇತ್ತೀಚಿನ
ಸಹಾಯಕವಾಗಿದೆಯೆ
VERIFIED
CRITICAL
I purchased i 10 Magna model in 2010 and switched over to i10 from Tata Indica Petrol, which I used for almost 3 years. I drove i10 for almost 7.5 years before I went for...ಮತ್ತಷ್ಟು ಓದು

All the tyres are recently replaced by new tyres. Engine oil is also recently changed. Gear oil is also changed. It gives a mileage of 19 KMPL.

I own a hyundai i10 2010 model. Its been more than 6 years i am using this car, and till date other than regular servicing, I have spent only 20,000 on servicing (becuase...ಮತ್ತಷ್ಟು ಓದು

i am a proud owner of this car for last 7 years. i am 67 years old retired professional. this is the 7th car i am using now. i get a very happy sense of driving a safe ca...ಮತ್ತಷ್ಟು ಓದು

Hyundai i10 is proved to be very reliable car during my 6 years of ownership. For me this is top most priority and I dont like to get stranded on a road or leaving my car...ಮತ್ತಷ್ಟು ಓದು

What to say and where to start. i10 is my first car, on which I have started learning driving in 2014. Best thing about the car is its Steering module. It is effortless a...ಮತ್ತಷ್ಟು ಓದು

A little city car that has got plenty to live up to. Sharp looks and a sweet but old 1.1-litre engine is still the drivetrain in this car. It's all about quality here - t...ಮತ್ತಷ್ಟು ಓದು

Hyundai i10 has cool car the hatchback market in India since it's launch. I am quite satisfied with its performance. The entry level hatch i10 is decent in terms of comfo...ಮತ್ತಷ್ಟು ಓದು

ಎಲ್ಲಾ ಐ10 ವಿರ್ಮಶೆಗಳು ವೀಕ್ಷಿಸಿ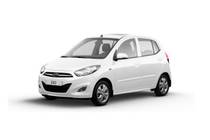 Rs. 3.79 ಲಕ್ಷ - 6.55 ಲಕ್ಷ*
ಈ ಕಾರಿನ ಮಾದರಿ ಅವಧಿ ಮುಗಿದಿದೆ