ಐ10 : MY FABULOUS EXPERIENCE
I10 : MY FABULOUS EXPERIENCE
The HYUNDAI i10 is a breed by itself. I'm a partially physically disabled retired army officer who has severe knee problems and walks with a stick with a lot of difficulty. But once I'm firmly seat belted in the driver's seat, I'm in a different world. Not only me but the whole world forgets that there is a knee disability bothering me. A travelling distance of about 500 kilometres is not a problem at all. It not only boosts my ego and confidence but also gives me the urge to do better. It also gives me the will to fight against my knee problem. All this is possible because of the wonderful design of the seat and its movement. The movement of the seat - forward and rearwards - is perfect for me. The movement of the backrest of the seat seems to be perfect at quite a few positions. Another highlighting feature is the location of the speakers for the music system. It seems to be absolutely perfect..Other high/appreciable features of the car are its suspensions and the Air Conditioning. Both the features are much above par for this category of cars and both are very sturdy. Lastly, the mileage and the after service care is comparable with the very best, available in the Indian market.
Write your Comment on ಹುಂಡೈ ಐ10
ಹುಂಡೈ ಐ10 ಬಳಕೆದಾರರ ವಿಮರ್ಶೆಗಳು
ಆಧಾರಿತ
212 ಬಳಕೆದಾರರ ವಿಮರ್ಶೆಗಳು
All (157)
Mileage (98)
Performance (46)
Looks (103)
Comfort (107)
Engine (71)
Interior (61)
Power (48)
More ...
ಇತ್ತೀಚಿನ
ಸಹಾಯಕವಾಗಿದೆಯೆ
VERIFIED
CRITICAL
I purchased i 10 Magna model in 2010 and switched over to i10 from Tata Indica Petrol, which I used for almost 3 years. I drove i10 for almost 7.5 years before I went for...ಮತ್ತಷ್ಟು ಓದು

I own a hyundai i10 2010 model. Its been more than 6 years i am using this car, and till date other than regular servicing, I have spent only 20,000 on servicing (becuase...ಮತ್ತಷ್ಟು ಓದು

i am a proud owner of this car for last 7 years. i am 67 years old retired professional. this is the 7th car i am using now. i get a very happy sense of driving a safe ca...ಮತ್ತಷ್ಟು ಓದು

Hyundai i10 is proved to be very reliable car during my 6 years of ownership. For me this is top most priority and I dont like to get stranded on a road or leaving my car...ಮತ್ತಷ್ಟು ಓದು

What to say and where to start. i10 is my first car, on which I have started learning driving in 2014. Best thing about the car is its Steering module. It is effortless a...ಮತ್ತಷ್ಟು ಓದು

A little city car that has got plenty to live up to. Sharp looks and a sweet but old 1.1-litre engine is still the drivetrain in this car. It's all about quality here - t...ಮತ್ತಷ್ಟು ಓದು

Hyundai i10 has cool car the hatchback market in India since it's launch. I am quite satisfied with its performance. The entry level hatch i10 is decent in terms of comfo...ಮತ್ತಷ್ಟು ಓದು

One of the best available hot hatches in India. Hyundai has been providing top quality cars for the best prices. My only concern is the mileage of the car, which drops to...ಮತ್ತಷ್ಟು ಓದು

ಎಲ್ಲಾ ಐ10 ವಿರ್ಮಶೆಗಳು ವೀಕ್ಷಿಸಿ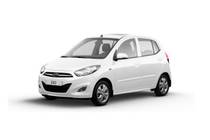 Rs. 3.79 ಲಕ್ಷ - 6.55 ಲಕ್ಷ*
ಈ ಕಾರಿನ ಮಾದರಿ ಅವಧಿ ಮುಗಿದಿದೆ