The Best Small ಕಾರು
The Best Small Car
This has been so far the best small car in its segment. I have the 1.2 ltr variant and it is nothing but amazing.I truly love the car and its manoeuvrability in the city limits and also the push it gives me on the highways. The car can be driven by anyone - any age, any height - which are the most known characteristics that a new driver wants to look for in a car. My wife, who is about 5.1 can drive this around easily without any difficulty of the road clearance vision. When I drive this around the city or take her for a long journey, I feel really comfortable in it. Its thrust is unbeatable. The VTVT engine with Kappa technology (or otherwise :), is impeccable. Having such a technology in a small car is great. My next plan is to take this car to the Himalayan range. It has so far been a great companion around the various ghats and mountains in Karnataka and Goa. I hope it continues to be my companion the same way up there in the Himalayas. The Service capability of the car is also great. The Advaith folks in Bangalore have been good to remind me of the Service schedule and they aren't so expensive as the way many of us feel. Their work is good too. And considering the way I drive the car, they appreciate the good condition of the car and advise me to continue maintaining in the same manner so that it helps for a long life of the car. This car was my 5th after - Maruthi Suzuki Esteem, Fiat Palio, Chevrolet Optra, Mahindra MM 540 Jeep and then the Hyundai i10 (current). And I am hoping to continue to be associated with Hyundai given the kind of comfort I feel using their vehicles and their services offered. I bought this car for my wife's birthday and she loved it. To beat it, Advaith guys cut a large cake to memorise the birthday celebration on the day my car is being delivered. They made all the logistical arrangements for this. This is the most memorable car compared to the previous one's that I had since it holds a lot of memories. I would like to thank Hyundai for launching such a wonderful car for the Indian market and with such great awe experience in it. I wish the team a great luck for all their cars that are in the market. I hope you continue to do a great job in providing us great cars and also with the awesome customer service approach that you follow.
Write your Comment on ಹುಂಡೈ ಐ10
ಹುಂಡೈ ಐ10 ಬಳಕೆದಾರರ ವಿಮರ್ಶೆಗಳು
ಆಧಾರಿತ
158 ಬಳಕೆದಾರರ ವಿಮರ್ಶೆಗಳು
ಎಲ್ಲಾ (158)
Mileage (99)
Performance (46)
Looks (103)
Comfort (107)
Engine (72)
Interior (61)
Power (48)
More ...
ಇತ್ತೀಚಿನ
ಸಹಾಯಕವಾಗಿದೆಯೆ
VERIFIED
CRITICAL
I purchased i 10 Magna model in 2010 and switched over to i10 from Tata Indica Petrol, which I used for almost 3 years. I drove i10 for almost 7.5 years before I went for...ಮತ್ತಷ್ಟು ಓದು

All the tyres are recently replaced by new tyres. Engine oil is also recently changed. Gear oil is also changed. It gives a mileage of 19 KMPL.

I own a hyundai i10 2010 model. Its been more than 6 years i am using this car, and till date other than regular servicing, I have spent only 20,000 on servicing (becuase...ಮತ್ತಷ್ಟು ಓದು

i am a proud owner of this car for last 7 years. i am 67 years old retired professional. this is the 7th car i am using now. i get a very happy sense of driving a safe ca...ಮತ್ತಷ್ಟು ಓದು

Hyundai i10 is proved to be very reliable car during my 6 years of ownership. For me this is top most priority and I dont like to get stranded on a road or leaving my car...ಮತ್ತಷ್ಟು ಓದು

What to say and where to start. i10 is my first car, on which I have started learning driving in 2014. Best thing about the car is its Steering module. It is effortless a...ಮತ್ತಷ್ಟು ಓದು

A little city car that has got plenty to live up to. Sharp looks and a sweet but old 1.1-litre engine is still the drivetrain in this car. It's all about quality here - t...ಮತ್ತಷ್ಟು ಓದು

Hyundai i10 has cool car the hatchback market in India since it's launch. I am quite satisfied with its performance. The entry level hatch i10 is decent in terms of comfo...ಮತ್ತಷ್ಟು ಓದು

ಎಲ್ಲಾ ಐ10 ವಿರ್ಮಶೆಗಳು ವೀಕ್ಷಿಸಿ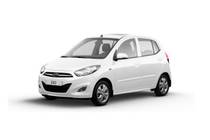 Rs. 3.79 ಲಕ್ಷ - 6.55 ಲಕ್ಷ*
ಈ ಕಾರಿನ ಮಾದರಿ ಅವಧಿ ಮುಗಿದಿದೆ