Kept my Gig when it gets Wild!
Kept my Gig when it gets Wild!
Usual summer days were passing by auditing automotive industry on YouTube. A random advertisement from an Indian manufacturer started running on my screen cheering 'We live Young, we live free, we are the living' before I could skip it, paused my Hoegaarden by half way. Yes! That was my steal; Mahindra Thar. From that day, search history on this lifestyle vehicle got bigger and deeper. A product which would let me drive where road is rough, so that my adventure never ends up. Cult Off-roader. 'Sir, Here I present you Thar with same proven 2.5lt CRDe engine outturning 105bhp & 247Nm of torque at your command, which drives the rear wheel and all four in 4W drive mode to have fun and splash' told the appointed salesman to me. Watching her in red matured Jeep avatar over a cappuccino was such a relief. On the exterior front; headlamps got clear lens, redesigned bumper with hard plastic which wasn't looking great but functionally goes on taking hard hits preventing use of bull bars, and new wiper linkages to ensure the wiper blades and motor remain functional (the older car had an issue of the wiper hitting the rubber bending, causing stress to the motor in the long run). Wheel arches too got redesigned to accommodate 16-inch 245-section Maxxis Bighorn tyres. Standing outside couldn't help me control my epinephrine to dive into its 1950's cabin, but wait, it was updated already. With 2 tone dashboard finish to make it more livable, three-pod instrument cluster, lockable glovebox, and chunky power steering wheel made it more appealing to take my best people on celebrating weekends. Adding onto the list we got redesigned seats with increased comfort level, new gear knob, cup holders, and 12V socket to be your power bank on the go. I guess now you should step out and allow me to show you the biggest mechanical change; and that being the rear differential lock up, functions to get you out of the sticky situations. Isn't it a true blue off -roader, Sir, He asked. At another breadth my partner in prime eyes just yelled at me to give a green go to Leh-Ladakh expedition where we could put its perfect approach and departure angle to test. Go anywhere nature with Independent suspension in the front and semi elliptical spring leaf at the rear, allowed me burn some diesel from its 60lt fuel tank. Zero turbo lag made it easy to maneuver in the city. But then driving,The Thar wasn't without its ergonomic challenges, when you move the 5 speed manual gearbox (BorgWaren with Low Reduction Gear) you find it falling with handbrake which wasn't making it peaceful to use. Oodles of power and torque for highway cruising but you go above 100kph (Top speed of 154kph), and you have a nervous steering wheel with no ABS option. Driving position was truck like with high-set pedals, adjustable steering wheel and more cushioning in seats could just add up more for highway run. But we didn't even expect much comfort features, Did we? Build quality wasn't perfect but was still tough as hammer. Instant want to go topless, and here comes the roof canopy problem because it had to be a planned affair with proper tools. Even then you didn't have space to keep canvas top; better design focusing on convenience could be acknowledged. Take off-roading and Mahindra pops up on one's head. To have that advantage over market gap it is priced a bit higher at 8.9 Lakh (Ex-Showroom) but with production of 23.37 million vehicles last year, only she came through then her rivals supporting me to find the correct rhythm to my words. 'Find a place where nobody has been before, and keep exploring is what I live for', When on the way to get Leh'd.
ಮಹೀಂದ್ರ ಥಾರ್ 2015-2019 ಬಳಕೆದಾರರ ವಿಮರ್ಶೆಗಳು
ಆಧಾರಿತ
108 ಬಳಕೆದಾರರ ವಿಮರ್ಶೆಗಳು
ಎಲ್ಲಾ (108)
Mileage (10)
Performance (16)
Looks (41)
Comfort (16)
Engine (19)
Interior (13)
Power (30)
More ...
ಇತ್ತೀಚಿನ
ಸಹಾಯಕವಾಗಿದೆಯೆ
VERIFIED
CRITICAL
This car price maximum 6lakh hona cheya tha. Interior very low quality and price bhut he jyada hai.

Powe, looks, interior, exterior, air cooling, build type everything is perfect. Best car.

I want to buy this car for me, I really like this car, its good for daily uses and mountain areas.

Well designed car, good space, build for a long journey, very good pick up power. Good interior and exterior.

The Mahindra Thar, won't set the world on fire in terms of ride and handling. This is an awesome four-wheel-drive that's normally driven at low speeds on Indian road...ಮತ್ತಷ್ಟು ಓದು

Very nice, it's clearly awesome very helpful for our daily usage you can bring you to the next level of imagination.

I like the car on off-road drives. It gives the best performance and can be modified for our taste and can view.

Best car of Mahindra and best car of an off-road car. its interior and exterior are best. This mileage is so so good

ಎಲ್ಲಾ ಥಾರ್ 2015-2019 ವಿರ್ಮಶೆಗಳು ವೀಕ್ಷಿಸಿ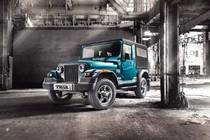 Rs.5.80 ಲಕ್ಷ - 9.99 ಲಕ್ಷ*
ಈ ಕಾರಿನ ಮಾದರಿ ಅವಧಿ ಮುಗಿದಿದೆ
ಬಳಕೆದಾರರು ಕೂಡ ವೀಕ್ಷಿಸಿದ್ದಾರೆ
Write your Comment on ಮಹೀಂದ್ರ ಥಾರ್ 2015-2019
ಟ್ರೆಂಡಿಂಗ್ ಮಹೀಂದ್ರ ಕಾರುಗಳು
×
We need your ನಗರ to customize your experience