29000 kms review t8 100 HP
29000 kms review t8 100 HP
Let me tell you the pros first.
a) Very good low end torque. Can take any roads. Good suspension but a bit bumpy. Excellent driving position and very comfortable for drivers.
Trips done so far are Bangalore-> Chennai-> Hyderabad-> Bangalore.( 1 time , 1500kms)
Bangalore to Chennai - ( 2 times,720 kms round trip)
Bangalore to Coorg - ( 3 times, 500 kms for each round trip)
Bangalore - Kolkata - Jamshedpur - Bangalore ( 1 time, 4500 kms round trip).The vehicle has excellent braking and can cruse at 110 at comfortable speed with a good average. I got 15 kpl when travelling Chennai and Coorg and 13 kpl on my trip to Kolkata Jamshedpur, The reason could be that I drove at 120 to 125 where ever road permitted which is above the economy zone which is 100~110 km per hour. The service cost so far has been 2300 at 10 K at 4500 at 20 K Cons:- Blind spot on front left side,back wheel spin at particular angles, second seats needs more cushioning and very upright and has less thigh support. Still needs to improve. Should have 3 head rests at back and optional arm rest at back.
Although the torque figures show more on paper than a bolero, the bolero pulls better on bad roads and hills. Not aware why, perhaps because of the heavy crank of 2500 cc engine. I have a strange problem where a sound from engine comes and engine knocks and then this disappears. I have mentioned this to Mahindra but they have not been able to replicate nor resolve this issue. This suddenly happens for 2 to 3 min and then disappears. Over all a very good compact SUV at the price where during emergency 7 users can sit. It would have been a killer if it had a 4X4 version Improvement areas:- Wheel spin, 2nd row thigh support, 4X4 version.

Write your Comment ನಲ್ಲಿ ಮಹೀಂದ್ರ ಟಿಯುವಿ 300 2015-2019
1
r
ramakrishnan
Apr 1, 2018 12:50:03 AM
I planned to buy tuv300 - T8 100HP AMT - whether it is worth in buying it - can anyone sugeest on this
ಪ್ರತ್ಯುತ್ತರ
ಮಹೀಂದ್ರ ಟಿಯುವಿ 3OO 2015-2019 ಬಳಕೆದಾರರ ವಿಮರ್ಶೆಗಳು
ಆಧಾರಿತ
121 ಬಳಕೆದಾರರ ವಿಮರ್ಶೆಗಳು
All (155)
Mileage (25)
Performance (22)
Looks (42)
Comfort (48)
Engine (34)
Interior (14)
Power (25)
More ...
ಇತ್ತೀಚಿನ
ಸಹಾಯಕವಾಗಿದೆಯೆ
VERIFIED
CRITICAL
It is a great car for family and personal purpose as well. I owned this car for the last 2.5 yrs. used it on the good road, in the market, on a village road with full con...ಮತ್ತಷ್ಟು ಓದು

Under 10 lacs, you get an SUV loaded with basic features and it is a great car for who love to drive an SUV with a low budget.

pros: strong build quality, responsive engine, excellent air condition, low maintenance cost, high on ground clearance, good road grip cons: Body roll, less on features, ...ಮತ್ತಷ್ಟು ಓದು

One of the best value for money multipurpose seven seater car under Rs. 11 lakh. A great meaningful compact SUV by Mahindra.

I love driving this car because there is no car at the rate of 12 lacs in other brand car's 7 seaters.

Very nice car and the interior is very good, it's just an airplane, I love this car, very comfortable and good.

ಎಲ್ಲಾ ಟಿಯುವಿ 300 2015-2019 ವಿರ್ಮಶೆಗಳು ವೀಕ್ಷಿಸಿ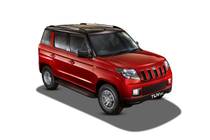 Rs. 7.36 ಲಕ್ಷ - 10.97 ಲಕ್ಷ*
ಈ ಕಾರಿನ ಮಾದರಿ ಅವಧಿ ಮುಗಿದಿದೆ
ಬಳಕೆದಾರರು ಕೂಡ ವೀಕ್ಷಿಸಿದ್ದಾರೆ
ಟ್ರೆಂಡಿಂಗ್ ಮಹೀಂದ್ರ ಕಾರುಗಳು