ಮಾರುತಿ Alto, India's ಎಲ್ಲಾ time favorite car!
Maruti Alto, India's all time favorite car!
Alto, the household name for a lot of Indians, well in India that is! A car that if not owned by you or your dad or your cousin, there's someone in the family definitely having one right now! It is the car of choice for many of us for our FIRST CAR to get a hang of driving or in the local language, 'haat saaf carna'. My 2010, 796cc Alto is a nice, cute 'Fire Brick' red one and as you have guessed by now, it is also my first car as well! Design and style The 2010 Alto, from my opinion is a much better overall looking car (along with its K10 sibling) than its successors. It's got all the dimensions from almost every angle right on with the design flow unlike the later models which kinda looks like the design guys sorta forgot the deadline of the design submission and just came up with last minute thoughts on the night before, just like how most of us prepare for our examinations. Anyway, it's not a great design but not a bad one either. It's just got it as how things should function. Headlamps on the correct level, grille big enough to let the car breathe well at all times, tail lamps clear enough for everyone behind to notice, windows wide enough for clear view for all angles with minimum blind spots, etc. Look wise, it basically looks and feels cute more like a puppy dog. Period! The cabin is typical 1980s. It's not a bad thing, considering many 80's Japanese cars pretty much had similar styling which makes you feel nostalgic in a good way. The only electronic device inside is the after-market music system. The rest is the good 'old-fashioned' manual way, starting from the gear to the seat positioning to the door locks (no center-locking as well), every bit is manual. It's a mixture of different shades of grey (I guess 3) but not so bad to the eyes. Neat window openings ensure the cabin is well lit but talking about the windows, the rear ones don't go all the way down. Seating again is pretty much spot on for the driver and is comfortable in spite of the lack of rake and reach options of the steering wheel, but at the rear, the story is just the opposite. Let's say you would only prefer sitting behind if a tiny person or someone who loves to hug the steering wheel and drive is behind the wheel, and its comfy for just 2 and 3 is obviously a squeeze.. That leads us to the AC unit. Its a decent one and can cool in the summer only when the car is on the move with good speed, so until then, you guys shouldn't get too excited on the back seat. Performance, ride & handling The 796cc is kinda gem of an engine if not a diamond. Not just that it's highly reliable, but it's quite fun to drive as well. It also does sound lively for a 3 pot and it's also rev-happy. If you got a straight stretch of road you can check it out for yourself with the engine noise complementing your speed build. So talking of performance, all the above mentioned is apparent when you are in SPORT mode. OK, I'm sure you are like, SPORT mode in an alto? Yes, let me get to it, shall I. There's a button which spells AC. So when the button is switched off, there is no strain from the AC, so well full power to the engine and hence the SPORT mode and of course with it switched on, I call it the (well, you guessed wrong) SLOW mode, since it's not at all economic when the AC is on (simple physics and fact, you all know it!). Hence no ECO mode here! Yes, all these apply when the blower is running. On a cool or pleasant day none of these matter! So 0-100 kph, I've never really timed it but yea takes bit a while and reaches its stability peak at 110kph, after 120, it feels slightly wobbly and also never got to go beyond due to traffic and not good road conditions, so not a risk worth trying beyond safe conditions! So talking about performance, all I can say is, it took well less than 10 minutes to cross the Eastern Freeway with moderate traffic and 4 guys in the car ranging from medium to fat (healthy) and that too in the SLOW mode! The suspension is decent enough for our urban road conditions, same goes true for the ground clearance, which helps (along with some skill) when the city gets submerged under water during monsoons as it always does. Safety features It's got the basics: brakes and seat belts. The rest is on you! Verdict Forgot to mention, the question usually which the nation wants to know, the fuel efficiency. Well I haven't properly calculated, but with my rough calculations, it ranges from 16 to 18 kmpl for me depending on factors of AC, load being carried, mood of driving, etc. Also not to forget another most important reason, the spare parts and after sales costs. Fortunately, it's really cheap. So finally! The answer to the BIG question to this SMALL rather SUPER-SMALL car... All the reasons mentioned above just prove why it is India's favorite car even right now with competition from the Eon, Go, Kwid, etc. But these cars are great in their respects as well. But then again we are an extremely price conscious and shrewd country also with a look out for the trust and wide spread service centers, all of which can be definitely ticked under the Maruti brand.
Write your Comment ನಲ್ಲಿ ಮಾರುತಿ ಆಲ್ಟೊ 800 2016-2019
1
s
somdattakulkarni
Apr 9, 2017 10:51:22 PM
wheather maruti 800 can run upto 1000 km non stop
ಪ್ರತ್ಯುತ್ತರ
ಮಾರುತಿ ಆಲ್ಟೊ 800 2016-2019 ಬಳಕೆದಾರರ ವಿಮರ್ಶೆಗಳು
ಆಧಾರಿತ
435 ಬಳಕೆದಾರರ ವಿಮರ್ಶೆಗಳು
All (435)
Mileage (165)
Performance (57)
Looks (101)
Comfort (124)
Engine (81)
Interior (47)
Power (66)
More ...
ಇತ್ತೀಚಿನ
ಸಹಾಯಕವಾಗಿದೆಯೆ
VERIFIED
CRITICAL
This is a really nice car. It is a budget-friendly car in this segment. The looks are awesome. It is very comfortable and gives a smoother driving experience. 

This is a good car. It is very budget-friendly. The mileage is impressive. The fuel efficiency is also good. It is worth the purchase. 

Alto 800 with all new features it is an excellent car for a small family, in a total budget price, mileage is awesome, city 17Kms/Ltr with A/C and on highway 21kms/Ltr wi...ಮತ್ತಷ್ಟು ಓದು

I am the owner of alto 800 Up44aa5422 lxi 2013 model and I have covered an almost 258000 km and still the engine touches the high speed of around 140 km/hr and the engine...ಮತ್ತಷ್ಟು ಓದು

A very good city car. Good mileage. All 4 power windows would have been a good addition. Durability is far better than Renault Kwid.

This car is really elegant in this segment. It is very powerful which gives a great speed. It is a very comfortable car which gives smoother driving. 

This car is the best car in this segment. I really enjoy the driving experience. It gives great comfort and smoother experience of driving. 

Maruti Alto 800 has good mileage, good size for city drives, bit slow pickup, good gear, and clutch. The steering can be better, a bit tight than others. Overall, it is a...ಮತ್ತಷ್ಟು ಓದು

ಎಲ್ಲಾ ಆಲ್ಟೊ 800 2016-2019 ವಿರ್ಮಶೆಗಳು ವೀಕ್ಷಿಸಿ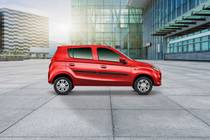 Rs. 2.52 ಲಕ್ಷ - 3.79 ಲಕ್ಷ*
ಈ ಕಾರಿನ ಮಾದರಿ ಅವಧಿ ಮುಗಿದಿದೆ
ಬಳಕೆದಾರರು ಕೂಡ ವೀಕ್ಷಿಸಿದ್ದಾರೆ
ಟ್ರೆಂಡಿಂಗ್ ಮಾರುತಿ ಕಾರುಗಳು