ಮಿನಿ fast
Mini fast
The MINI 5-door gets a slightly longer wheelbase, yet it surprisingly retains the Mini factor, which means it looks smaller than it actually is. The car is an eye candy and, on Indian roads, the attention it receives is massive. Styling cues such as horizontal roof line, completely redesigned hexagonal radiator grille, large headlights merged into the bonnet, muscular wheel arches and cute rear light clusters make it stand out. DRIVE: The car is powered by a three-cylinder, 1496cc diesel engine with the MINI TwinPower Turbo Technology, which generates a maximum output of 114 bhp at 4,000 rpm and a juicy torque of 270 Nm at 1,750 rpm. It goes from 0-100 kmph in 9.2 seconds, before touching a top speed of 202 kmph. BMW claims an average fuel consumption figure of a very good 21.15 kmpl. The engine meets the futuristic EU6 exhaust emission standards. The MINI has always been a fun-to-drive car. What adds to that is three fun-to-drive modes. Green: You can switch to the "Green",mode to save on fuel. Sport: You can shift to the "Sport",mode if you want your ride to be agile. Mid: If you want the best of both worlds, leave the car on the "Mid",mode. As you press the accelerator, especially in the "Sport",mode, the engine produces what seems to be an insatiable growl, with the six-speed automatic transmission providing improved efficiency, enhanced shift comfort and increased shift dynamics. You also have the automatic engine start/stop function to prevent unnecessary fuel consumption caused by idling at traffic junctions or in congested traffic.
Write your Comment on ಮಿನಿ 5 ಡೋರ್
ಮಿನಿ കൂപ്പർ 5 ഡോർ ಬಳಕೆದಾರರ ವಿಮರ್ಶೆಗಳು
ಆಧಾರಿತ
4 ಬಳಕೆದಾರರ ವಿಮರ್ಶೆಗಳು
ಎಲ್ಲಾ (4)
Looks (3)
Comfort (3)
Engine (2)
Interior (1)
Power (1)
Price (1)
Space (1)
More ...
ಇತ್ತೀಚಿನ
ಸಹಾಯಕವಾಗಿದೆಯೆ
CRITICAL
The MINI 5-door gets a slightly longer wheelbase, yet it surprisingly retains the Mini factor, which means it looks smaller than it actually is. The car is an eye candy a...ಮತ್ತಷ್ಟು ಓದು

The 5-Door model is the latest to join the Mini family. As the name denotes, the extra couple of doors makes it nothing different from the Mini but does add a little bit ...ಮತ್ತಷ್ಟು ಓದು

Mini cooper is great. The look of the mini cooper is very satisfied and though its size is small, it is very comfortable. Its mini size helps in parking in public area as...ಮತ್ತಷ್ಟು ಓದು

ಎಲ್ಲಾ ಕೂಪರ್ 5 door ವಿರ್ಮಶೆಗಳು ವೀಕ್ಷಿಸಿ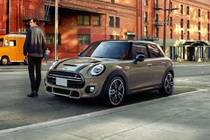 Rs. 36.00 ಲಕ್ಷ - 36.00 ಲಕ್ಷ*
ಈ ಕಾರಿನ ಮಾದರಿ ಅವಧಿ ಮುಗಿದಿದೆ
ಬಳಕೆದಾರರು ಕೂಡ ವೀಕ್ಷಿಸಿದ್ದಾರೆ