ಮೈಕ್ರಾ IS the King
Micra is the King
Description: This is the best option in the small car segment and its fantastic expert reviews made me crazy to go for it. The company has surveyed the small car market and presented the best combination car available in the country with good features. Look and Style-The appearance of the Nissan Micra is stunning and distinctive, it demands a second look for sure. Fit and finish is quite good and the use of body colors are first class level. The overall appearance is a treat for eyes. Comfort-As far as comfort is concerned, the Nissan Micra scores over its competitors as it has sufficient leg room, headroom, and shoulder room in both the seat rows. Air conditioner keeps the atmosphere at a desirable level, I never feel its lacking the duty its meant for. Pickup- The pickup is not awesome but being a 1.2 litre engine, I should not complain about it; overtaking is just ordinary but fills me with confidence in city driving with its superb speed and turning radius. Mileage-The Nissan Micra is said to be the best fuel saver in the small car segment. The company claims 18.06 kmpl, I could not get that figures but somewhere around 15 kmpl, that is not bad I think. Best Features - No doubt! the intelligent key with push button ignition feature is the best one and sets the Nissan Micra in the league of premium cars. Engine immobilizer and driver airbag claim it the best in the class.  Needs to improve- I would like to see more body colors and interior options; after sales service is not that satisfactory as other market leaders provide. Overall Experience- Overall the car is superb and a great vehicle to invest money in. I am owing this car from a couple of months and my experience is positive. The Nissan Micra become the envy of my neighbors and why not its stylish built and colour spray can cast spell on anyone. In the city area, the car moves firmly and handling is great along with smooth and responsive feel.  Even at high speed on highways, I never heard harsh engine sound or lack of power. Vibrations may be felt if I tried to touch the top speed; however, at average high speed, you won't feel such distraction. Most of the time, we go for outing with family and the car easily allows 5 average size persons in the both the seat rows. The suspension and seat cushion help to make our drive comfortable.
Write your Comment on ನಿಸ್ಸಾನ್ ಮೈಕ್ರಾ
1
N
n. s. raju
Apr 18, 2011 7:01:17 PM
With regard to service, I was explained that, by default, all Micra owners are eligible for a service through MY TVS and they have around 1500 service centres spread across India to meet any service requirement in case of emergency and they call it as Road side Assitance. I am convinced with the service support. Ofcourse, they do not have enough dealers when compared to other competitors but, with road side assistance, Nissan's care for customers is best displayed. I suppose, that is what a good brand offers.
ಪ್ರತ್ಯುತ್ತರ
1
N
n. s. raju
Apr 18, 2011 6:55:19 PM
I do not under stand your statement about, base model does not have great features. The base model itself means a starting model and I am pleased to find an Airbag, A/C, Power steering, tilt steering etc. even in the base model.
ಪ್ರತ್ಯುತ್ತರ
1
j
joe
Nov 23, 2010 8:17:37 PM
wat about figo
ಪ್ರತ್ಯುತ್ತರ
ನಿಸ್ಸಾನ್ ಮೈಕ್ರಾ ಬಳಕೆದಾರರ ವಿಮರ್ಶೆಗಳು
ಆಧಾರಿತ
122 ಬಳಕೆದಾರರ ವಿಮರ್ಶೆಗಳು
All (185)
Mileage (47)
Performance (24)
Looks (41)
Comfort (35)
Engine (22)
Interior (24)
Power (21)
More ...
ಇತ್ತೀಚಿನ
ಸಹಾಯಕವಾಗಿದೆಯೆ
VERIFIED
CRITICAL
Good car but high in maintenance cost with a great mileage but the problem is lower ground clearance.

It's packed with the necessary features right from the base variant. The ride quality is amazing. Clutch is a little tight. It's hard to engage 1, 2.

I am fully satisfied with my Nissan Micra car. It is a family-friendly car easy to drive in cities. And ladies also can drive this car easily. My car is a diesel car and ...ಮತ್ತಷ್ಟು ಓದು

One of my best choices ever. Wonderful driving experience. Ergonomics are amazing. Pure driving joy and amazing performance. Spacious, smooth, nice suspension, amazing ha...ಮತ್ತಷ್ಟು ಓದು

Nissan Micra diesel car is very good, comfortable and has good safety features. Car's mileage is amazing and also has some issues with bumper lock and maintenance cost is...ಮತ್ತಷ್ಟು ಓದು

Good experience and latest model.Nice color and good mileage, balloon facility.

Nissan Micra is a power-packed car. It is strongly built and comes with decent features. According to me, the main drawback is that the height of the driver seat is not a...ಮತ್ತಷ್ಟು ಓದು

ಎಲ್ಲಾ ಮೈಕ್ರಾ ವಿರ್ಮಶೆಗಳು ವೀಕ್ಷಿಸಿ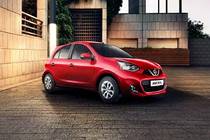 Rs. 5.99 ಲಕ್ಷ - 8.12 ಲಕ್ಷ*
ಈ ಕಾರಿನ ಮಾದರಿ ಅವಧಿ ಮುಗಿದಿದೆ
ಬಳಕೆದಾರರು ಕೂಡ ವೀಕ್ಷಿಸಿದ್ದಾರೆ
ಟ್ರೆಂಡಿಂಗ್ ನಿಸ್ಸಾನ್ ಕಾರುಗಳು