A nice car with great potential
A nice car with great potential
Hi guys. I am writing an honest review of Renault duster to help you make an informed decision. I have been driving this car since July 2015, and I am now writing this review in after almost 4 years. I have already clocked 95000kms on this vehicle and this has been my workhorse ever since I sold my swift Dzire. I am driving 85 ps RXL option diesel version of this car. Duster is being sold worldwide in many countries, and it is sold with a 2.0 litre Diesel engine. In India, it sold with 1.5 ltr Diesel engine to cut taxes and to reduce cost. It is a poor man?s SUV by United Kingdom standard. But in India it is a middle-class SUV. Coming to the vehicle specifics it has a great road presence which means it gets noticed right away as an SUV and has a dominating feels which no other 5 seater SUV except Tata Harrier offers. Coming to the body of this vehicle the sheet metal parts of this vehicle are very light to reduce the weight of the vehicle to suit it best for 1.5 litre engine. As a matter of fact this vehicle weighs only 1200 kgs and this is very light considering. It is a 4.4 meter long vehicle. But this lightweight doesn't?t translate it into an unsafe vehicle because the chassis of this vehicle is really strong and offers great protection to the occupants. I have met many people who met an accident on duster and came out without a scratch with a car damaged to limit. Coming to inside the vehicle where it offers ample space to fit in 5 overweight people or 5 normal weight people with some left over space on back bench. The boot space is large enough to house all your weekend luggage with ice box and other things you want. THE SHOW STOPPER FOR THIS CAR IS ITS SUSPENSION. It offers smooth and comfortable ride which you might experience in cars such as Innova. Absolutely stunning suspension and you can simply glide away on the bad sections of the road. It just simply insulates the occupants from pot holed roads. The steering of this car is so confidence inspiring that you can simply turn it in every direction with no fear of loosing control. The cabin is well insulated from engine noise, but we do hear outside air noise a little when driving at higher speeds. Outside visibility is really great, and we sit a litter higher and gives great command on the road while driving. I am also getting a mileage of 18.1 kmpl on highway with A.C on all the time. Service cost is around 5-6k every 10000kms. You can really put this vehicle on task off-road and this vehicle will never disappoint you. Be it ground clearance water wading capacity anything. Cons of the vehicle It loses out on its competition and certainly a big time on its interiors, and feature list which many of us in India consider as a deal breaker. It has dated interiors with no feel of premiumness. It is a basic car with basic features with great SUV like feel and drivability. It has some ergonomic issue such as power window button in the back is placed such that it gets operated with our elbow When do we don't want it to. The ORVM button is placed under hand brakes which is another ergonomic issue. It has expensive spare parts and some parts are even imported from the Uk which takes time to come to India. The resale value of the vehicle is also not good. All in all, it is a good car and has a great potential in a country like India and has true SUV like features and is not like an overgrown Sedan such as Creta and overgrown hatches such as Ford EcoSport or Brazza.
Write your Comment on ರೆನಾಲ್ಟ್ ಡಸ್ಟರ್ 2016-2019
1
p
parnika chandani
Jan 23, 2021 7:30:27 PM
Duster always reveal.. Who I am..!!..I AM DUKE OF DUST STORM..
ಪ್ರತ್ಯುತ್ತರ
1
h
harjoban singh
Aug 28, 2020 5:59:04 PM
I agree to your review as far as performance, space and road presence Is concerned but that is not the only thing that you want from a good car . Its a very high maintenance car With avg after sales
ಪ್ರತ್ಯುತ್ತರ
ರೆನಾಲ್ಟ್ ಡಸ್ಟರ್ 2016-2019 ಬಳಕೆದಾರರ ವಿಮರ್ಶೆಗಳು
ಆಧಾರಿತ
295 ಬಳಕೆದಾರರ ವಿಮರ್ಶೆಗಳು
ಎಲ್ಲಾ (294)
Mileage (76)
Performance (41)
Looks (99)
Comfort (109)
Engine (58)
Interior (56)
Power (40)
More ...
ಇತ್ತೀಚಿನ
ಸಹಾಯಕವಾಗಿದೆಯೆ
VERIFIED
CRITICAL
Renault Duster is a very good vehicle having spacious inside, boot space is comfortable and luggage place was very wide and travelling long will be thrilled and vibrant. ...ಮತ್ತಷ್ಟು ಓದು

Excellent in class.. with stability and 4 wheel drive.. the negative are the advanced features like the small touch screen, 2 airbags only. Still very good car for City d...ಮತ್ತಷ್ಟು ಓದು

Good Drive and smooth. If you go on a long drive you feel a better experience on Renault duster 85ps RXS.

Quite satisfied with Renault Duster AMT, the most economic SUV in the Indian market. Better performance than Creta. Looking better than Terrano.

Car is quite good, everything that I expected of it, but the service needs to improve a lot, Renault should look into that.

Very nice car for a long drive...I love it's driving and comfortable sitting and road grip...Thank you, Renault.

I never faced and the problem also the driving experience is fantastic in Renault Duster, much comfortable and has good mileage around 17 to 18 km/hr, the best of the Ren...ಮತ್ತಷ್ಟು ಓದು

Excellent for driving and safety. Lacks premium inner. Decent mileage and low cost of maintenance. Driving duster since 2014 and clocked 100000 km.

ಎಲ್ಲಾ ಡಸ್ಟರ್ 2016-2019 ವಿರ್ಮಶೆಗಳು ವೀಕ್ಷಿಸಿ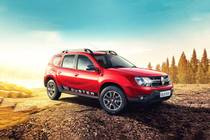 Rs.7.99 ಲಕ್ಷ - 13.88 ಲಕ್ಷ*
ಈ ಕಾರಿನ ಮಾದರಿ ಅವಧಿ ಮುಗಿದಿದೆ
ಬಳಕೆದಾರರು ಕೂಡ ವೀಕ್ಷಿಸಿದ್ದಾರೆ
ಟ್ರೆಂಡಿಂಗ್ ರೆನಾಲ್ಟ್ ಕಾರುಗಳು
×
We need your ನಗರ to customize your experience