Renault Lodgy.
Renault Lodgy.
I own a 110PS, Diesel variant Lodgy over a year now in Chennai and I have driven it in the city, highways and hills as well. The drive is absolutely impressive and the way it handles the Indian roads is commendable.Mileage is pretty good, it averages out well. However, i cannot deny the fact that the ground clearance of the car is relatively low and one has to be careful on the awkwardly sized speed breakers. It can carry 7 adults at ease and it has oodles of space for luggage as well. The 3rd row seat is comfortable for adults even on long journey. This seat is fold-able and detachable to add-on luggage space. The exterior shape isn't attractive but nothing to complain. In-fact, if you are ready to spend a few thousands like i did, you can add style and detail to the car's exterior with chrome bits. Interiors of the car is decent except for the missing armrest in the front. Anyway, i have always received complements about the car from everyone who drove or was driven in may car. A noteworthy aspect of the car is its NVH levels, even at the cruising speeds over 100 kmph the cabin is quite. The originally fitted audio system delivers good & quality audio. I recommend the potential buyers of the car to get a service package as well, the renault service centers, atleast the one in chennai, are charging tad high. The MPV's are not only for the cities but for long drives too and if it is the same for you then pay a little more to get the 110PS version rather than the 85PS. The smaller 85PS isn't bad though. If Ertiga is "affordable" for you and Innova is "luxury" for you, then Lodgy is surely an "affordable luxury" and i really mean it.
Write your Comment on ರೆನಾಲ್ಟ್ ಲಾಡ್ಗಿ
1
s
soumendu sinha
Oct 20, 2017 1:18:36 PM
i have book one lodgy, how it is on indian road ,
ಪ್ರತ್ಯುತ್ತರ
1
B
babuck
Aug 27, 2017 9:33:50 AM
good preview
ಪ್ರತ್ಯುತ್ತರ
1
t
thirunavukarasu
Apr 23, 2017 11:16:29 PM
is there a taxi option if yes could you enlighten the details
ಪ್ರತ್ಯುತ್ತರ
ರೆನಾಲ್ಟ್ ಲಾಡ್ಗಿ ಬಳಕೆದಾರರ ವಿಮರ್ಶೆಗಳು
ಆಧಾರಿತ
76 ಬಳಕೆದಾರರ ವಿಮರ್ಶೆಗಳು
All (73)
Mileage (24)
Performance (14)
Looks (17)
Comfort (34)
Engine (19)
Interior (14)
Power (11)
More ...
ಇತ್ತೀಚಿನ
ಸಹಾಯಕವಾಗಿದೆಯೆ
VERIFIED
CRITICAL
I have always rated the Renault Lodgy, highly as a product. When it came to desirability though, it lacked finesse and clearly is an MPV that prefers function over form. ...ಮತ್ತಷ್ಟು ಓದು

Bought Lodgy in the year 2015, the car was good and running well. I have done the services regularly too. Once the warranty given by Renault got over all faults started a...ಮತ್ತಷ್ಟು ಓದು

The best car in the segment..good Mileage, handling, comfortable ride for 8 people...pick up is great even with full passenger load. Ground clearance bit lower for the ca...ಮತ್ತಷ್ಟು ಓದು

A comfortable luxurious sedan, big MPV, stylish SUV & economical like a small hatchback i.e., four cars feelings are combined in a single Lodgy. Out of 16 cars of various...ಮತ್ತಷ್ಟು ಓದು

Renault Lodgy is the best car for the highway with good fuel efficiency. All the 8 seats of this MPV is very comfortable. None of the person seated in the car got tired w...ಮತ್ತಷ್ಟು ಓದು

An excellent car I have ever seen and had a great experience for the last two years. A little expensive and the best mileage.

Driven almost 50000 KMS. Excellent car both for city drive as well as highway. Great pick up due to 110BS and higher torque works wonders. Traveled for 1200 KMS with 7 ad...ಮತ್ತಷ್ಟು ಓದು

Lodgy is a good MPV and family car. Renault gives better mileage and nice features and good looks, good performance.

ಎಲ್ಲಾ ಲಾಡ್ಗಿ ವಿರ್ಮಶೆಗಳು ವೀಕ್ಷಿಸಿ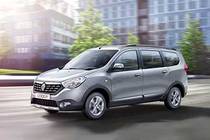 Rs. 8.63 ಲಕ್ಷ - 12.29 ಲಕ್ಷ*
ಈ ಕಾರಿನ ಮಾದರಿ ಅವಧಿ ಮುಗಿದಿದೆ
ಬಳಕೆದಾರರು ಕೂಡ ವೀಕ್ಷಿಸಿದ್ದಾರೆ
ಟ್ರೆಂಡಿಂಗ್ ರೆನಾಲ್ಟ್ ಕಾರುಗಳು