ಸ್ಕೋಡಾ ಆಕ್ಟೇವಿಯಾ Impressive ಎ Word ಅದರಲ್ಲಿ Underestimation
Skoda Octavia Impressive A Word of Underestimation
When it comes to cars, I am a die-hard fan of European design. And this was the primary reason for purchasing the new Skoda Octavia sedan. The company has been working quite hard to restore its image in the Indian market with better sales and service network along with instilling confidence in customers by offering best product experience. I previously owned a Swift but unfortunately, it met with an accident and the repairable cost was beyond my expectation. So, finally the hunt began for the new car and the one which struck my mind was none other than else, Skoda Octavia. I purchased the 2017 version last month in July, immediately after the launch. There were also good options in the form of Hyundai Elantra and Toyota Corolla Altis, but the striking design of Octavia clicked my mind instantly.The front of the car features butterfly shaped grille and split headlamps with LED daytime running lights. The car gets new set of 16-inch alloy wheels which looks striking from either angle. Rear profile of the car features revised tail lamps and revamped bumper design. Though the cabin shows the premiumness of the last model, the practicality has been upped by several notches. The beige and black cabin offers a nice contrast to the cabin. The center console gets a brand new 8-inch touchscreen infotainment that lifts up the premiumness of the cabin. The high-resolution display has a slick user interface and is powered by Android Auto, Apple CarPlay as well as Mirror Link. The thing I liked the most is the ambiance of the cabin which is boosted via 10 different LED ambient lighting options. Other comfort and safety aspects of the car include 12-way adjustable driver seat with memory, driver fatigue alert system, hands-free parking, electrically operated panoramic sunroof, and a total of 8 airbags among others. Driving Octavia since 10 months, I think Skoda has really upped the quality game with stylish exteriors and premium interiors. It now comes with a price bracket which is mainly dominated by mid-sized SUVs. However, the impressive performance and the fact that it?s one of the safest cars in its range, makes it a worthy contender.

Write your Comment on ಸ್ಕೋಡಾ ಆಕ್ಟೇವಿಯಾ 2013-2021
ಸ್ಕೋಡಾ ಆಕ್ಟೇವಿಯಾ 2013-2021 ಬಳಕೆದಾರರ ವಿಮರ್ಶೆಗಳು
ಆಧಾರಿತ
49 ಬಳಕೆದಾರರ ವಿಮರ್ಶೆಗಳು
ಎಲ್ಲಾ (49)
Mileage (10)
Performance (17)
Looks (14)
Comfort (15)
Engine (13)
Interior (12)
Power (15)
More ...
ಇತ್ತೀಚಿನ
ಸಹಾಯಕವಾಗಿದೆಯೆ
VERIFIED
CRITICAL
The car is awesome. I got a style TDI version and it was really awesome. The interiors are making the car feel luxurious. The performance of the car is absolutely fabulou...ಮತ್ತಷ್ಟು ಓದು

What a crazy engineered car for the best price, cherishing the happy moments forever and ever. I really, love the suspension and performance.

Why do we spend 40Lakhs on this normal Sedan? We get better interior, design, features, mileage, performance, maintenance under 25 lakhs car. For my self, it is too expen...ಮತ್ತಷ್ಟು ಓದು

Great car for enthusiasts and business people. Daily utilization within a region, then you must go for the petrol variant. Just love the combo of TSI and DSG.

Most dependable car for me as I have taken this car to last village of India the Mana village after crossing Badrinath temple in Uttarakhand.

Driving this car is a sheer pleasure it never misses to put a smile to your face. Car is always ready to race and act on your will. Interiors are plush and ambient l...ಮತ್ತಷ್ಟು ಓದು

The car looks classy and the interior is damn good and I really impressed with the performance and features present in the car.

The is packed with features and a comfortable drive, definitely a reliable car on a long journey. It has a spacious boot space and fuel-efficient as well.

ಎಲ್ಲಾ ಆಕ್ಟೇವಿಯಾ 2013-2021 ವಿರ್ಮಶೆಗಳು ವೀಕ್ಷಿಸಿ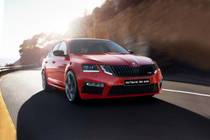 Rs. 15.49 ಲಕ್ಷ - 35.99 ಲಕ್ಷ*
ಈ ಕಾರಿನ ಮಾದರಿ ಅವಧಿ ಮುಗಿದಿದೆ
ಬಳಕೆದಾರರು ಕೂಡ ವೀಕ್ಷಿಸಿದ್ದಾರೆ
ಟ್ರೆಂಡಿಂಗ್ ಸ್ಕೋಡಾ ಕಾರುಗಳು