Its Simply Clever
Its Simply Clever
I own the latest Rapid rider plus AT which is the most bang for the buck car. You can opt for some aesthetic accessories to make it look similar to the top end but for very little money. That apart, the fun and performance to do are the best in class in the mid-size sedans. The mid-range torque will always and always put a smile on you every day, every time. The superb (pun) steering feel with the complementing chassis and exceedingly good torque converter auto transmission makes this the best every day nimble car engaging the driver with confidence, appeal, safety, and comfort of a mid size sedan. You get what you expect in a car which is for driving. The back seat comfort is the best in class as the suspension setting takes care of you on every road surface and the stability in highway speeds is awesome. The build quality is the best the other sedans can only hope to catch up to the rapid. Mileage for the AT is decent with 15 to 16 kmpl. Now, coming to the bone of contention, I find the 6.5inch touch screen infotainment with android auto is responsive and does a very good job. The audio system is cool. Don't need a bose sound system, as the one in the rapid is cool and gives the beats. Don't agree with me? Wanna drive a car or sit in an entertainment unit? Decide for yourself. Finally the price, an automatic for 9.5lac ex-showroom! Well gets you whacked up to simply overlook it for another car.
Write your Comment on ಸ್ಕೋಡಾ ರಾಪೈಡ್
1
I
irfan chaudhary
Aug 12, 2021 10:49:15 PM
How is the front seat comfort for people with back problem as I'm tall?
ಪ್ರತ್ಯುತ್ತರ
1
g
gnanadeep
Mar 10, 2021 1:37:03 PM
HI Prabhakaran, Can you tell me whats the mileage you are getting in city and highway? Also did you fit any extra accessories?
ಪ್ರತ್ಯುತ್ತರ
2
P
prabakaran
Mar 22, 2021 10:59:07 AM
Highway mileage I get is 16.5kmpl. In city it varies between 13 to 15kmpl depending on my driving and traffic conditions. I have fitted extra accesories fog lamp, spoiler, diffuser for looks, leather wraps
ಪ್ರತ್ಯುತ್ತರ
ಸ್ಕೋಡಾ ರಾಪೈಡ್ ಬಳಕೆದಾರರ ವಿಮರ್ಶೆಗಳು
ಆಧಾರಿತ
297 ಬಳಕೆದಾರರ ವಿಮರ್ಶೆಗಳು
ಎಲ್ಲಾ (295)
Mileage (94)
Performance (64)
Looks (85)
Comfort (97)
Engine (74)
Interior (50)
Power (53)
More ...
ಇತ್ತೀಚಿನ
ಸಹಾಯಕವಾಗಿದೆಯೆ
VERIFIED
CRITICAL
Skoda Rapid remains identical to the previous model in terms of design and dimensions but has been styled to make it look a bit sportier. The Monte Carlo edition particul...ಮತ್ತಷ್ಟು ಓದು

It is a good experience with Skoda Rapid. Just I like this Skoda Rapid feature. It is also good looking. So I am happy with this car.

Very nice driving experience, or smooth driving. Low maintenance cost, or very good diesel engine and mileage.

Excellent and robust car. Gives good mileage on the highway. I bought it in mid-2021 and drove around 60km, This gives a comfortable ride and good mileage of around 22kmp...ಮತ್ತಷ್ಟು ಓದು

At this price, it's the first choice. Skoda provides all high-level quality in this car. Like safety, power, etc. Nobody beat you with other cars, like Hyundai Verna, Hon...ಮತ್ತಷ್ಟು ಓದು

Classy and Punchy. No vehicle in this segment can match the performance. It's a bit high maintenance as the spares are costly.

I have a 2016 diesel model. After 5 years of running, also it works like new and mileage is better than they say. On the highway, this car can give up to 25-26kmpl a...ಮತ್ತಷ್ಟು ಓದು

Super satisfied fun to drive with the safety of a tank, superb fuel efficiency and awesome styling.

ಎಲ್ಲಾ ರಾಪೈಡ್ ವಿರ್ಮಶೆಗಳು ವೀಕ್ಷಿಸಿ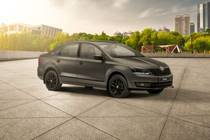 Rs.6.99 ಲಕ್ಷ - 13.49 ಲಕ್ಷ*
ಈ ಕಾರಿನ ಮಾದರಿ ಅವಧಿ ಮುಗಿದಿದೆ
ಬಳಕೆದಾರರು ಕೂಡ ವೀಕ್ಷಿಸಿದ್ದಾರೆ
ಟ್ರೆಂಡಿಂಗ್ ಸ್ಕೋಡಾ ಕಾರುಗಳು
×
We need your ನಗರ to customize your experience