ಸ್ಕೋಡಾ ಸೂಪರ್‌ The Perfect ಐಷಾರಾಮಿ ಸೆಡಾನ್ Made Indians ಗೆ
Skoda Superb The Perfect Luxury Sedan Made for Indians
One car whose strength perfectly interconnects with the needs of an Indian luxury car buyer is none other than Skoda Superb. The full-sized luxury vehicle has all the qualities including big space, loads of features and styling to attract the executive class. Superb has that eye-catching glance that influences the people to choose it over any high-priced model. The flagship sedan of Skoda is better known for its spacious cabin and comfort it offers. It?s the car that provides almost all the bells and whistles of a BMW 5 series or Mercedes E-Class. Skoda Superb design is highly influenced by Vision C Concept car. Embracing the new MQB platform, this full-sized salon measures about 5 meter in length. The large and wide hood at the front features sharp lines, wide radiator grille with chrome surrounding. 3D headlight and horizontal fog lamps complete the front appearance. Rear profile is elegant as well. Space seems to be the prime attribute inside, the dashboard gets the new design while dual tone interiors along with piano black finish evoke class. Another big advantage of owning Superb is the utter seat comfort it provides, even beating luxury cars twice the price. The long feature list includes 6.5-inch large infotainment touchscreen unit with Apple CarPlay for IOS and Android Auto for Android users, three-zone climate control, sunroof, gesture-controlled boot lid and ambient lighting among others. New Skoda Superb is offered in two engine options- 1.8L TSI petrol that can produce 177.5bhp and the 2.0L diesel trim can generate power of 174.6bhp. The package is rounded up with the immense level of safety that the company is known for. The car gets 5-star safety rating that comes from the safety cover it provides with 8 airbags, ABS with EBD, ESP and a bunch of driving assistance system. In one line, I would say Superb is the benchmark of D2 segment luxury cars and very well priced all which makes it a timeless machine.
Write your Comment on ಸ್ಕೋಡಾ ಸೂಪರ್‌ 2016-2020
ಸ್ಕೋಡಾ ಸೂಪರ್‌ 2016-2020 ಬಳಕೆದಾರರ ವಿಮರ್ಶೆಗಳು
ಆಧಾರಿತ
34 ಬಳಕೆದಾರರ ವಿಮರ್ಶೆಗಳು
ಎಲ್ಲಾ (34)
Mileage (5)
Performance (8)
Looks (12)
Comfort (15)
Engine (11)
Interior (6)
Power (9)
More ...
ಇತ್ತೀಚಿನ
ಸಹಾಯಕವಾಗಿದೆಯೆ
CRITICAL
Skoda Superb is an excellent car and its name superb itself defines the car. The seats are very comfy and also have spacious leg room. The DSG gearbox is also too good. A...ಮತ್ತಷ್ಟು ಓದು

It is a proper luxury vehicle, very spacious and no matter how much you put the front sets back, it has enough room in the back to accommodate people of all sizes. The cr...ಮತ್ತಷ್ಟು ಓದು

I bought the Skoda Superb (petrol)L&K 3 yrs back, it was the 1st Car to delivered in Delhi from Jai Auto. I was very happy with the purchase but soon I realized the s...ಮತ್ತಷ್ಟು ಓದು

Safety and milage best and the car automatically system update car drive control very best. And set the very best design.

Really superb car. Great luxury and drivability.. truly a nice car with lots of features thumbs up to superb. Guys go for this car.

GOOD PRICE AND SUPERB HIGH-CLASS CAR LUXURY SEDAN I have also started a new business on my own. Car dealership bought the first car by me, the Hyderabad passing no (AP 09...ಮತ್ತಷ್ಟು ಓದು

This car is much of lower price in comparison to BMW 525d with same performance and comfort.

ಎಲ್ಲಾ ಸೂಪರ್‌ 2016-2020 ವಿರ್ಮಶೆಗಳು ವೀಕ್ಷಿಸಿ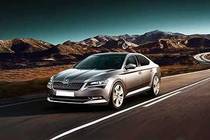 Rs. 23.99 ಲಕ್ಷ - 31.49 ಲಕ್ಷ*
ಈ ಕಾರಿನ ಮಾದರಿ ಅವಧಿ ಮುಗಿದಿದೆ
ಬಳಕೆದಾರರು ಕೂಡ ವೀಕ್ಷಿಸಿದ್ದಾರೆ
ಟ್ರೆಂಡಿಂಗ್ ಸ್ಕೋಡಾ ಕಾರುಗಳು