Car of choice
Car of choice
I bought an Indica eV2 in feb 2012 just for the reason that I have to travell about 150 km per day. I was looking for a comfortable, fuel efficient and pocket friendly car. Before zeroing on Indica eV2, I have test driven every disel car in hatch back segment in the price range of 5 to 5.5 lacs. But comparing every details and the budget I went for Indica eV2 LX. I feel that I have made the right choice as this vehicle fulfils every point that I needed. The service part is also good. My vehicle is regulary being serviced at Ashok Auto Sales Agra and they pay attention to each and every aspect and every minute points that I tell them. Look and Style The looks are very elegant and sporty Comfort: The minute details like lumbar support for driver are taken care of. There is so much of leg room both infront as well as in the rear. No disturbing sound in the cabin Pickup: Its one of the best in its class. Feels as if it is a petrol car. Mileage: 33 kmpl (on National highways) and 38 kmpl (on expressway) Best Features: Mileage, sporty looks and stout body Needs to improve: Plastic quality Overall Experience: Very good
Write your Comment on ಟಾಟಾ ಇಂಡಿಕಾ ವಿ2
1
G
guda raghavendra rao
Jun 1, 2015 8:09:38 PM
TATA is a Brand we all Indians are proud of this company.Please assess your prdcts properly before releasing in to the mkt.PLEASE DO NOT BUY TATA OTHER THAN DIESEL ENGINES.Their long term performance for Hybrid Engines particularly for CNG and LPG must be observed.In India big manufacturing companies like TATA can not be SUED as it happens in developed countries like USA.When users safety and damage comes even the big companies are made to compensate the user.CAN BIG COMPANIES GO UNCHECKED LIKE THIS IN INDIA. My previous submission for my vehicle Indica V2 GLS XETA,purchased 25.6.2008,having Registration nr:AP29BD5615.Being regularly serviced at CONCORDE Ramanthapur,Uppal.Hyderabad.
ಪ್ರತ್ಯುತ್ತರ
1
G
guda raghavendra rao
Jun 1, 2015 7:59:30 PM
I am using Indica GLS XETA Model since 25.june.2008,having Registration nr AP29BD5615.I ma getting it serviced regularly at Concorde Service at Ramanthapur, Uppal, Hyderabad they are giving good service. However the Alarm CHECK ENGINE is still appearing and itself shifting from LPG to PETROL even today,I must have spent about Rs35,000 till today for the replacement of DEFECTIVE SPARE PARTS.Any time you consult them--EVEN TODAY--- they say let us replace the defective part,....I STOPPED ASKING THEM TO RECTIFY THE PROBLEM.I think if I approach the proper consumer court I SHALL GET JUSTIFICATION...I am an ardent fan of TATA products I shall never do that,...I must have got an Engine with a manufacturing defect BY VHANCE / ACCIDENTALLY.Neither I can afford for a new car at this age of 60years.
ಪ್ರತ್ಯುತ್ತರ
1
k
k.k.arogyareddy
Dec 8, 2014 6:36:01 PM
MYCARMILAGE23KMfor1Lt
ಪ್ರತ್ಯುತ್ತರ
ಟಾಟಾ ಇಂಡಿಕಾ ev2 ಬಳಕೆದಾರರ ವಿಮರ್ಶೆಗಳು
ಆಧಾರಿತ
57 ಬಳಕೆದಾರರ ವಿಮರ್ಶೆಗಳು
ಎಲ್ಲಾ (57)
Mileage (28)
Performance (12)
Looks (29)
Comfort (33)
Engine (17)
Interior (15)
Power (15)
More ...
ಇತ್ತೀಚಿನ
ಸಹಾಯಕವಾಗಿದೆಯೆ
CRITICAL
I recently had a chance to drive my friend's Tata Indica V2 when I needed to go for a the long journey from Mumbai to Pune. I have to say that despite its average looks, ...ಮತ್ತಷ್ಟು ಓದು

I liked the indica as when i gone to purchase a car in tata showroom. I liked its fully mechanical controlled engine in which any kind of sensor is used in the engine. It...ಮತ್ತಷ್ಟು ಓದು

I have this eV2 CR4 LX purchased in Dec 11. During last 5 yrs and 1 month, it has been driven by just 60 kms per day for office up & down. It has good looking Exterio...ಮತ್ತಷ್ಟು ಓದು

A century after its humble beginnings, Indica has become synonymous with performance and sophistication. Worn not only by internationally recognized athletes, but the fas...ಮತ್ತಷ್ಟು ಓದು

Overall indica v2 is good car for people belonging to middle class. It is easily affordable.worth the price. long durabilty.petrol or disiel both are best. music system i...ಮತ್ತಷ್ಟು ಓದು

The year 2011 was nearing its end when my family decided to purchase a car. The purchase was specifically important to me as I am the only one at home who drives. Also, I...ಮತ್ತಷ್ಟು ಓದು

Good : GOOD STABILITY,SAFETY ON HIGHWAYSBad : sluggish with AC on because of 54 bhp only It is about TATA INDICA DLG BSIII which I purchased in 2004 April. The car is rea...ಮತ್ತಷ್ಟು ಓದು

All time rock star. Tata indica diesel varient is too amazing car it gives more power and road grip it is best for daily journy like non stop. it gives exallent feeling i...ಮತ್ತಷ್ಟು ಓದು

ಎಲ್ಲಾ ಇಂಡಿಕಾ ev2 ವಿರ್ಮಶೆಗಳು ವೀಕ್ಷಿಸಿ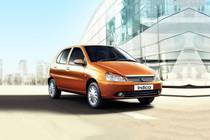 Rs.3.29 ಲಕ್ಷ - 5.37 ಲಕ್ಷ*
ಈ ಕಾರಿನ ಮಾದರಿ ಅವಧಿ ಮುಗಿದಿದೆ
ಬಳಕೆದಾರರು ಕೂಡ ವೀಕ್ಷಿಸಿದ್ದಾರೆ
×
We need your ನಗರ to customize your experience