ಟಾಟಾ INDICA: something below ಮತ್ತು average
TATA INDICA: something below and average
Since, many years tata groups has constantly updated their most valued car, yes you're right! I'm talking about none other than TATA INDICA. since years tata is constantly bring about the best side of it, be it the entry level car or it's most premium car. TATA INDICA is the car for someone who is looking for reputed brand at affordable price. It has got all those features of an entry level car that one should possess. Let's start with it's exterior, the long pulled front headlights give it a beast look and the long stretched back lights. but the look from the side hasn't changed much. It still reminds me of Indica of 2000s, but let's not forget it's tata their might be some upgradation. Ground clearance is decent. Talking about the interior it has power steering, with all 4 power windows, remote trunk opener which is something new in this segment, remote fuel lid opener. To my shock lumbar support is introduced which is a new feature for everyone. talking about music system, in times of touch screen tata is missing on it. There is no touch screen operated music system, there is no navigation system which most of the other rivals provide. but the plus side is that it isn't oudated, it has got bluetooth connectivity also one thing that was missing was parking sensors, steering mounted controls. instrument cluster were found almost similar to older version. Getting in and out of the car was pretty decent. headroom in the backseat (according to my height which is 5'6 for reference) is decent. legroom was also decent. The material used for dashboard was also not upto the mark. The boot space is adequate to house those one large suitcase. Although you can increase the boot space by pulling down the backseats which provides you adequate space for housing the bags but you won't get a flattish boot. Those power windows button is downside for TATAs as they're placed alongside the gears which means for everytime you have to get little bit of down for pressing those power windows buttons, REALLY IT IS DOWNSIDE! The cushioning of the seats is "average", it doesn't provide you much comfort on those long journeys where you're going to hit the roads. At the end of the day you might feel tired or might be concerned about your BACK! comfort and music department is something where TATA needs to do their homework! Power steering is decent. The road side service of TATA is plus point for it. Talking about the engine. The Indica eV2 comes with just one diesel engine and a 62bhp, 1.2-litre MPFI petrol motor. We drove the 1,396cc, common-rail, CR4, a Tata-developed diesel motor that's borrowed from the Indica eCS. As we've witnessed earlier, the engine churns out a lacklustre 69bhp and 140Nm of torque, and misses out on refinement and outright punch. The eV2 is no speed demon and won't heave you to triple-digit speeds in a hurry it takes a leisurely 16.44 seconds from standstill to 100kph. The Indica eV2 felt more at home in the city, with good initial response from the throttle, while not showing any great urgency in getting ahead of the rest out on the highway. The verdict A budget, no-nonsense commuter vehicle with decent features that will get you from A to B without burning a hole in your wallet!
Write your Comment on ಟಾಟಾ ಇಂಡಿಕಾ ವಿ2
1
A
amar
Aug 16, 2020 11:39:48 AM
I want tata indica dash bord
ಪ್ರತ್ಯುತ್ತರ
ಟಾಟಾ ಇಂಡಿಕಾ ev2 ಬಳಕೆದಾರರ ವಿಮರ್ಶೆಗಳು
ಆಧಾರಿತ
57 ಬಳಕೆದಾರರ ವಿಮರ್ಶೆಗಳು
ಎಲ್ಲಾ (57)
Mileage (28)
Performance (12)
Looks (29)
Comfort (33)
Engine (17)
Interior (15)
Power (15)
More ...
ಇತ್ತೀಚಿನ
ಸಹಾಯಕವಾಗಿದೆಯೆ
CRITICAL
I recently had a chance to drive my friend's Tata Indica V2 when I needed to go for a the long journey from Mumbai to Pune. I have to say that despite its average looks, ...ಮತ್ತಷ್ಟು ಓದು

I liked the indica as when i gone to purchase a car in tata showroom. I liked its fully mechanical controlled engine in which any kind of sensor is used in the engine. It...ಮತ್ತಷ್ಟು ಓದು

I have this eV2 CR4 LX purchased in Dec 11. During last 5 yrs and 1 month, it has been driven by just 60 kms per day for office up & down. It has good looking Exterio...ಮತ್ತಷ್ಟು ಓದು

A century after its humble beginnings, Indica has become synonymous with performance and sophistication. Worn not only by internationally recognized athletes, but the fas...ಮತ್ತಷ್ಟು ಓದು

Overall indica v2 is good car for people belonging to middle class. It is easily affordable.worth the price. long durabilty.petrol or disiel both are best. music system i...ಮತ್ತಷ್ಟು ಓದು

The year 2011 was nearing its end when my family decided to purchase a car. The purchase was specifically important to me as I am the only one at home who drives. Also, I...ಮತ್ತಷ್ಟು ಓದು

Good : GOOD STABILITY,SAFETY ON HIGHWAYSBad : sluggish with AC on because of 54 bhp only It is about TATA INDICA DLG BSIII which I purchased in 2004 April. The car is rea...ಮತ್ತಷ್ಟು ಓದು

All time rock star. Tata indica diesel varient is too amazing car it gives more power and road grip it is best for daily journy like non stop. it gives exallent feeling i...ಮತ್ತಷ್ಟು ಓದು

ಎಲ್ಲಾ ಇಂಡಿಕಾ ev2 ವಿರ್ಮಶೆಗಳು ವೀಕ್ಷಿಸಿ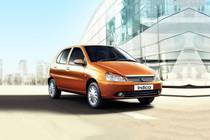 Rs.3.29 ಲಕ್ಷ - 5.37 ಲಕ್ಷ*
ಈ ಕಾರಿನ ಮಾದರಿ ಅವಧಿ ಮುಗಿದಿದೆ
ಬಳಕೆದಾರರು ಕೂಡ ವೀಕ್ಷಿಸಿದ್ದಾರೆ
×
We need your ನಗರ to customize your experience