ವೋಲ್ವೋ s90 Strong Contender Against German Rivals
Volvo S90 Strong Contender Against German Rivals
If you would have asked me to buy a Volvo car instead of Mercedes Benz, Audi or BMW 10 years back, my choice would obviously be from one of the German brands. But today, the scenario has completely changed and Volvo has been rapidly emerging as one of the genuine premium brands that give you similar comfort level and driving experience. The new Volvo S90 test the trustworthiness of the Swedish automaker and forays into the market where Mercedes-Benz E-Class, BMW 5-series, and Audi A6 are already ruling the streets. Volvo S90 features a great looking face with company's new design language does add to the appeal. The interiors are well-crafted with ample amount of space. The talking point of this car is the Bowers & Wilkins sound system which is amplified by 19-speakers. And top of it, the loads of safety equipment for which the brand is known for, can compel anyone to go for this. If you are one of those who doesn't want to have a fun-to-drive luxury vehicle and want to occupy the rear seat instead, then Volvo S90 is the car you should be interested in. Though the sales and service network of the brand is low in India, it is steadily improving and you can now find the dealers in almost every major city in the country.
Write your Comment ನಲ್ಲಿ ವೋಲ್ವೋ s90 2016-2021
ವೋಲ್ವೋ s90 2016-2021 ಬಳಕೆದಾರರ ವಿಮರ್ಶೆಗಳು
ಆಧಾರಿತ
8 ಬಳಕೆದಾರರ ವಿಮರ್ಶೆಗಳು
ಎಲ್ಲಾ (8)
Mileage (1)
Performance (2)
Looks (5)
Comfort (3)
Engine (3)
Interior (3)
Power (2)
More ...
The 2019 Volvo S90 is suited to meet the needs of the driver with optimal engine performance. It has three available engines to choose between. The first is the T5, a 2.0...ಮತ್ತಷ್ಟು ಓದು

VOLVO cars are no.1 in terms of safety, but the issue here is there are very fewer variants which are been available and from a buyers point of view there must be more ho...ಮತ್ತಷ್ಟು ಓದು

If you would have asked me to buy a Volvo car instead of Mercedes Benz, Audi or BMW 10 years back, my choice would obviously be from one of the German brands. But today, ...ಮತ್ತಷ್ಟು ಓದು

This internet had been really helpful in buying my first car. Volvo S90 is a beauty to me and when I drive it makes me feel as "I am the king". It's a smooth car and easy...ಮತ್ತಷ್ಟು ಓದು

One of the best cars in that segment. From Looks, to the drive, to ample leg space for every passenger, to the comfortable sitting for five people this car tops the list!...ಮತ್ತಷ್ಟು ಓದು

Volvo S90 is the best car for its looks and mileage, the interior look of this car is also very good looks luxurious. The best car for the long ride also.

The global debut of the all-new S90 flagship sedan was hosted at the North American International Auto Show in January 2016. While not a direct replacement to the second ...ಮತ್ತಷ್ಟು ಓದು

It is literally a luxury car with all the features one could look for. It's really beautiful in its looks and loaded with all the features required for techno freak guys.

ಎಲ್ಲಾ s90 2016-2021 ವಿರ್ಮಶೆಗಳು ವೀಕ್ಷಿಸಿ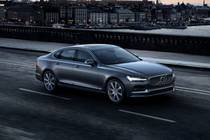 Rs.35.00 ಲಕ್ಷ - 60.90 ಲಕ್ಷ*
ಈ ಕಾರಿನ ಮಾದರಿ ಅವಧಿ ಮುಗಿದಿದೆ
ಬಳಕೆದಾರರು ಕೂಡ ವೀಕ್ಷಿಸಿದ್ದಾರೆ
ಟ್ರೆಂಡಿಂಗ್ ವೋಲ್ವೋ ಕಾರುಗಳು