ಸ್ಕೋಡಾ ರಾಪೈಡ್ ಬಳಕೆದಾರರ ವಿಮರ್ಶೆಗಳು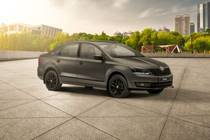 Rs.6.99 ಲಕ್ಷ - 13.49 ಲಕ್ಷ*
ಈ ಕಾರಿನ ಮಾದರಿ ಅವಧಿ ಮುಗಿದಿದೆ
ಸ್ಕೋಡಾ ರಾಪೈಡ್ ಬಳಕೆದಾರರ ವಿಮರ್ಶೆಗಳು
ಎಲ್ಲಾ (295)
Mileage (94)
Performance (64)
Looks (85)
Comfort (97)
Engine (74)
Interior (50)
Power (53)
ಹೆಚ್ಚು ...
ಇತ್ತೀಚಿನ
ಸಹಾಯಕವಾಗಿದೆಯೆ
VERIFIED
CRITICAL
Best car in features, safety & drive experience, also service is very well I recommend to all to once enjoy the ride of this car

This is my 1st car & as I said it's awesome, it's really a perfect car for me. The performance of the car is very good. Mileage is also good. I claimed 23kmpl mileage on the highway. It's totally satisfying car for me, comfort level is also good and it looks so sexy. I'm feeling lucky to buy this car.ಮತ್ತಷ್ಟು ಓದು

Awesome car with the build quality, ride and handling... The 1.5 TDI CR powertrain produces 83KW(~110bhp), you will definitely feel it when you depress the accelerator and at any speeds... The DSG mated with this engine gives you lightning-fast up and downshifts... The brakes are superior to any other vehicle at this price point and the brake assis...ಮತ್ತಷ್ಟು ಓದು

Awesome, for people who want performance along with all the comfort and safety. 0-100 in 9 seconds, just like a rocket.

Excellent pickup in low as well as high Revs. Classy car with decent mileage. No vibration engine noise noticed when driving atv150km/hr. The most important part I would like to say the audio is far far better than Hyundai/Honda/Maruti Cars in premium segment. Really it matters owning a Skoda compared to the "Toys" in its segment. I loved each and ...ಮತ್ತಷ್ಟು ಓದು

Absolute no worry machine, very stable, easy to manoeuvre, good turning radius, at driver seat feel like a cockpit, great looks, elegant car, though its a sedan but very easy to control and drive, ample boot space and comfortable seating at back, very good suspension. 1.5-litre diesel engine really roaring like a tiger...ಮತ್ತಷ್ಟು ಓದು

It's an awesome car a beast to drive best in driven comfort powerful engine very safe super pick up best in class comfort level also there for driven for sitting after-sale service is great in Skoda sevice package to make. It reasonable to afford even buying experience was great easy finance must buy a car.ಮತ್ತಷ್ಟು ಓದು

Great car and very stable with all features one looks for Sleek. Study smooth refined solid safe great family car. Go for it, better than Honda City and Verna Limited addition is to die for European build. Flashy and smooth, engine doors and space are word-class Rubber paint and galvanising make it long-lasting. Excess 100 kg gross weight adds...ಮತ್ತಷ್ಟು ಓದು

A Full 5 Stars for The Skoda Rapid 1.5 TDi. I have the Ambition Model of the car, and it is feature-loaded. It's got everything I need during a car ride. It misses out on the new infotainment screen, but I don't mind it, It's got Bluetooth and that's good enough for me. The car is an absolute beast, delivers close to 17KMPL in the City with the Man...ಮತ್ತಷ್ಟು ಓದು

Excellent drive quality, the silent cabin inside, full power packed 1.6L diesel engine, smoother drive even in 140+ speed, the most awesome feature I liked in Rapid is the one touch down of windows. Rapid's ground clearance is good as compared to other sedans moreover Rapid is best in its segment and its build quality makes it a Solid sedan at this...ಮತ್ತಷ್ಟು ಓದು

The best car in this budget, well built, well at performance, good at mileage and best part is decent service costs.

Driving Skoda Rapid manual petrol is seriously amazing. The car has great suspension, the throttle is also great. It's been 1 and a half year of having it, and maintenance is also normal. Mileage is too good. I am fully satisfied with the car.ಮತ್ತಷ್ಟು ಓದು

It's really a nice car....it lacks some features with compare to others...but truly very nice...if u drive it...u don't like to drive other car...fuel efficiency is also very nice.it depends on driver...if he drives harder low fuel efficiency...if he drives smoothly can get high.....we can drive it smoothly and harder....for example ciaz and honda ...ಮತ್ತಷ್ಟು ಓದು

My car is Skoda rapid ambition diesel MT 2019 model Quality is far better than the cars now available in market on the first week I spot an issue with left side window it's not going down fully other windows goes full down while using the remote window up and down the left side window not closing at that time I visited Skoda service near me they fi...ಮತ್ತಷ್ಟು ಓದು

Skoda Rapid is a perfect car with good features which makes this vehicle more comfortable and attractive. Also getting good ground clearance.

Superb experience, very good car with low maintenance and lovely driving experience. Driving is very smooth.

The biggest mistake I have ever done in my life, Skoda Rapid Ambition petrol AT, this is behaving like an auto-rickshaw, no pickup, no mileage, and no speed as well, feels like I wasted my money unnecessarily.ಮತ್ತಷ್ಟು ಓದು

Overall a great car, however, the maintenance cost is a bit higher than expected. But the build quality is amazing.

It is a very enthusiastic and engaging car to drive. Its one of the best choices in its segment though lacking in the features department but certainly makes up with its driving dynamics.ಮತ್ತಷ್ಟು ಓದು

This is the super-luxury car for the middle class, comes with sports interior. The company gave super duper speakers and delivers the best mileage as well.

Car performance and build quality are very good.

I have a Rapid now they tell a lot about all Skoda cars. high power and high maintenance. You get a powerful feeling when you drive the car. No matter which car it is, Skoda has high acceleration. Also, Skoda makes the best and all beautiful Sedans ever.ಮತ್ತಷ್ಟು ಓದು

Rapid driving pleasure is at peaks. High-speed stability is very good and of course the built quality. Materials used are top-notch.

I had purchased my Skoda Rapid 4 years ago, and to be completely honest the car has its own ups and downs. The car surely feels like a mid-segment luxury car, however it isn't as wide or long as it's competitors. However, the cabin is still quite roomy. The best part about the car is it's ride quality, after owning the car for 4 years the car ...ಮತ್ತಷ್ಟು ಓದು

This where you find the elegance in design and comfortable drive at good speeds. It gets a nice pickup with 104 bhp with 153 nm torque. Back seats are comfortable as high-end cars with sun blends.ಮತ್ತಷ್ಟು ಓದು

It has been over 6 years when I drove this car out of the showroom to my house, the car has run almost 60,000 KM. Not exaggerating, but the car still runs exactly the same. Initially had planned to purchase Duster, but then somehow called the showroom people for a test drive, and within no time, changed our decision. Definitely, never had any regre...ಮತ್ತಷ್ಟು ಓದು

Skoda Rapid looks muscular not only exterior but also interior too. Performance and the top-class engine makes very rider to fall in love with it. The ride position is too comfortable and makes the long ride very smooth. People in backseat feel comfortable with larger leg space and perfect seating position. Best car for Skoda to hold its Indian mar...ಮತ್ತಷ್ಟು ಓದು

Skoda Rapid is an awesome car to ride on an expressway with an excellent milage but for city traffic, it consumes diesel a lot and for bumpy and pothole city road not much comfortable as it hits too hard on the road.ಮತ್ತಷ್ಟು ಓದು

Skoda is nice car driving is good inside features is good enjoy to road sides assistance very good totally beautiful car













Not Sure, Which car to buy?
Let us help you find the dream car
Rs.8,99,599*

21.13 ಕೆಎಂಪಿಎಲ್ಹಸ್ತಚಾಲಿತ

Rs.9,99,599*

21.13 ಕೆಎಂಪಿಎಲ್ಹಸ್ತಚಾಲಿತ

Rs.11,15,599*

21.13 ಕೆಎಂಪಿಎಲ್ಹಸ್ತಚಾಲಿತ

Rs.11,35,599*

21.72 ಕೆಎಂಪಿಎಲ್ಸ್ವಯಂಚಾಲಿತ

Rs.11,39,599*

21.14 ಕೆಎಂಪಿಎಲ್ಹಸ್ತಚಾಲಿತ

Rs.11,58,599*

21.13 ಕೆಎಂಪಿಎಲ್ಹಸ್ತಚಾಲಿತ

Rs.12,43,599*

21.72 ಕೆಎಂಪಿಎಲ್ಸ್ವಯಂಚಾಲಿತ

Rs.12,69,599*

21.66 ಕೆಎಂಪಿಎಲ್ಸ್ವಯಂಚಾಲಿತ

Rs.12,73,599*

21.72 ಕೆಎಂಪಿಎಲ್ಸ್ವಯಂಚಾಲಿತ

Are you Confused?
Ask anything & get answer ರಲ್ಲಿ {0}
ಟ್ರೆಂಡಿಂಗ್ ಸ್ಕೋಡಾ ಕಾರುಗಳು
ಜನಪ್ರಿಯ car insurance companies
ನವ ದೆಹಲಿ ರಲ್ಲಿ *ಎಕ್ಸ್ ಶೋ ರೂಂ ಬೆಲೆ
×
We need your ನಗರ to customize your experience