Experience after driving 5 ತಿಂಗಳುಗಳು
Experience after driving 5 months
I drove Duster, XUV and Create for good length, now registering my experience after driving BRV for over 5 months....... (-) Front look is macho but side look is more of MPV in compare to competitors (-) Height is not much, so it doesnot look massive jumbo vehicle like XUV (-) Branding is done less than other 3 vehicles (+) Very spacious and its 7 seater so only XUV can compete with it (+) Middle row seats can fully tumble and brings more space to last row, in case kids want space to play or lay down (+) Middle row seats are reclining which none other car apart from Innove has (+) Last row seats can fold and tumble down fully and make boot spacious (+) Even without folding last row, its boot is more than XUV (+) Rear AC vent position is at top just like Innova, other cars have knee level vent height which does not circulate the conditioning in best way (+) Micheline tyres which are the best and no other car provides (+) With extra price of 40k the touch screen with GPS and reverse camera and reverse sensors, this infotainment recognizes more video formats than any other car of this segment (+) Body metal is heavy which Honda is known for and not light like Creata or XUV (+) After sales service is good as Hundai and far better than Mahindra or Renault (+) Petrol engine of Honda is amongst the best, we all know that (+) Actual CVT gear which do not give rubber band effect or lag like Creata or XUV AMT, CVT is real automation (+) Shockers are equivalent to Duster, means better than other 2 (+) Ground clerance is amongst the highest (-) Led front lights are not as good as Creata has (+) Honda is know for Ergonomics so you will feel small small improvements than others (+) Staring control is better than any of its competitors and while driving you will never feel any heaviness like XUV (+) Creta and Duster automatic start pickup is not better than BRV and XUV is way back (+) Females love to drive this car than others, since it feels comfortable and doesnot look bulky or huge (-) If you have placed reverse camera than back aluminium bumper protector cannot be installed so this is backdraw (+) Smooth drive and never felt like we are driving 7 seater (+) Bad road or potholes drive or rough terrain drive is much better than XUV, equivalent to Duster or Creata (+) City drive is much better than any other due to real CVT transmission and not AMT like others (+) Comparatively low price than others so why to pay more for 5 seaters when you can get 7 seater in that price (+) Fuel consumption average is much better than competitors (+) Middle floor hump is less than any other of its competitors (+) Petrol engine is quite and at times from outside its hard to depict if its on (+) Sporty look from behind with lights and kincked upward door look, which can easily beat any other of its competitors (+) Dashboard material look is not as cheap as XUV or Creata has (+) Last row people will also feel better since windows are streched, wherein in XUV windows are small and people may feel they are trapped (+) Middle row windows length is better than Creata ......... Now you may count the positive and negative points above, which certainly depict that BRV is the best spacious car in low price. If I have to again make a decision of buying car than no doubt I will go for BRV.
ಹೋಂಡಾ ಬಿಆರ-ವಿ ಬಳಕೆದಾರರ ವಿಮರ್ಶೆಗಳು
ಆಧಾರಿತ
177 ಬಳಕೆದಾರರ ವಿಮರ್ಶೆಗಳು
ಎಲ್ಲಾ (176)
Mileage (55)
Performance (25)
Looks (49)
Comfort (77)
Engine (47)
Interior (19)
Power (21)
More ...
ಇತ್ತೀಚಿನ
ಸಹಾಯಕವಾಗಿದೆಯೆ
VERIFIED
CRITICAL
I have idtec vx style edition 2018 Done around 25,000kms since Oct 2018 Mileage 20kms in city and 24kms in highway being a doctor I drive sedately Not above100kms/he in h...ಮತ್ತಷ್ಟು ಓದು

I used Honda BR-V for around 1 yrs. I like the performance of the Honda. It is not good looking as compare to other but its comfort is awesome. The cost of maintenance is...ಮತ್ತಷ್ಟು ಓದು

It is a spacious and affordable MPV for the middle class family. Silent engine, good mileage, less maintenance cost, comfortable for city drive and other roads.

Honda BR-V is a fully automatic car. The car is good in driving in the city as well as in highway, very good pickup, although not having hill assist. Very comfortable car...ಮತ್ತಷ್ಟು ಓದು

Fantastic driving experience, smooth and easy. Spacious, flexible, Excellent 7 seater at this price range.

I am driving this car for the past 2.5 years. The performance along with driving comfort is great. The car has great mileage. The car is spacious and is great f...ಮತ್ತಷ್ಟು ಓದು

ಎಲ್ಲಾ ಬಿಆರ-ವಿ ವಿರ್ಮಶೆಗಳು ವೀಕ್ಷಿಸಿ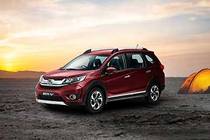 Rs.9.53 ಲಕ್ಷ - 13.83 ಲಕ್ಷ*
ಈ ಕಾರಿನ ಮಾದರಿ ಅವಧಿ ಮುಗಿದಿದೆ
ಬಳಕೆದಾರರು ಕೂಡ ವೀಕ್ಷಿಸಿದ್ದಾರೆ
Write your Comment on ಹೋಂಡಾ ಬಿಆರ-ವಿ
6 ಕಾಮೆಂಟ್ಗಳು
1
g
g.k.shridhar
Apr 17, 2018 4:37:34 PM
I have to decide between creta & BR-V , LOOK wise creta is better, cost wise BR-V. but performance is very important. now that i am used to honda city. i am look for a smooth ride as city.
Read More...
ಪ್ರತ್ಯುತ್ತರ
Write a Reply
1
R
raviraja t shetty
Mar 20, 2018 12:40:54 AM
Dear Sir, Please send me Quote for Middle and Top model Petrol Honda BR-V Also send me nearby Agent details for Navi Mumbai-Kharghar. Kindly send me the difference in VXMT and VMT What are the accessories included in quote How much time required for delivery after booking Kindly provide all information. I need to get vehicle within one month. Raviraja Shetty Bahrain +973-38880457
Read More...
ಪ್ರತ್ಯುತ್ತರ
Write a Reply
1
J
jasvir singh
Feb 12, 2018 12:28:37 PM
I am planning to go for BR-V CVT petrol. Although I have test driven this lovely looking baby yet I 'm unable to decide between Creta of Hyundai and Honda BR-V. reading some users' reviews i think i must go for BR-V only which has & proper seats , good and famous brand. Last i had Honda V tec of 2007 miodel and that baby never asked to spend an extra buck on any part except the service which was every three months. But now the service duration is 10000 km or one year. I think BR-V should be ok
Read More...
ಪ್ರತ್ಯುತ್ತರ
Write a Reply
×
We need your ನಗರ to customize your experience