Great ನಗರ ಕಾರು
Great City Car
I own Honda Brio VX AT model which has a 5 speed torque converter automatic. Though Brio looks very small little cute car from outside, it is very very spacious from inside and can accommodate 5 passengers with ease. The automatic variant is very easy and fun to drive. Gear changes are very smooth and you never feel a jerk. Even when you drive for hours in peak city traffic, you don't get tired with this machine. The small 1.2 litre 85 BHP engine produce more than enough power for city driving and it is also sufficient for occasional highway trips. The car is also very well stable at high speed. Being a Honda car, the maintenance cost of this car is close to none. Though the service interval is at every 6 months, it doesn't cost more than 4000 Rs for each service. The handling of this car is superb and you really enjoy it in corners. Not to mention the turning radius of Brio is only 4.8 meter which is quite low. The parking of this small little car in tight spots is never an issue. Brio also has a crawl feature which is a big blessing in slow moving traffic, on traffic signals and during reverse parking. Even without pressing the accelerator, the car continues to move in forward or reverse direction at the speed of around 7-8 KMPH. Hence, on traffic signals, you only have to keep your foot on brakes and you can sit back and relax and enjoy the nice music getting played in your car. Same thing is true while reverse parking - you don't have have to shift between accelerator and brake during reverse thanks to the automatic crawling and you can keep your focus on the parking instead. Automatic crawling also acts as hill hold on slopes, so if you have to start your car from standstill on a hill or on a slope then automatic forward crawling makes sure that the car does not go backwards. Having said all the good things of Brio, there also few negative points about this car that one should be aware of before buying it. The car's fuel economy is quite low compared to other automatic petrol cars like Micra, Baleno, Figo next gen, Celerio AMT etc. In peak traffic conditions it returns average fuel economy of only 8 to 9 KM/L. On the highway, with relaxed driving, it can go up to 14-15 KM/L which is the maximum average it can provide. There is a green Echo light indicator however which continues to light when you are driving properly in a manner that the car can provide maximum fuel economy, and if you can continuously follow this indicator and adjust your driving style accordingly then it can return a decent average. I own the previous generation Brio so the interior are quite bland and not so good like some of the modern cars like Grand i10 and Baleno. However, interiors have definitely been improved in facelift Brio. The music system though being quite good and sufficient for my taste, it is not as good as the music system that comes with the top models of Hyundai and Ford cars. The noise insulation is also not very good and there is a good amount of engine noise as well as tier noise that penetrates inside the cabin. If your AC is on or if the music is on then you can't hear it, though. The AC is very good and cools the cabin in no amount of time, however, it gets very noisy as soon as you go above level 1 of the blower. Another con is the boot space which is very small, but sufficient for the city rides. All in all, this is an excellent city car as well as an excellent second car for city rides and I would definitely recommend it to the people who are looking for an easy and fun to drive a small reliable car for their everyday city commute.
ಹೋಂಡಾ ಬ್ರಿಯೋ ಬಳಕೆದಾರರ ವಿಮರ್ಶೆಗಳು
ಆಧಾರಿತ
75 ಬಳಕೆದಾರರ ವಿಮರ್ಶೆಗಳು
ಎಲ್ಲಾ (75)
Mileage (32)
Performance (11)
Looks (41)
Comfort (28)
Engine (29)
Interior (21)
Power (23)
More ...
ಇತ್ತೀಚಿನ
ಸಹಾಯಕವಾಗಿದೆಯೆ
VERIFIED
CRITICAL
The real compact hatchback with a adequate engine (1.2 petrol). The best for city drive as it's stee...ಮತ್ತಷ್ಟು ಓದು

Interior (Features, Space & Comfort) Space is a bit cramped. Comfort is good. but excellent...ಮತ್ತಷ್ಟು ಓದು

I bought my Honda Brio SMT model 4 years back and I am loving it, the drive is so smooth a...ಮತ್ತಷ್ಟು ಓದು

Best Car in Small car segment. Very Very Good for a city ride and highway too. This car has all the ...ಮತ್ತಷ್ಟು ಓದು

We have bought this car just because of the company *HONDA *, and yes it proved. Even after 7 years,...ಮತ್ತಷ್ಟು ಓದು

Best look, style, space and practical car for a family of 4&5. Having no issue with CNG in this ...ಮತ್ತಷ್ಟು ಓದು

A perfect Family car and an excellent ride suited for Indian roads. The exterior look doesn't have a...ಮತ್ತಷ್ಟು ಓದು

ಎಲ್ಲಾ ಬ್ರಿಯೋ ವಿರ್ಮಶೆಗಳು ವೀಕ್ಷಿಸಿ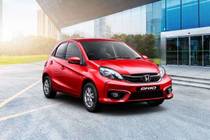 Rs.4.73 - 6.82 ಲಕ್ಷ*
This ಕಾರು ಮಾದರಿ has discontinued
ಬಳಕೆದಾರರು ಕೂಡ ವೀಕ್ಷಿಸಿದ್ದಾರೆ
×
We need your ನಗರ to customize your experience