Mind Changing ವಿಮರ್ಶೆ
Mind Changing Review
Buying experience: I would like to buy this car for sure because of ORVM. That gives me confidence during driving a car that is a good deal for me to buy this car and look that is just amazing also. Details about looks, performance etc: See first most important thing in car that is alloy wheels that looks amazing in its segment which gives superb look and space in this car that is amazing for family it also gives paddle shifters so we can go for both automatic and manual so there is no confusion to buy this premium car just go for it on highway paddle shifters are amazing with friends And there are good power and good torch too. A most convenient and comfortable car to buy with good ground clearance?? Servicing and maintenance: It's a Honda car, I don't need to say about Honda car services. my all friends are telling me that Honda cars are just amazing in service and maintenance so those who are driving Honda cars that gives good feedback so there is no confusion 90/100. Pros and Cons:?? See first thing to buy this car for me that is outside rear view mirror (ORVM)that shows side view during driving on the screen so that just gives amazing experience in city and highway and in traffic. I am always scared to change lane in India so that is a big good deal for me to buy this car that feels me safe during turning and changing lane big plus point for me. Headlights that also gives good looks from the front that is amazing and gearbox that is also nice and good looking amazing seats are also available that is really good for my family and friends. ?? A disappointing thing that is just only one thing that the price of the top model that should be lower 1.5lakh. because Indians will go for Compact SUV in this price.
Write your Comment on ಹೋಂಡಾ ಸಿವಿಕ್‌
ಹೋಂಡಾ ಸಿವಿಕ್‌ ಬಳಕೆದಾರರ ವಿಮರ್ಶೆಗಳು
ಆಧಾರಿತ
282 ಬಳಕೆದಾರರ ವಿಮರ್ಶೆಗಳು
ಎಲ್ಲಾ (281)
Mileage (26)
Performance (31)
Looks (94)
Comfort (59)
Engine (46)
Interior (30)
Power (32)
More ...
ಇತ್ತೀಚಿನ
ಸಹಾಯಕವಾಗಿದೆಯೆ
VERIFIED
CRITICAL
It is a nice car. Just go for it and trust me you will feel very special when you will drive it.

Loved this car but the only drawback is the lower ground clearance which is not according to Indian roads. A medium-size speed breaker can also be felt with this car. I d...ಮತ್ತಷ್ಟು ಓದು

The Overall Outer is Good. It's a Low Seated Car. The Mileage is too Bad at 10.7 Km/L. One servicing has happened since the last One Year.

Honda Civic is my first car and I bought this car last month and I like this car so much because of its stylish looks and safety features. This car gives me so much comfo...ಮತ್ತಷ್ಟು ಓದು

Honda Civic Car is equipped with many features that improve safety and also provide comfortable driving. I am using this car and I am very satisfied with its overall perf...ಮತ್ತಷ್ಟು ಓದು

If I say that the Civic is the best car in the price range of 15-20 Lac then I am not wrong. I am very much happy with mileage and comfort. Pick up on road is above avera...ಮತ್ತಷ್ಟು ಓದು

Best car in the price segment and I will request to buy everybody who is looking for a premium Hoda car.

ಎಲ್ಲಾ ಸಿವಿಕ್‌ ವಿರ್ಮಶೆಗಳು ವೀಕ್ಷಿಸಿ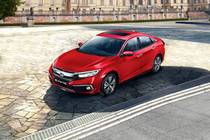 Rs. 15.00 ಲಕ್ಷ - 22.34 ಲಕ್ಷ*
ಈ ಕಾರಿನ ಮಾದರಿ ಅವಧಿ ಮುಗಿದಿದೆ
ಬಳಕೆದಾರರು ಕೂಡ ವೀಕ್ಷಿಸಿದ್ದಾರೆ