Little higher on the cost but a good car!
Little higher on the cost but a good car!
Purchase Date: 15th Oct 2017 Driven ? 5000+ kms Fuel Type ? Diesel I?ve been using this car for about 4 months now and have driven close to 6000kms and hence I?ve decided to write a review about my new Honda WRV i-DTEC VX. I?ve researched a lot, compared a lot and read a lot of reviews (Brezza,ecoSport and WRV) and finally decided to go with Honda WRV. (no regrets till date) Look and Feel & Comfort: Initially I felt that the cabin is not properly insulated as I could hear the rattling diesel engine sound but now am used to it. If you have a family with tall people then this is car is meant for you. WRV beats the competition when it comes legroom. The boot space is also pretty good and usable. The drivability is good in both city and highway conditions. The body built quality is way too better than the competition (Brezza,Nexon etc). Features: The car is WiFi enabled and has a HDMI port as well. (you can mirror your phone screen with the help of a Micro USB to HDMI cable). The cruise mode is a boon if you are on long drives and want to relax on a decent 4-lane/6-lane highway. The default speakers and audio system are pretty good. There is no aux port. The default navigation app is very basic but if you want you can install the Google Maps application which is quite helpful. The auto-air-condition does very good job in maintaining the preset temperature. The sun/moon roof is a big advantage if you have kids, it lets in additional light and air into the car while on highways. Mileage and maintenance: I have tested the mileage in all possible ways by travelling in multiple traffic conditions. Tested it in bumper to bumper traffic conditions (distance of 19kms in 90-100mins time) and also in moderately smooth traffic. Even tested the mileage on highways by taming the tank and by cruelly zooming the car as well. I have mentioned the figures below. The maintenance cost is very minimal (at least during the free servicing period). Mileage: City ? 16~19 kmpl (depending on bumper to bumper traffic or smooth traffic) Highway ? 20~24 kmpl (depending upon your driving style) PROS: - Good mileage - Great pickup - Very stable at high speeds (120+kmph) - Good speakers - Ample of legroom for all passengers (especially rear seat passengers) - Sunroof/moon roof - Great build quality - Cruise mode - WiFi enabled (car can connect to a WiFi dongle or mobile hotspot) - CONS: - Slightly pricy (but worth it) - Touchscreen infotainment system can have much better software (they are using Andorid 2.1 version) - Slightly noisy cabin (engine sound can be heard from inside the car) - Does not support Android Auto - Arm-rest not height adjustable - Missing rear arm rest - Missing rear AC went (but never really felt the need for it) - Touch screen response is laggy at times - Missing aux cable port Final Verdict: If you are ready to spend a little more for better build quality and a safer vehicle then definitely go for WRV!
ಹೋಂಡಾ ಡವೋಆರ್‌-ವಿ 2017-2020 ಬಳಕೆದಾರರ ವಿಮರ್ಶೆಗಳು
ಆಧಾರಿತ
421 ಬಳಕೆದಾರರ ವಿಮರ್ಶೆಗಳು
ಎಲ್ಲಾ (421)
Mileage (144)
Performance (53)
Looks (110)
Comfort (129)
Engine (98)
Interior (57)
Power (66)
More ...
ಇತ್ತೀಚಿನ
ಸಹಾಯಕವಾಗಿದೆಯೆ
VERIFIED
CRITICAL
Halogen lamp rig yard. music player is updated Virgen regard total, very good build quality, next 7 sitter car in Honda

It is a very good car. I have the diesel variant which gives very good mileage. Very powerful car and the features are also good. Excellent for long drives.

White color sunroof cruise control with best mileage and no scratch. Overall, best in comfort with new tires and single head use.

Its 1500CC engine will never give you any type of reduction in power whether you are overtaking or making higher speed. It is a subcompact crossover. I think its def...ಮತ್ತಷ್ಟು ಓದು

Nice car and fully comfortable and nice mileage I got-18kmpl on highway family car. Nice ground clearance and heavy body.

There is nothing for the rear passengers and literally nothing and not even a charging socket. Comfort, cabin space is great, and rest all are good.

Almost 11k km driven WRV, in highways, it's so smooth and fantastic to drive. 5 people can sit comfortably. If smoothly driven almost 17-18kmph mileage it is giving. The ...ಮತ್ತಷ್ಟು ಓದು

ಎಲ್ಲಾ ಡವೋಆರ್‌-ವಿ 2017-2020 ವಿರ್ಮಶೆಗಳು ವೀಕ್ಷಿಸಿ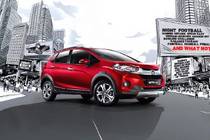 Rs.8.08 ಲಕ್ಷ - 10.48 ಲಕ್ಷ*
ಈ ಕಾರಿನ ಮಾದರಿ ಅವಧಿ ಮುಗಿದಿದೆ
ಬಳಕೆದಾರರು ಕೂಡ ವೀಕ್ಷಿಸಿದ್ದಾರೆ
Write your Comment on ಹೋಂಡಾ ಡವೋಆರ್‌-ವಿ 2017-2020
1 ಕಾಮೆಂಟ್
1
h
hussain
Feb 20, 2018 10:38:34 PM
i am abroad in saudiarabia
Read More...
ಪ್ರತ್ಯುತ್ತರ
Write a Reply
×
We need your ನಗರ to customize your experience