A Very Good Car ರಲ್ಲಿ {0}
A Very Good Car In The Hatchback Segment
I have been driving Nissan Micra (XL, petrol) for the last 6 years. Bought it in the first couple of months of launch. I have no complaints so far with this car. My usage has been predominantly within the city and its perfect for that. I go for long drives once a year and it is fine. The pick up is the biggest drawback of this car and it's not advisable if you look for power. Hence I have reduced the overall rating by 1 star. In the aspects of mileage it's very good. The braking system is quite good. I like the power steering in this car, always felt in control on the roads. The maintenance changes are pretty nominal, I spend around 10K per year on maintenance. I like the service centres of Nissan( this is in Chennai), have always been serviced promptly and they are professional. Coming to the interiors, the leg room is quite good for this segment, especially, the fact that boot space is quite satisfactory. Not many cars in this segment have got this combination right. In most cars, I have seen either of these is compromised. A/C is very good and in peak summer cools within 2-3 mins. I like the audio system built-in with the car. The seating is perfect and I find it quite ergonomic. My aged parents never complained sitting for long hours in this car, although they complained to have back problems sitting in other cars in this segment. The other significant aspect that I have observed in this car is the noise reduction once the windows are closed, which is quite good, again comparison in the same segment only. One of the drawbacks(noticed by my friends, I myself have not) is that the horn of this car is not very loud. This is very subjective, though. Overall this is an excellent car for driving within city limits and a reasonable car to drive on the highway as well.
Write your Comment on ನಿಸ್ಸಾನ್ ಮೈಕ್ರಾ
1
s
sharad wagh
Oct 17, 2017 4:59:26 PM
Can I buy Nissan Micra petrol used car
ಪ್ರತ್ಯುತ್ತರ
ನಿಸ್ಸಾನ್ ಮೈಕ್ರಾ ಬಳಕೆದಾರರ ವಿಮರ್ಶೆಗಳು
ಆಧಾರಿತ
122 ಬಳಕೆದಾರರ ವಿಮರ್ಶೆಗಳು
All (132)
Mileage (47)
Performance (24)
Looks (41)
Comfort (35)
Engine (22)
Interior (24)
Power (21)
More ...
ಇತ್ತೀಚಿನ
ಸಹಾಯಕವಾಗಿದೆಯೆ
VERIFIED
CRITICAL
Good car but high in maintenance cost with a great mileage but the problem is lower ground clearance.

It's packed with the necessary features right from the base variant. The ride quality is amazing. Clutch is a little tight. It's hard to engage 1, 2.

I am fully satisfied with my Nissan Micra car. It is a family-friendly car easy to drive in cities. And ladies also can drive this car easily. My car is a diesel car and ...ಮತ್ತಷ್ಟು ಓದು

One of my best choices ever. Wonderful driving experience. Ergonomics are amazing. Pure driving joy and amazing performance. Spacious, smooth, nice suspension, amazing ha...ಮತ್ತಷ್ಟು ಓದು

Nissan Micra diesel car is very good, comfortable and has good safety features. Car's mileage is amazing and also has some issues with bumper lock and maintenance cost is...ಮತ್ತಷ್ಟು ಓದು

Good experience and latest model.Nice color and good mileage, balloon facility.

Nissan Micra is a power-packed car. It is strongly built and comes with decent features. According to me, the main drawback is that the height of the driver seat is not a...ಮತ್ತಷ್ಟು ಓದು

ಎಲ್ಲಾ ಮೈಕ್ರಾ ವಿರ್ಮಶೆಗಳು ವೀಕ್ಷಿಸಿ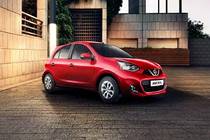 Rs. 5.99 ಲಕ್ಷ - 8.12 ಲಕ್ಷ*
ಈ ಕಾರಿನ ಮಾದರಿ ಅವಧಿ ಮುಗಿದಿದೆ
ಬಳಕೆದಾರರು ಕೂಡ ವೀಕ್ಷಿಸಿದ್ದಾರೆ
ಟ್ರೆಂಡಿಂಗ್ ನಿಸ್ಸಾನ್ ಕಾರುಗಳು