ಎ Perfect Car: ನಿಸ್ಸಾನ್ ಸಾನೀ
A Perfect Car: Nissan Sunny
If one is looking for a no-nonsense everyday workhorse as well as a single car in the family then there is no Better car then Nissan sunny south of 15 lakh brackets. The looks though not awe-inspiring tend to grow on you as you spend more time with the car. The practical cabin is wow initiating because of space and practical bits. Though when looking deep the plastics are slightly hard and scratchy but this can be expected at this price. What makes the driving experience easy and effortless is the strong bottom end from the petrol engine, easy gearshift and large glasshouse that makes visualizing the road really easy. The ride is super smooth for the segment and handling neutral and predictable. Though there is a tendency to lose balance when jostling the car through sharp corners at speeds. The lightweight of the car is easier on the Tyres and my car's tyres lasted for over 78000 km. The bumpers are really soft and elastically and would have a dent even of pressed by hand with little force though this helps that it can be corrected by little pressure at home. The average is a consistent 12km/lt in the city and 18.6 km/lt on highway Everything I have written looks so good then why that one less star. That is because of the Aftersales service. The authorised centre will not be able to even carry out regular service in a single shot. It is best to get it serviced via local mechanics / outside workshops. For these parts are an issue if you are living outside a big metro To conclude sunny has more sunshine than cloudy days, and it's worth the price it is available when new or old.
Write your Comment on ನಿಸ್ಸಾನ್ ಸಾನೀ
ನಿಸ್ಸಾನ್ ಸಾನೀ ಬಳಕೆದಾರರ ವಿಮರ್ಶೆಗಳು
ಆಧಾರಿತ
101 ಬಳಕೆದಾರರ ವಿಮರ್ಶೆಗಳು
All (128)
Mileage (37)
Performance (17)
Looks (31)
Comfort (45)
Engine (17)
Interior (16)
Power (16)
More ...
ಇತ್ತೀಚಿನ
ಸಹಾಯಕವಾಗಿದೆಯೆ
VERIFIED
CRITICAL
I have always been a great fan of SUVs but after buying Nissan Sunny, I just have been crazy about it. This car is truly amazing. It has got all the features which one ba...ಮತ್ತಷ್ಟು ಓದು

I have 2012 Sunny XV variant really very happy with that getting 24 average mileage in highway and 18 average in the city.    

Proud owner of Nissan Sunny for 7 years. Real Specious, Noiseless and trouble-free. Low maintenance with 14 km/ Ltr. Petrol mileage.

Nice car but not so stylish had great space powerful engine not so costly maintenance good choice for daily use.

I had never thought that this car will be 5/5 in my measurements. But it has proved itself in my 12 years of driving experience this car given me best-driving pleasure, a...ಮತ್ತಷ್ಟು ಓದು

A true blue Sedan. Best quality materials used in building this car. Safety and comfort top notch. A true family car that ticks all the boxes. A more peppy engine would h...ಮತ್ತಷ್ಟು ಓದು

Nissan Sunny is very spacious and comfortable. Worth every penny, best car you can get as per the price point of view and very economical to run.

ಎಲ್ಲಾ ಸಾನೀ ವಿರ್ಮಶೆಗಳು ವೀಕ್ಷಿಸಿ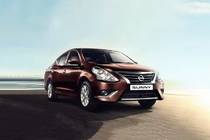 Rs. 7.07 ಲಕ್ಷ - 10.76 ಲಕ್ಷ*
ಈ ಕಾರಿನ ಮಾದರಿ ಅವಧಿ ಮುಗಿದಿದೆ
ಬಳಕೆದಾರರು ಕೂಡ ವೀಕ್ಷಿಸಿದ್ದಾರೆ
ಟ್ರೆಂಡಿಂಗ್ ನಿಸ್ಸಾನ್ ಕಾರುಗಳು