Comparison - Fiat Linea Vs Maruti Dzire Vs Nissan Sunny
Comparison - Fiat Linea Vs Maruti Dzire Vs Nissan Sunny
Comparison - Fiat Linea Vs Maruti Dzire Vs Nissan Sunny Fiat Linea is a car of a superior class. It is outrightly one league higher than Dzire and beats Sunny hands down in every department - from handling to style to build quality. The only reason that the price of Linea is low is because of the brand image of FIAT in India. Evenon that account, the company is expanding its operations in India and the car is the first major success in the Indian Market, so its here to stay. (Linea's new Diesel model (1.6 MJD) is also being launched shortly). And Fiat's spare parts are flatly 30- 35 % cheaper than say Honda's. The costs are as much as Maruti's, tho I am not sure how it compares with Nissan. But keep in mind, Nissan has just 40 odd showrooms in India! In several Tier 2 cities, there is no Nissan service centre - forget about a full fledged show room!! Nissan has some way to go before it appeals to the normal public. Imagine I drive out from Hyderabad and realize that except for Vijaywada, there are no service centres for Nissan in Andhra Pradesh (btw, I am from Pune - this is just an example)!
ನಿಸ್ಸಾನ್ ಸಾನೀ ಬಳಕೆದಾರರ ವಿಮರ್ಶೆಗಳು
ಆಧಾರಿತ
95 ಬಳಕೆದಾರರ ವಿಮರ್ಶೆಗಳು
ಎಲ್ಲಾ (95)
Mileage (37)
Performance (17)
Looks (31)
Comfort (45)
Engine (17)
Interior (16)
Power (16)
More ...
ಇತ್ತೀಚಿನ
ಸಹಾಯಕವಾಗಿದೆಯೆ
VERIFIED
CRITICAL
I have 2012 Sunny XV variant really very happy with that getting 24 average mileage in highway and 18 average in the city.

Nice car but not so stylish had great space powerful engine not so costly maintenance good choice for daily use.

Nissan Sunny is very spacious and comfortable. Worth every penny, best car you can get as per the price point of view and very economical to run.

Nissan Sunny is a very comfortable and good mileage car with good legroom, very good front and rear bumper.

Proud owner of Nissan Sunny for 7 years. Real Specious, Noiseless and trouble-free. Low maintenance with 14 km/ Ltr. Petrol mileage.

I had never thought that this car will be 5/5 in my measurements. But it has proved itself in my 12 years of driving experience this car given me best-driving pleasure, a...ಮತ್ತಷ್ಟು ಓದು

I have always been a great fan of SUVs but after buying Nissan Sunny, I just have been crazy about it. This car is truly amazing. It has got all the features which one ba...ಮತ್ತಷ್ಟು ಓದು

ಎಲ್ಲಾ ಸಾನೀ ವಿರ್ಮಶೆಗಳು ವೀಕ್ಷಿಸಿ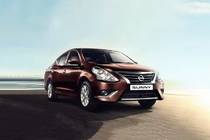 Rs.7.07 ಲಕ್ಷ - 10.76 ಲಕ್ಷ*
ಈ ಕಾರಿನ ಮಾದರಿ ಅವಧಿ ಮುಗಿದಿದೆ
ಬಳಕೆದಾರರು ಕೂಡ ವೀಕ್ಷಿಸಿದ್ದಾರೆ
Write your Comment on ನಿಸ್ಸಾನ್ ಸಾನೀ
19 ಕಾಮೆಂಟ್ಗಳು
1
r
rohit joshi
Sep 4, 2013 5:41:44 PM
confused !!!! can anybody suggest me between Sunny XL petrol vs Honda Amaze vs Dzire ? IS handelling / Parking / Turning and Fuel Eco issue for Sunny ?? is Petrol sunny giving 15 km/l ? Thanks for your valuable comments and reply.
Read More...
ಪ್ರತ್ಯುತ್ತರ
Write a Reply
1
A
asif malik
Aug 2, 2012 12:26:55 AM
i want to buy Nissan Sunny. so please can anyone advise me about this CaaaaaaaaaaaaaaaaaaR.
Read More...
ಪ್ರತ್ಯುತ್ತರ
Write a Reply
1
s
shekhar
Jun 7, 2012 12:26:26 AM
Its sad that a new user does not have access to impartial, unbiased views; None of the cars are bad but if genuine reviews are offered, a potential buyer will know which cars consist of points important for him/her. My priorities while buying were:- Good fuel efficiency Good looks Good status appeal Cheap lifetime maintenance costs Cheap spares (included in above point) Approachable service people, not haughty high handed sales/service people With above priorities I have, after much debate bought a Fiat Linea.It took me 4months of test drives and internet research to decide. I sacrificed following by making this choice Lesser selling car(but that makes my car exclusive; it still is a head turner at home and work) Lesser resale value - i am not one to change cars frequently. I intend to keep the car for at least 7 years,if not more. This car is technologically so advanced that another 2 generation of cars would not get any special features as compared to what this car has. As bonus, my family is thrilled. They don't care about FIAT TATA dealerships or service centres or resale or technology.They are thrilled to get a superchilling AC/ Climate control , thrilled at interactive phone calling(blue 7 me) and integrated blue tooth and leather seats, lovely music system, plush interiors and the neighbours' appreciation. I didn't care what the brand name FIAT does to others. I have had no problems with it till now and I am a very happy man today.
Read More...
ಪ್ರತ್ಯುತ್ತರ
Write a Reply
ಟ್ರೆಂಡಿಂಗ್ ನಿಸ್ಸಾನ್ ಕಾರುಗಳು
×
We need your ನಗರ to customize your experience