ನಿಸ್ಸಾನ್ ಟೆರಾನೋ Epitome ಅದರಲ್ಲಿ ಕಾರ್ಯಕ್ಷಮತೆ
Nissan Terrano Epitome of Performance
Buying your first car at this age is really a terrible job given the amount of competition in the auto market. Four months back, I started searching for a city cum off-roader in the price range of Rs. 12-14 lakhs. There were already a lot of options in the form of Renault Duster, Hyundai Creta, Nissan Terrano and Mahindra Scorpio. Since Scorpio was not my cup of tea, the competition was now between the other three. I opted out Renault Duster since our family already had the 2013 Duster. Now the only choices remaining were Creta and Terrano. Creta was well equipped but I didn't like the way it was unnecessarily hyped and I also didn't like the design. So, finally the decision for Terrano came after I had the test drive of the car. I got quite an updated model as before purchasing, the company launched a new version just six months back. The exterior styling of the car is awesome since I own the Sports Edition which is really a head turner. While the interiors have been given prominent changes such as two-tone black and brown colour scheme, a redesigned dashboard, new instrument cluster, cruise control and the much needed 7-inch touchscreen infotainment unit. In terms of performance, since I had the opportunity many times in the past 4 months to take this car for long drives, I can give you an account of its capability. In short, the car is outstanding while driving in urban conditions with least turbo lag and minimum gear shifts. The feedback from steering, clutch, and gears have been nearly perfect. Mileage on highways on moderate speeds has been around 19kmpl which is excellent given the size of the car. I can bet handling, suspension, and ride quality must have been the unique selling point of this car. The 205mm ground clearance is fantastic and the car gives well balanced and planted ride quality. Driving over 3000 kms, I can say it's one of the best cars I have driven so far. However, what Nissan needs to think over seriously is their after sales service which is sub-standard and need to be improved thoroughly.
Write your Comment on ನಿಸ್ಸಾನ್ ಟೆರಾನೋ
ನಿಸ್ಸಾನ್ ಟೆರಾನೋ ಬಳಕೆದಾರರ ವಿಮರ್ಶೆಗಳು
ಆಧಾರಿತ
70 ಬಳಕೆದಾರರ ವಿಮರ್ಶೆಗಳು
ಎಲ್ಲಾ (70)
Mileage (20)
Performance (12)
Looks (13)
Comfort (20)
Engine (10)
Interior (10)
Power (9)
More ...
ಇತ್ತೀಚಿನ
ಸಹಾಯಕವಾಗಿದೆಯೆ
VERIFIED
CRITICAL
The vehicle is very powerful, really it's good for the family usage, compared to Duster. It shows the class of Nissan. Mileage is good up to 16 you can expect in the good...ಮತ್ತಷ್ಟು ಓದು

Nissan Terrano is comfortable driving and driving direction is easy to drive. It has good space as in seating capacity, it should be at least 7 but it is an good car.

The after-sales service is the worst, there is always a shortage of parts. The staff is not up to the mark. 

It is a very comfortable and awesome car, I have a Diesel AMT top End version. Very good fuel economy of 14kmpl in city to 16kmpl on highways. Poor Speakers with high end...ಮತ್ತಷ್ಟು ಓದು

The awesome car made by nissan. The power and the wheelbase gap is high so you can drive at the terrain.

I have been using this car since 2013, touchwood the car is perfect, safe and very good at driving. Safety-wise it has 2 airbags, EBD, ABS, so overall it's a good package...ಮತ್ತಷ್ಟು ಓದು

This car is excellent in comfort and good at the performance I like this car as an SUV and it is the best SUV.

It is an amazing machine. Quality is proved by this model. There is an excellent space inside the car.

ಎಲ್ಲಾ ಟೆರಾನೋ ವಿರ್ಮಶೆಗಳು ವೀಕ್ಷಿಸಿ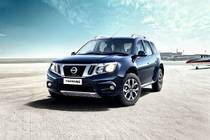 Rs. 9.99 ಲಕ್ಷ - 14.64 ಲಕ್ಷ*
ಈ ಕಾರಿನ ಮಾದರಿ ಅವಧಿ ಮುಗಿದಿದೆ
ಬಳಕೆದಾರರು ಕೂಡ ವೀಕ್ಷಿಸಿದ್ದಾರೆ
ಟ್ರೆಂಡಿಂಗ್ ನಿಸ್ಸಾನ್ ಕಾರುಗಳು